Fifth annual community coat drive underway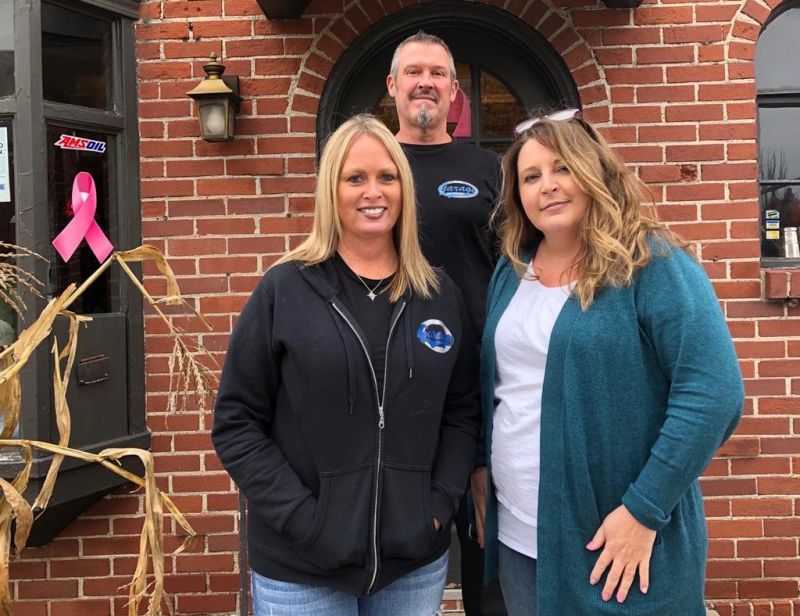 When Sally Espenschied took it upon herself to establish a community coat drive five years ago, she had no idea how big it would get. Neither could she have known what a huge need there would be for it this year.
"I almost didn't do it this year," said Espenschied, concerned about finding a place willing to hold the event in the COVID environment. "But because many people have lost their jobs, had their work hours shortened and had a significant impact on their income, it's more important than ever for us to help out where we can."
Espenschied put together a Facebook post asking for help, and she got it. Renee Hess, co-owner of The Garage in New Philadelphia along with her husband Steve, contacted Espenschied saying they would open up their business for the event. Hess and Espenschied had attended school together at Dover High School.
"If Renee hadn't offered to help, I don't know if I'd have done it," said Espenschied, who started the coat drive eight years ago. At that time it was the only one in the area.
"I had just held a garage sale when I learned Sally was doing a coat drive," Hess said. "I had coats in the sale, but I told Steve I'd rather give them away to someone who really needed them."
Espenschied was in charge of the coat drive when it took place at the grocery store where she worked. When she left her position, the coat drive was discontinued, so she started one of her own.
"We almost ran out of coats the first year," Espenschied said. "We never seem to have enough kids' coats, but we need all sizes. We nearly ran out of coats again last year. I think we had 12 left at the end of the day."
To donate coats
Take your gently used coats to any of these five drop-off locations: The Garage, 165 W. High Ave., New Philadelphia, Monday through Friday from 8 a.m. to 5 p.m.; Boulevard Lanes, 818 Emerson St., Dover, Sunday and Monday from noon to 9 p.m., Tuesday and Thursday from noon to 11 p.m., and Saturday from 10 a.m. to 11 p.m.; Focus Nutrition, 243 W. Third St., Dover, Monday through Friday from 7 a.m. to 3 p.m.; Twice Treasured, 104 S. Broadway, New Philadelphia, Wednesday through Sunday from 11 a.m. to 6 p.m.; and Inside Out Nutrition, 1239 Monroe St. NW, New Philadelphia, Monday through Friday from 6:30 a.m. to 4 p.m., Saturday from 7 a.m. to 2 p.m., and Sunday from 10 a.m. to 2 p.m.
This is the fifth year Jim LeBlanc, owner of Inside Out Nutrition in New Philadelphia, is participating in the coat drive.
"We've been so fortunate," LeBlanc said. "The community has really taken us in."
Espenschied said Dover Chemical and Kaufman Realty, where she works, are conducting in-house collections for their employees.
"In fact, I just learned that Dover Chemical is collecting money and buying brand-new coats, so that's amazing," Espenschied said.
Donate coats until Nov. 5
The last day to drop off coats is Thursday, Nov. 5.
"On Friday I run my tail off and collect all the coats at the various drop-off points," Espenschied said. "Then on Friday night, Renee and Steve will clear out the garage so we can sort the coats and set for the event Saturday. On Saturday, Nov. 7 from 10 a.m. to 1 p.m., people can come in and help themselves to a coat."
That's a swift turnaround, but Espenschied said she gets help from her husband and daughter, as well as a few friends.
For people who want to donate but cannot get out to a drop-off location, Espenschied and her daughter will arrange to pick up the coats. For more information or to schedule a pickup, call Espenschied at 330-204-8128.