Groundbreaking kicks off Smithville water tower project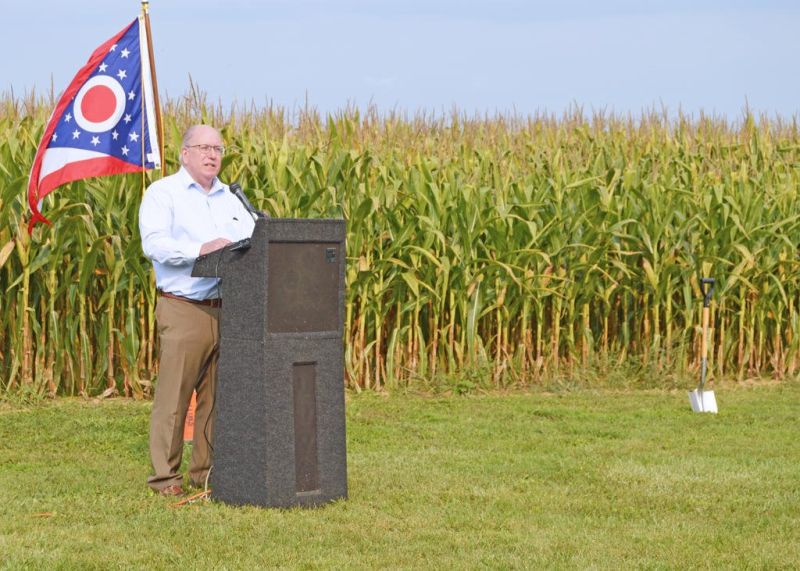 The groundbreaking ceremony for the new water tower in Smithville was well-attended by both key partners on the project and community members. The event took place Sept. 17, marking the start of a one-year construction project to complete the water tower.
The event began with opening remarks by both current Mayor Tom Poulson and former Mayor Allen Synder. Synder described the water tower project as having been set into motion three decades ago.
An early step in the process was in the 1990s when the village created a Water Improvement Fund. That fund allowed the village to collect a small amount each month from water-utility bills. The amount slowly but steadily has added up over many years.
The village engineer, Bob McNutt of CT Consultants, spoke about the challenges facing communities across the United States around repairing their aging infrastructure. "There is no municipality and no utility that doesn't have these issues," he said.
Funding is always the top obstacle and requires creativity to piece together. "We need an entire group to determine what are all the different ways that we can get funding," McNutt said of his team at CT Consultants.
In the case of Smithville's water tower, the village eventually pieced together a $1.6 million funding and finance package from three sources. First, they were able to apply $525,000 from their Water Improvement Fund. Next, they obtained a grant from the Ohio Public Works Commission.
Finally, the village obtained a loan with a 1.49% interest rate from the Ohio Water Development Authority. Poulson said this low interest rate was only available recently, suggesting lower interest rates were at least one positive that came out of the pandemic.
In part, the fact that the project met multiple goals helped them obtain funding for the water tower. The water tower will help store more water for firefighting, will provide more water to the residents and will increase water pressure. Further, because Smithville Fire Department covers Green Township, Wayne Township and Smithville, the new tower will benefit some of the surrounding townships as well in terms of improved safety.
An added bonus is that the new tower also will improve the village's rating with Insurance Services Office for fire departments and the surrounding community. That improvement in rating will directly lead to a decrease in homeowners' insurance rates.
The development of the Smithville project has come in stages. Since 1999 the village has completed about five water line replacement projects, which were crucial infrastructure for eventual construction of a new water tower.
Then they were sidetracked by a sudden need to update their water treatment plant. "We were blindsided when we realized that our water plant needed to be rebuilt," Synder said.
Over a period of two years, they were able to improve the plant to comply with OH-EPA water quality standards.
"(This project) started with a vision a number of years ago. It's been worked on by many individuals on council and more than one mayor, and we knew it was finally time to move forward with the construction of a new tower to meet the village's needs. We're really seeing the fruits of labor of people who came before us," Poulson said.
The project is anticipated to be completed in one year, and updates will be posted on Smithville's website.