It was a great day to be a dog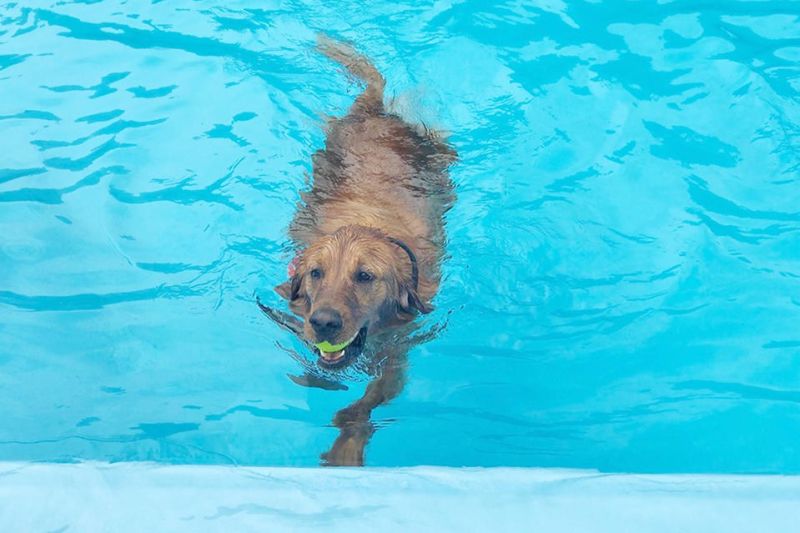 It was clearly the best day of their lives. The group of scofflaws flagrantly ignored the posted "no running" signs. Some chased each other around the pool while others dove into the water time and again, endlessly retrieving their quarry.
They roared past countless people, mouths wide in delight, shaking water over every bystander. They were four-legged partiers, all dogs, having the time of their lives, thanks to the Tuscarawas County Humane Society and Dover City Park.
After skipping last year, the Humane Society Dog Days of Summer returned for the fourth year to Dover Pool. The final nose count approached 100 as dogs of every shape, size and temperament found themselves unexpectedly emerging from their owners' cars to run freely in a fenced area, swim, devour treats and play with waiting tennis balls.
"This is the last day for the pool this year," Tuscarawas County Humane Society Shelter director Haley Predragovich said. "Tomorrow they drain and disinfect it. The city parks department offered us the chance to do this again this year, and we were thrilled to accept."
Dog Days of Summer is a fundraiser for the Humane Society. Dogs were admitted with their owners for a gate fee of $5 per pup.
Dover parks and recreation director Scott Jerles said it was an easy thing to make the pool available for the fundraiser. "It's obviously the last day of our season, and we're always looking for ways to help the community," he said.
Dog owners were able to let their pets run and play as they pleased. The dogs were well behaved off leash, sorting things out among themselves as they are by nature inclined to do.
Doggy personalities emerged: Piper, a Boxer, waded carefully into the water to fetch balls from the pool steps. A female Black Lab named Lexi leaped tirelessly into the water time and again, fetching as many of the tennis balls as she could carry in her mouth. And Niko, a deep-red Golden Retriever, waited patiently at poolside to be lifted from the water, ball in mouth. Others sat quietly by the side of the water, watching the action, while still more sought out new people to interact with.
"We've had a wonderful year at the shelter," Predragovich said. "We were able to add kennel space, and we've found homes for a lot of animals, and many of our adopters are repeats. They've adopted an animal in the past and returned again."
Predragovich said the shelter houses adoptable dogs, cats, and even horses and pigs at times.
Outside of events like Dog Days of Summer, the Humane Society is always in need of donations, both in cash and needed items.
"We always need cleaning supplies, blankets, towels, dog food, cat litter and other things. Some people order supplies online and have them sent to the shelter directly, and we're very grateful for that. If you can't donate, you can volunteer or even just share our messages on social media," Predragovich said.
As the dogs swam, sniffed and chased, owners shouted encouragement, threw the supplied tennis balls into the pool and helped reticent pups overcome shyness. Doggy parents talked and laughed with their pets and each other continuously.
It was clearly an unusual day for both humans and canines and perhaps pointed out the need for a "bark park" in the city. Jerles said dedicating park land for the use of dogs and their owners has been discussed; there are no solid plans for such a project in the works.
"There are certainly issues of possible liability, and clean-up would be a major thing to overcome," Jerles said, adding he was delighted at the large turnout for the Dog Days of Summer fundraiser.