Library outreach programs impact area seniors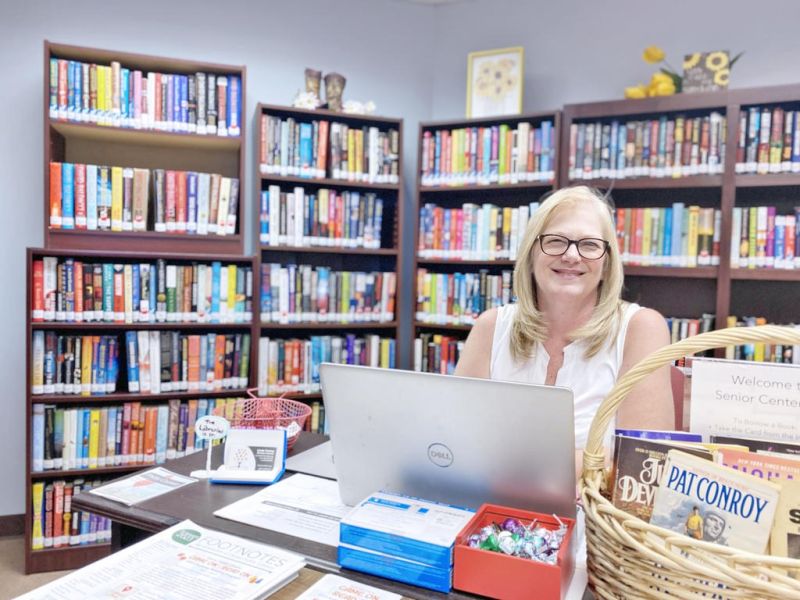 The Tuscarawas County Senior Center offers a list of services, both for its members and the community as a whole. More Than Books, an outreach program of the Dover Public Library, brings seniors an experience reflecting the library's services offered to the community.
"It's a program we developed to help seniors realize that the library is more than just books," outreach librarian Linda Toohey said. "Every week we do something different."
Toohey spoke from a dedicated room at the senior center stocked with books and other materials, a miniature library found just inside the main entrance at the center.
The first Thursday of every month brings a small book club together at the senior center. "We call it BYOB," Toohey said, "Bring Your Own Book. We talk about whatever book we want to talk about each week."
Fun Day Game Day holds a place on the second Thursday of each month. "That day I bring games from the library," Toohey said. "Sometimes it's games from our senior memory kit. The second Thursday in July, we will be doing origami. So it's always something a little different."
A guest librarian from the Dover Public Library visits the third Thursday of the month to talk about things going on at the library's Walnut Street location.
The fourth Thursday is a time when trivia games are in play. "We have prizes and sometimes a raffle for a free lunch for trivia day," Toohey said.
Toohey said the program grew organically from her increasingly regular presence at the senior center.
"It began this year as a part of our Passport program. They get a passport. Then as we learn about different countries and their history and culture, they get a sticker for their passport," Toohey said.
Passport is another outreach program of the library that finds participants not only at the senior center, but also at area assisted living facilities.
"The director at the library (Jim Gill) felt that it would be a good thing if we dedicated more time to being here at the senior center. And that's when the More Than Books program came about in April this year," Toohey said.
Toohey hopes More Than Books grows far beyond its current participation.
The library inside the senior center is stocked with donated books, either from the Tuscarawas Main Library or by members of the community. The collection is constantly monitored and updated.
"I know I've gone through at least 50 boxes of books recently keeping things updated and fresh," Toohey said.
Toohey is at the library Monday through Thursday each morning. "It helps our library, and it helps the senior center too," she said. "I have a real soft spot for our seniors."
Toohey began her outreach work at the library taking books out to shut-ins in the community. From there she visited assisted living facilities and then developed the More Than Books program.
No senior center membership is needed to participate in the Thursday programs. The Passport program is the second Thursday of the month at 12:15 p.m. The More Than Books program is from 10-11 a.m. every Thursday.
"It's available to anyone who wants to come and has a desire to participate," Toohey said.
The Tuscarawas County Senior Center is at 425 Prospect St. in Dover. Call 330-364-6611 for information on More Than Books or any other program offered. The website is at www.tuscsc.org.