Local emergency responders complete crisis-intervention training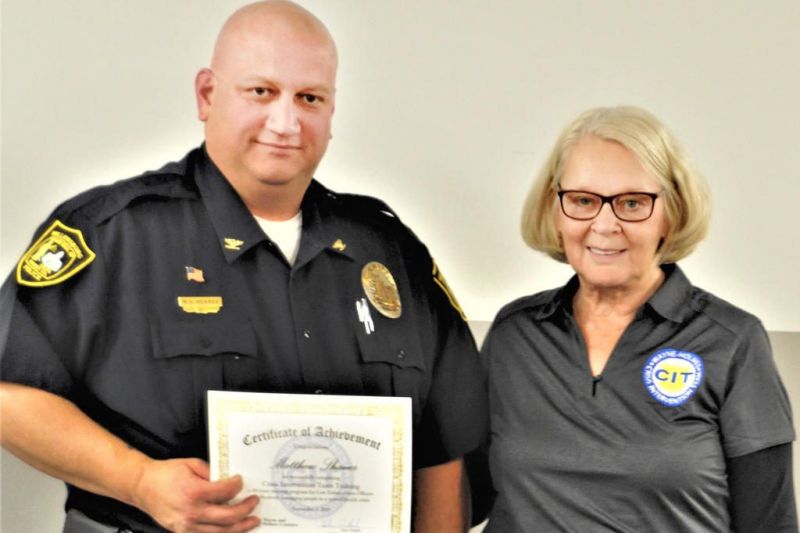 There was no need for caps and gowns. The 26 graduates on this day instead wore full-dress uniforms representing their respective law-enforcement and emergency-responder roles within Wayne and Holmes counties.
As the newest certified Crisis Intervention Team members, they stood well-informed and ready to effectively mediate any real-life situation that might arise, encounters that could possibly involve someone with mental-health issues.
"They say 10 percent of our calls on average for law enforcement deals with somebody with mental illness or someone who's in crisis," said Wooster Police Department patrolman Jerome Fatzinger, a member of the National Alliance on Mental Illness Wayne and Holmes Counties CIT Advisory Council. He completed the 40-hour Crisis Intervention Team training in 2012.
Since the inception of the local CIT Program in 2005, more than 185 men and women have received the training. The program has become so successful that at the Ohio CIT State Conference in Columbus on Oct. 18, the Wayne-Holmes CIT Program was honored as the CIT Program of the Year.
The CIT Program has been built on partnerships between law enforcement, mental-health provider agencies, and individuals and families affected by mental illness. The specialized CIT training includes crisis intervention with an emphasis on understanding mental illness and how to de-escalate crisis situations.
"I believe in the CIT Program, the philosophy of being a team. It brings the whole community together, all the resources with the police," Fatzinger said. "We think [the training] is of value to the community because it teaches officers how to de-escalate situations, how to talk to individuals as human beings, to treat people with respect and with empathy. That's the way it's going these days, and that's the way police should proceed in the future. It's just as important as firearms training or active-shooter training."
The CIT training is sponsored locally by the Mental Health and Recovery Board, the Commercial and Savings Bank, NAMI Ohio, and NAMI Wayne and Holmes Counties. The training helps officers learn to defuse potentially dangerous situations without necessarily making an arrest. The goal is to divert a person in crisis to an appropriate mental-health service rather than resorting to physical force or arrest.
"We typically train 20 officers a year. This is the first time we've had 26 in the class," said CIT Program coordinator Helen Walkerly, who also serves as executive director of NAMI Wayne and Holmes Counties. "We've had a lot of demand because this is just so needed. The officers show gratitude in that they have these skills now to help them do their jobs. It saves peoples' lives. It saves officers' lives. It saves people in the community because officers now have additional skills in order to work with people. Our goal in this program is for everybody to go home safely to their families at the end of the day."
NAMI is the nation's largest grassroots mental-health organization dedicated to building better lives for the millions of Americans affected by mental illness. NAMI is the foundation for hundreds of NAMI state organizations, NAMI affiliates and volunteer leaders who work in local communities across the country to provide free education, advocacy and support-group programs.
Millersburg Police Chief Matthew Shaner became the first chief in the Wayne-Holmes area to complete the Crisis Intervention Team classwork on Oct. 30.
"It's good for us to have the training, me included," Shaner said. "It's good to know what's behind a person, not just that they have issues. The ability to reason with them is not always there, so you kind of have to take a different approach on dealing with the situations."
The members of the CIT Class of 2019 represent a number of law-enforcement agencies: Holmes County Sheriff (both corrections and road officers), Wayne County Sheriff (both corrections and road officers), Millersburg Police Department, Wooster Police Department, Orrville Police Department, Dalton Police Department, Ohio State University Police Department, Ashland Police Department, and both Holmes County and Wayne County Adult Probation.
Since CIT classes began in 2005 in Wayne and Holmes counties, the program has served 195 officers from 16 police departments, two sheriff's offices, one state patrol office, five probation departments, two college safety offices, one hospital, one dispatch center and Medway Drug Enforcement.
Ohio is unique in that it has CIT programs in every county in the state.
Walkerly has watched the CIT Program grow over the years and has seen the impact the training has made.
"I'm just really, really proud of being a part of this," Walkerly said. "Having the interaction and getting to know all these officers has just been really cool for me because I have so much respect for what they do. They go out and put their lives on the line. They see people at their worst, and they do a wonderful job of helping people."