New Philadelphia receives ODOT paving grant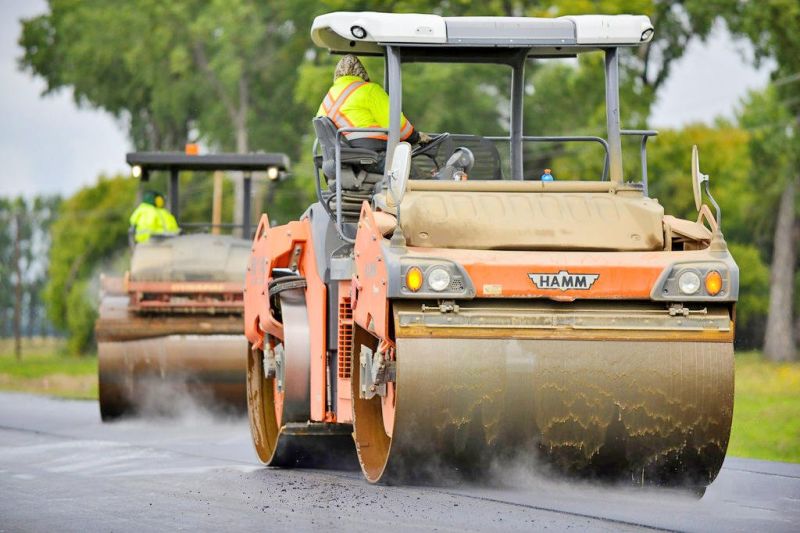 In his report to council on Aug. 10, city service director Ron McAbier said the city has been awarded a Small City Paving Grant from ODOT in the amount of $1,235,500.
"The paving we will be doing with this grant will take place on 16th Street, which is also Route 21," McAbier said. "It will also include Mill Avenue from South Broadway to Seventh Street or Front and Ray Avenue Northeast from Broadway to Beaver and Wabash from Fourth Street to Tuscarawas Avenue."
Matthew W. and Jessica L. Kinsey submitted a petition to annex their property in Goshen Township to the Tuscarawas County Commissioners for approval on July 28.
McAbier went on to share the costs of those projects and the contributions the city would be required to make, which are as follows:
Wabash Avenue, total cost of $444,200 with city share of $21,500; 16th Street, total cost of $197,200 with city share of $9,700; Mill Avenue, total cost of $348,000 with city share of $17,000; and Ray Avenue, total cost of $190,000 with city share of $9,000.
Work will take place in 2023.
Following this report, councilman Dean Holland asked if the brick walkway he had discussed with McAbier and Mayor Joel Day might be constructed where Broadway meets Poplar. McAbier said the mayor wanted to look at the larger construction picture before moving forward with that plan.
Councilman John Zucal said he would like to see action taken on the Glen Drive project. "It's deplorable," Zucal said. "It's an embarrassment to the City of New Philadelphia that we continue to have an area where the road is so atrocious. And I can tell you the other street that's not far behind is Darrel Drive. The concrete is starting to buckle. Something has to be done. None of those citizens deserve to have to put up with that."
The remainder of McAbier's report was dedicated to outlining progress on various city construction projects. He said curbs had been installed on North Avenue Northwest, curbs will be installed on Second Street Northwest by the end of the week, and work will follow with curbs and sidewalks along Poplar Avenue.
"I expect all of the work to be wrapped up in the next two weeks," McAbier said.
McAbier also reported the Route 39 paving project is underway, and phase one of the city repaving project has been completed. According to McAbier, work will continue as funds become available, with an estimated date for phase two paving to begin
in October.
McAbier further reported the Precision Approach Path Indicator lights have been installed at Harry Clever Field with flasher baffles for the runway installed on Aug. 11.
Mayor's report
Day said since issuing his call to action to confront the drug overdose death problem in the city, citizens have responded by providing the names and locations of suspected drug dealers. Those names were passed along to the police department for investigation.
"In addition, members of the county ADAMHS board's Opiate Task Force have met to consider different approaches to its drug intervention and treatment efforts," Day said.
Day also said Holland has recommended the city establish a neighborhood watch program to assist police in their drug investigations. "I feel that this proposal deserves further study and ask that it be assigned to a council committee."
Council President Donald Kemp asked Holland if he would take the matter into consideration, and councilman Ron Maurer said he thought the issue also affected the finance committee. Day suggested council take on the matter as a whole. Council agreed to meet one hour early at 6:30 p.m.
Day went on to report that he has instructed Jim Parrish, city fire chief, and building and zoning code administrator Mike Scolati to begin enforcing property maintenance codes that were used previously to tear down an abandoned property on Bank Lane Southeast and to issue citations to property owners on Ashwood Lane Northwest and the location of the former county office building at Fair Avenue and Broadway. In addition, Day said he is actively researching legislation adopted by other Ohio cities to create enforcement programs including the cities of Painesville and Ashtabula.
Board and commission reports
Day reported the planning commission will meet Sept. 8 with the research he is doing on addressing vacant buildings topping the agenda.
McAbier said the board of zoning appeals will meet Sept. 8.
Zucal reported the Aug. 11 airport commission meeting was moved from the Knisely Center to the Park Pavilion due to work taking place that day at the center.
Aimee May said the park board will meet at noon on Aug. 19 at Tuscora Park, and the cemetery board will meet Aug. 20 at 8 p.m. in council chambers.
The health board met Aug. 12 at noon in council chambers.
Council comments
Holland updated council on progress regarding the audio/video system. Equipment has been received, and installation is taking place this week.
New business
Don Kemp reported he heard from a resident who lives just outside the city limits asking to tap into the city water system because their water well had gone bad. The resident asked council if they would consider the request.
Law director Marvin Fete said usually such requests come with a recommendation from the city service director and then council holds a voice vote. McAbier said his recommendation for that particular property would be not to let them hook up to the city water system.
"There is a property now on the edge of town that is being annexed in, and they are moving the main line to the farthest part of the property," McAbier said, adding he thought that was the correct way to move forward with such matters in the future.
Zucal asked for further conversation, saying he was concerned because there is a person with a disability living on the property who had gone three weeks without decent water and does not have the financial ability to drill a
new well.
"That just worries me," Zucal said, "whether it's someone inside the city or a couple of houses outside the city. I don't know if there's anything reasonable we can do, what avenues can be explored or if there's nothing we can do, but I hate to just write someone off, given those circumstances."
Ricklic asked if the residents were able to annex into the city. McAbier said physically, the city could not take the water line to the property's location and that the price of a new well was very comparable to paying for the city to supply a water hookup.
May said she understood Zucal's concern but that council needed to be consistent with its decisions. Zucal said he understood the need for consistency, but he also was concerned just from a human perspective.
"If there's nothing we can do as a city, is there at least a resource we can ask for assistance getting water into their home to try to help them out?" Zucal said, admitting he didn't know the whole situation supplying city water to the residence.
Kemp suggested the Department of Human Services, and McAbier suggested checking with the Goshen Township trustees. The roll call vote of council was to not provide assistance with Ricklic and Zucal abstaining. Kemp said he would contact the residents and direct them to ask for assistance from the DHS and the township trustees.
The next meeting will be Monday, Aug. 24 at 6 p.m. in council chambers at the John Knisely Municipal Centre, 150 E. High Ave., New Philadelphia.