Quaker Cinema gives back with Starlight donation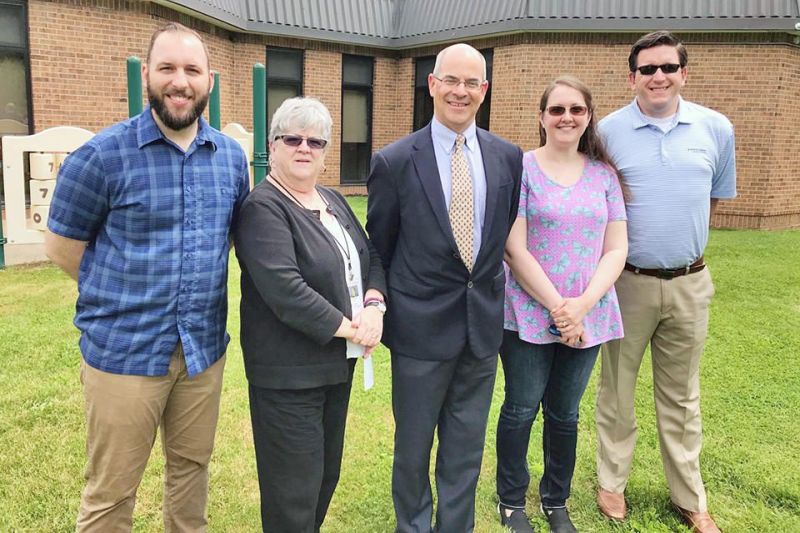 Starlight School of New Philadelphia has been the recipient of a $500 gift that will help enable construction of a new basketball half court on the campus. The gift, presented by Quaker Cinema owner Mike Ernest, was made possible by the nonprofit Tuscarawas Film Festival, a collaboration with Leadership Tuscarawas.
As Starlight School staff, Ernest and Leadership Tuscarawas board member Ty Simmelink gathered on Friday, May 10, Tuscarawas Board of Developmental Disabilities community relations and special projects coordinator Kerri Silverthorn pointed out the location of the new court.
"Right here," she said, indicating a location immediately behind the school building, currently occupied by a small seating area and a preschool-age play structure. "We're going to take these two things out and put it right here."
School principal Holly Lawver said the basketball court represents the perfect use of space for both younger and school-age students.
"We've always had the whole scale from preschool through school age, but next year we're revamping our school partnerships and we'll have more older children, some with behavioral issues," Lawver said. "We needed something that would allow those older children to get outside and burn off some of their excess energy. We wanted something that was dual purpose for both younger and older kids. The younger ones can use it with tricycles and things like that as well."
The way the school serves the community is changing. "Our goal is always to keep kids out in their home school districts," Lawver said. "In the past they've come and sort of stayed with us, but now our goal is really to get them back into their community, with support from our outreach team and in collaboration with schools and the kids' families."
Tuscarawas County Board of Developmental Disabilities Superintendent Nate Kamban said the staff is always doing all they can to get kids back into their home school districts.
"Some families with kids who may exhibit behavior needing extra attention have had to transport them as far as Columbus," Kamban said. "So you can imagine a child in crisis being sent by bus two hours away. Holly and her team started thinking about how we could restructure what we do to help get those kids back into our home county."
The school currently serves fewer than 10 students on a full-time basis.
Ernest said the Tuscarawas Film Festival is designed to raise funds for community projects and will continue to do so. "We have our next film festival coming up in September and October this year as well, and we always want to help out other entities in the community," he said.
"We're in the planning stages now for the fall festival," Simmelink said. "We're picking out movies and getting that process going. We've been lucky so far to have enough sponsorships to cover the screenings, and the Quaker Cinema donates the facility and projectionist. So the ticket sales create enough income to help a community organization right away while providing enough to help the next year get going as well."
The whole idea began in 2017 when Ernest approached Leadership Tuscarawas with the idea of raising funds for community entities via a film festival. The kick-off year covered its own costs, and last year there was enough to enable the $500 gift to Starlight School. "It's from ticket and snack sales," Simmelink said.
The film festival is now in its third year.
Groundbreaking for the new basketball court is expected to begin in June after the end of the school year and should be completed in time for the fall opening. The total project cost is expected to be about $7,000.