Holmes Sheriff's real estate sales to go online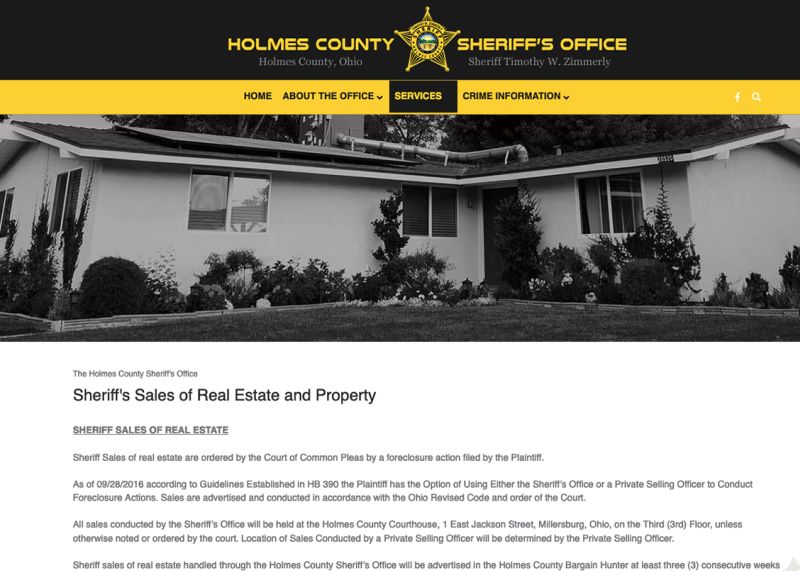 The days of standing around the staircase in front of the Holmes County Courthouse and bidding on real estate foreclosures are gone.
Instead, those hoping to purchase Holmes County property that has been foreclosed will do so online.
The Holmes County Sheriff's Office will no longer conduct in-person sheriff's sales of real estate for foreclosures, opting instead to invest in a partnership with Real Auction, a company that sells foreclosed homes online.
Pursuant to House Bill 390, Real Auction has been contracted with the Ohio Department of Administrative Services for all sales to be conducted online with the official public sheriff's sale website.
The process and procedures under which these sales will be completed are detailed on Real Auction's website at www.ohiosheriffsales.com/onlineauctions.
All prospective bidders should familiarize themselves with this new process, one that will make a trip to the courthouse a thing of the past.
"This is mandated by the Ohio legislature, and it isn't something we would have done on our own," said Richard Haun, Holmes County Sheriff's Office deputy. "As of Sept. 1, 2022, the sheriff is no longer permitted to conduct sheriff's sale of real estate for foreclosure in person. They all must be virtual."
Haun said all sales will be done virtually, and monies will be transacted electronically rather than in person.
Holmes County Sheriff Tim Zimmerly said ever since sheriff's auctions have existed, they have been held at the courthouse steps. He said it will be a change for buyers, but it is something people will quickly adjust to.
"It allows not only people from Holmes County, but people from all over the nation to bid should they choose to," Haun said. "They can easily go to the website, bid and buy. It should create a bigger buyers market."
Haun said the plaintiffs, which are usually banks, that wish to do a bank buy-back on homes will have to follow the same online path to winning a foreclosure bid as the public.
"Their attorneys will have to go online and submit their bids like everyone else," Haun said.
While allowing bidders from outside the area to bid online with greater ease, it also opens the door for anyone from Holmes County wishing to make a purchase outside the county to do so in any of the state's 88 counties.
According to Zimmerly, there were six homes sold at sheriff's auctions in 2021 and only one thus far this year.
Haun said the website contains detailed instructions on how the process works and how interested parties can sign up to register as a buyer.
"You can't just go on to the site the day of the sale and register," Haun said. "People have to show proof of available funding and a lot of other information that is put in place as a safeguard."
Once someone registers on the website, they are on it for good and can buy in any county in Ohio.
Haun said the State of Ohio has contracted Real Auction to serve as the host company for this project and not local sheriffs.
"It's something we don't have much control of, but we will see how it goes," Haun said.
These changes do not affect tax sales and will remain in person, although Haun said Holmes County auditor Leslee Mast is considering the option of going online. These sales will continue to be posted on the Holmes County Sheriff's Office website at www.holmescountysheriff.org.
Once a sale is final, the court will decide where and how the appropriate funds will be distributed.
The Real Auction website should be up by Aug. 22.
Also, the Holmes County Sheriff's Office mobile app remains available to the public. It can be downloaded on the department's Facebook page or on Google Pay and the App Store. The app includes the current jail roster, push notifications, a tip submission button, sex offenders, jail information, a most wanted list and more.
The app is available for free to all IOS and Android users on their respective market app stores. After installing, make sure to turn on notifications to ensure you get the latest push alerts from the sheriff's office and various other alerts including COVID-19 and the National Weather Service.