Wayne BOE works toward safety, integrity of election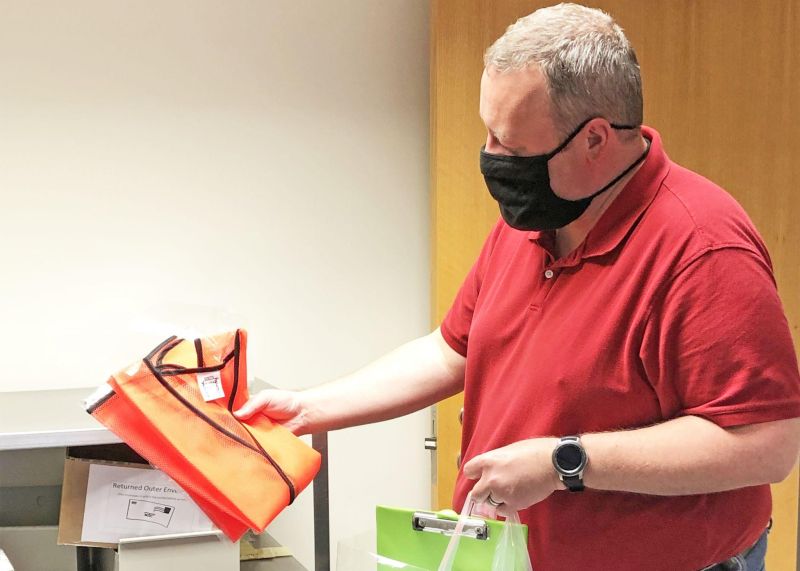 The stakes couldn't be higher this year to have both a safe and accurate local vote in the presidential election on Nov. 3.
Nationally, a global pandemic and possible issues with absentee ballots have the potential to upend the process, but Wayne County Board of Elections director Julie Leathers Stahl and her staff have been working around the clock since August to guarantee the safety and integrity of Wayne County's election.
"We have learned to expect the unexpected with the extended primary, but we are confident we have left no stone unturned to prepare for this election," Stahl said.
Stahl said her office staff of three full-time employees and four part-time employees have been working since early August in preparation for the vote. "We usually don't start till after Fair Week, so that shows how intense this is," she said.
Stahl said several temporary workers also will be added to the office staff as needed.
On election night a total of 268 poll workers will work to ensure a smooth experience countywide.
"We have had to train more poll workers this year due to COVID," Stahl said.
Stahl said additional workers have been added to each location to guarantee extensive sanitization procedures.
"We've worked closely with Wayne County emergency management association director Joe Villegas and Wayne County Health Department director Nick Cascarelli to formulate plans and procedures for safe voting experiences at the early voting center and each polling location," Stahl said.
Signage and floor markings for social distancing will be accompanied by personnel to assist voters at polling locations. Hand sanitizer will be plentiful with items and surfaces sanitized after each use.
Stahl said the WCBOE has purchased new stylus pens that voters will use to sign the poll pad at check-in, and then they will be given a sanitized voter access card for the ICX voting machine.
"So the process is totally touch-free," Stahl said.
Stahl said voting machines will be sanitized regularly with a vendor-approved solution. "We ask that voters do not use any type of sanitizing solutions or wipes that they might bring, as it would damage our electronic machines," she said.
Stahl said all voters and poll workers are required to wear masks.
Kits including sanitizing wipes, hand sanitizer, masks and other items for each precinct were assembled over the summer by the WCBOE staff.
"We tried to do it DIY everywhere we could," Stahl said, explaining how they even made their own wipes because Lysol wipes are still impossible to find.
Stahl said the expenses associated with additional sanitization measures and staff were covered with money from the federal CARES Act.
In addition to concerns about physical safety with regard to COVID-19, another area the WCBOE is focusing on is that of absentee ballots.
"In 2016 we had a total of about 9,000 absentee ballots for the entire election, whereas we already have more than 14,000 applications this year," Stahl said.
Voters wishing to receive a ballot by mail only have to submit one application to the WCBOE.
Stahl said there has been some confusion about some voters receiving unsolicited absentee ballot applications from various other entities such as political parties, special interest groups, et cetera, which are pre-addressed to the board of elections.
"We are prohibited from sending out unsolicited applications. Even though many of these mailings offer return envelopes addressed to the WCBOE, the board did not send them out," Stahl said.
Stahl said Ohio Secretary of State Frank LaRose mailed every registered voter in Ohio an application for an absentee ballot, which is standard for every even-year general election.
While the deadline for requesting absentee ballots is not until noon on Oct. 31, Stahl recommends voters should request them as early as possible in order to avoid postal slowdowns or any other kinds of delays.
Absentee ballot application forms are available on the WCBOE website at www.waynecountyoh.gov. The form must be downloaded and printed out, completed with your signature, and mailed to or dropped off at the board of elections office at 200 Vanover St., Suite 1 (across from the fairgrounds). Applications also are available at the office.
Absentee voting (and early in-person voting) will begin Oct. 6. Mail-in ballots must be postmarked by Nov. 2.
WCBOE has a drop box for applications and voted ballots located outside the building. It is available 24/7 and is emptied by a bipartisan team at least daily and multiple times daily as the election draws nearer. The box is under constant video surveillance.
The WCBOE website at www.waynecountyoh.gov is a helpful resource for all voting information including polling locations, voter registration status, absentee ballot application and status, issues on the ballot, sample ballots, and frequently asked questions.
The WCBOE office is open Monday through Friday between 8 a.m. and 4 p.m. and can be called at 330-287-5480.