College of Wooster names Swick new baseball coach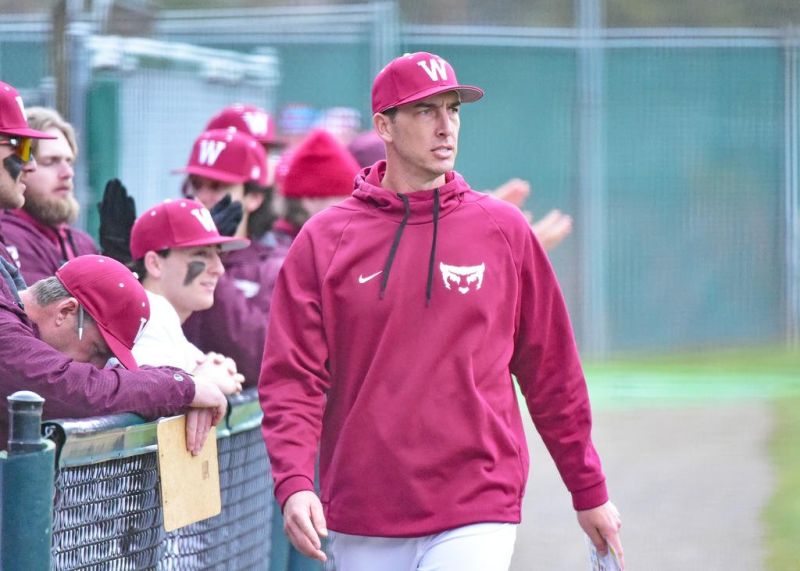 Aaron Swick, a 15-year NCAA Division III head coach who achieved success at Willamette University in Oregon, has been hired as The College of Wooster's head baseball coach. Swick will officially begin his duties at the college on Aug. 21.
"This summer we navigated a robust and competitive national search to secure our next head baseball coach," said Libby Ladrach, Wooster's acting athletic director. "It is with great enthusiasm that we welcome coach Aaron Swick to the Fighting Scots' Athletics and Physical Education Department.
"Aaron offers a holistic and collaborative approach to his people-centered mentorship that values both academic and athletic achievement. We are confident in his leadership as he continues the success of our acclaimed baseball program."
"I would like to thank Libby Ladrach and the entire search committee for selecting me to be the next head baseball coach at The College of Wooster," said Swick, who is the fourth person to lead the Fighting Scots' program since 1976. "Throughout the process I was incredibly impressed by the passion of the student-athletes, the collaboration of the people on campus and the engagement from the baseball community.
"With a legacy of excellence already in place, I am honored to join a program that has consistently exemplified the highest standards of success on the field and in the classroom. Our goal will be to empower each player to reach their full potential, fostering an environment where they can thrive as people, students and athletes. I am looking forward to getting to campus and building a program with our players and staff that will not only compete for North Coast Athletic Conference championships, but also continue to be a national contender at the NCAA Div. III level."
Matthew Johnson, the Orrville native and COW grad who served as an assistant under former coach Barry Craddock, is staying on under Swick.
"It is vital to our players, families and alumni that we selected the appropriate fit to continue to lead our program to success," Johnson said. "Aaron's core values, experience and drive align with the priorities and goals that have made Wooster a NCAA Div. III national power for decades.
"Aaron and his family made the decision to leave a successful career at Willamette and move across the country to be a part of something truly special, and I am looking forward to welcoming them into our Fighting Scot family. I am eager to get to work with Aaron and help implement his vision for an exciting future for our baseball program."
Swick's Willamette program, which competes in a region that has produced five national champions and one national runner-up since 2013, has been among the most consistent west coast teams in that time span. Eleven straight Bearcat teams achieved a .500 or better record under Swick's guidance, headlined by his 2018 squad advancing to the regional championship round following a Northwest Conference Tournament championship. Success in the national tournament, plus tying the program record with 31 wins, resulted in D3baseball.com West Region Coach of the Year laurels.
High-performing academics and a national roster makeup are two hallmarks of Swick-coached teams. Willamette's team GPA was 3.0 or higher every season of Swick's tenure, three College Sports Communicators Academic All-America plaques were earned by Bearcat players and nine earned CSC Academic All-District honors. Fifteen states were represented on Willamette's roster, and Swick brought in an average of 9.5 players per season.
Outside of coaching, Swick taught within the exercise and health science department, was the athletics liaison with admissions, served on the hall of fame committee, was a game administrator for fall and winter sports, and served on the regional advisory committee.
Swick served as Willamette's pitching coach, recruiting coordinator, and strength and conditioning coach for the 2006-07 seasons prior to accepting a role at NCAA Div. I South Dakota State University as pitching coach and recruiting coordinator. In 18 years of coaching college or summer baseball, Swick has worked with 32 players who advanced to professional baseball.
While in college Swick was a pitcher at Saddleback College and the University of California-Berkeley. At Saddleback he was named all-conference, and he sported a 1.86 earned run average as a senior at California. He earned a bachelor's degree in political science from California in 2005 and a master's degree in sports pedagogy from South Dakota State in 2009.
Kevin Smith is director of athletic communication at The College of Wooster.