Div. I Bowen, Fransen highlight WHS college signees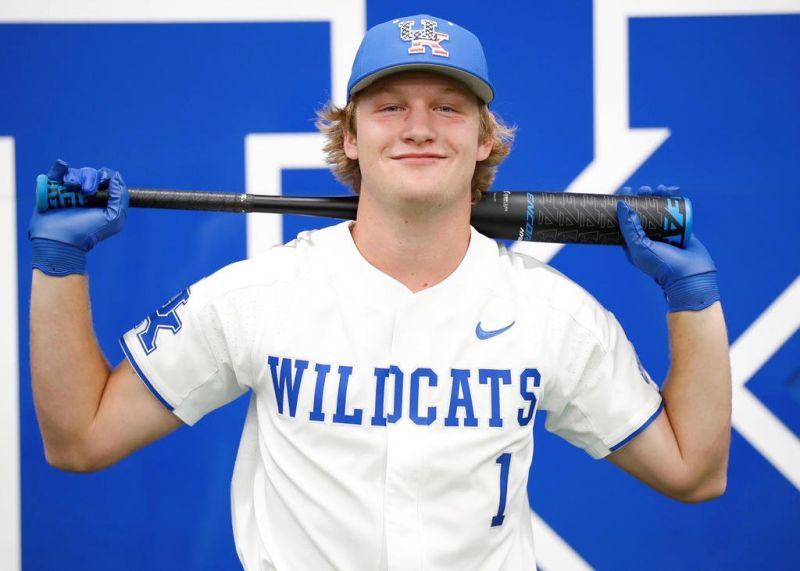 Five Wooster High School student-athletes signed their national letters of intent for athletic scholarships during a ceremony at the school on Nov. 9.
Seniors Blake Bowen and Christie Fransen will attend Div. I colleges while Marin Dixon, Madi Sommer and Abbi Jones are going to Div. II schools.
Bowen will play baseball at Kentucky, and Fransen will be on the soccer team at Bowling Green.
Dixon is headed to the University of Indianapolis for volleyball, Sommer will play lacrosse at Ashland and Jones will golf at Malone.
Bowen will graduate with four letters in baseball and three in basketball. He was a Div. I first-team All-Ohioan as a junior and is a two-time first-team All-OCC honoree in baseball. Additionally, he was the Prep Baseball Report Div. I Position Player of the Year.
"It was really cool to finally make it official," said Bowen, who verbally committed to play for the Wildcats in the summer after his freshman year. "It's been official to me for a while now, but it was cool to put the pen to the paper and sign along with some of my classmates. It was just a real fun time."
Bowen batted .581 with seven home runs, four triples, 13 doubles, 48 RBI, 40 runs scored and 16 stolen bases during an incredible junior season. The 6-foot-2, 195-pound shortstop had the highest batting average and most doubles among all of the Div. I all-staters.
Kentucky compiled a 33-28 record last season and competes in the ultra-competitive Southeastern Conference.
"I've always wanted to play in the SEC, and I wanted to be somewhat close to home," said Bowen, who has a 3.8 GPA and is considering becoming an education major. "It's a great program, and they have a great coaching staff. There's a great field, and they have great facilities. It's just everything I could have asked for."
Bowen has been busy since helping to lead coach Steve Young's Wooster team to the OCC title last spring. He played summer baseball for the Ohio Elite team.
This fall Bowen was invited to play for the Cincinnati Reds Scout Team, and they had games throughout the Midwest and Florida.
"It was a really cool opportunity to be able to play with the Reds organization and play in front of their scouts and other MLB scouts and against future draft picks," said Bowen, who has a good chance himself at becoming one of those players drafted — maybe even after his senior season at Wooster.
Fransen was a four-year first-team All-OCC and All-District honoree. She was a Div. I first-team All-Ohio pick as a senior and was on the second team as a freshman and junior.
"It felt exciting to sign to BG," said Fransen, who carries a 3.9 GPA (4.1 weighted) and plans to major in neuroscience and minor in chemistry. "It makes me feel like I am moving on to the next chapter of my life, and I couldn't be more ready."
Fransen also received serious recruiting interest from Army and Dartmouth and was on the watch list for Notre Dame. She's going to an outstanding program at Bowling Green, which is 54-24-15 overall (39-7-4 Mid-American Conference regular season) since 2018.
"For me, I was excited to be a part of a school that wanted to win championships, which was BG," said Fransen, who played travel soccer for the Internationals Girls Soccer Club. "Being a MAC school also made them interesting because when people think of schools to win NCAA Championships, they typically don't think of a MAC school. I know at BG we all want to defy those standards.
"Lastly, the team and the coaches all seemed very welcoming toward me, and they were all focused on competing with one another."
The 5-foot-7 Fransen had 15 goals and five assists this year in leading a very young team, which finished 5-12-1 (2-4-1 OCC) under coach Charles Cerniglia. She finished her high school career with 52 goals and 22 assists and will play right outside back at BG.
Dixon was a four-time All-OCC honoree and was the OCC co-Offensive POTY this fall. The setter was a key part of four straight OCC title teams and was a two-time Div. I All-Ohio honorable mention honoree. She's the Generals' all-time leader in assists.
Sommer is a three-year letter winner in lacrosse while Jones is a four-year letter winner in golf and earned three apiece in basketball and track. She was the OCC golf medalist as a senior and first-team All-OCC after being on the second team as a junior.
Wooster fall honorees
Wooster's Brendan French (soccer), Fransen and freshman Sara Snowbarger (volleyball) were all named district Players of the Year by their respective coaches associations. It's believed to be the first time in Wooster history that the school has had three POTY winners in the same fall sports season.
—JP Lytle was named Ohio Boys Soccer State Coach of the Year this week after leading Wooster to its first regional trip since 1988 and a 16-6-1 overall record.
—Senior Brendan French and Fransen were first-team All-Ohio honorees.
—Snowbarger was a third-team All-Ohio honoree, with Dixon an honorable mention pick.
Aaron Dorksen can be emailed at AaronDorksen24@gmail.com.