New baseball/softball complex coming to Bolivar area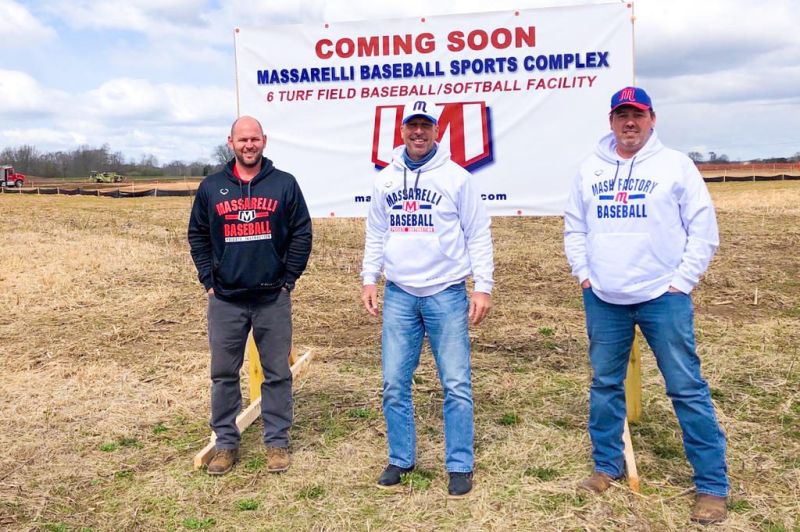 In the movie "Field of Dreams," Kevin Costner hears a voice saying, "If you build it, they will come." Perhaps the partners of Massarelli Baseball School heard an inner voice prompting them to build a new baseball and softball complex in what is now an open field in Wilkshire Hills.
The facility will serve as home base for the school's Mash Factory teams and draw other league and high school teams for play. With equal partners John Massarelli, Dave Schaub and Jeff Bunner, the six-field complex will include a restaurant and bar, indoor turf area for fielding practice, and a mezzanine from which three fields can be viewed.
Massarelli hopes to have the new complex open by August of this year. The former coach and pro baseball catcher for the Houston Astros organization founded the baseball school in Akron in 2003. He has been inducted into the University of Akron Athletic HOF, Greater Akron Amateur Baseball HOF and the Stark County Baseball HOF.
According to Massarelli, the facility was basically designed by Schaub, who also is a former pro player, coach at Canton Central Catholic and hitting coach for the league champion Lake Erie Crushers in Avon, Ohio.
Bunner became involved when his boys took lessons at Massarelli Baseball School and played on their travel teams. "We learned some things about facilities on those travels," Bunner said. "We've taken the best of what we've seen at different locations and meshed them together for what we're building here. Within state travel, at least, there will be nothing else like it."
More family-friendly
"Dave went around to facilities all over the U.S.," Massarelli said. "He could see none of them were designed by baseball people. In most places parents had to sit in one location and constantly duck foul balls from other fields."
Schaub said all six fields are separated enough so games can be watched on any one field without even seeing action on others. He also said the building will front state Route 212 and form the outfield walls for two of the fields.
The facility will feature a playground for younger children and a covered pavilion where families can have meals or just get out of the sun.
"The walking track in Wilkshire Hills will also be a nice tie-in because it borders the west side of the property," Schaub said. "We also plan to light the fields, if not initially, then at some point. That's just another cherry on top when it comes to kids being able to play under the lights."
Bunner said the facility is predicted to draw about 1,000 people per weekend. He also noted a willingness and desire to be embraced by Tuscarawas County and the local community.
"We plan to use a local vendor for our food service, and we want to promote and sell local products," Bunner said. "We also want to be a good steward for the county and encourage our guests to explore the different options out there."
About the school
Massarelli Baseball School offers private instruction for age 6 and over. "We have six coaches and draw students from seven counties," Massarelli said.
Graduates have gone on to sign with both college and pro teams.
"Our staff is super qualified and established," Schaub said. "This is what we do for a living. It's not a side job after we put in our 9-5."
Both Massarelli and Schaub are humble about their professional careers and appear to relish teaching kids.
"I get as much joy — and I know John does too — by helping the kid who can't make contact and is about to quit baseball extend his baseball career," Schaub said. "The thing I hate hearing the most is 'Billy quit playing because he wasn't very good at it.' Helping those kids and seeing them go on to play in college is just as rewarding for us as our own careers were."