Pool party: Generals sweep to OCC swim titles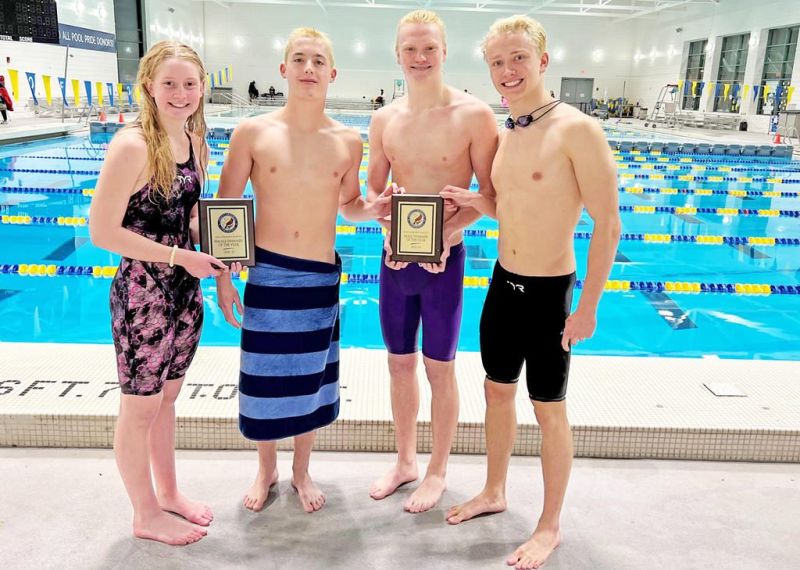 There were seven schools represented at the Ohio Cardinal Conference Swimming and Diving Championships held at Wooster's Ellen Shapiro Natatorium on Jan. 14.
At the conclusion of the meet, it became a party for one: Wooster.
The other teams could only watch with respect as the Generals boys and girls teams jumped into the pool together, followed by their coaches, after sweeping both team titles for the second straight year.
Wooster's swimmers sang their school song with pride while splashing away, knowing hard work had paid off once again.
"We figured the girls scoring would be very close, but they swam very well," longtime Wooster coach Chris Matthew said. "The boys were great too.
"Our boys won the (Northeast Aquatic Conference) championship last week for the first time in eight years, and they swam so fast. It was mentally and physically exhausting, and we have not rested in any way in practices. People probably think we have because the times have been so fast, but mark my words: wait until February."
Wooster's girls worked for a 478.5-379 edge over runner-up Ashland, led by OCC Swimmer of the Year Gretchen Chelf and Diver of the Year Colleen Frantz.
The Generals' boys were more dominant, racking up a 553-420 margin over second-place Lexington. For the first time in program history, three Wooster boys shared OCC Swimmer of the Year — sophomore Michael Buchholz, freshman Gabe Bosler-Kilmer and junior Andrei Dordea — and senior Owen McConnell was the top diver.
Dordea teamed up on the winning 200-yard medley relay team with Buchholz, Vincent Neyhart, Cooper Udell and Courson Kauffman and the first-place 400 relay team with Buchholz, Bosler-Kilmer and Luke Boucher.
"It feels great," said Dordea, who swam to individual firsts in the 50 free (22.22) and 100 free (48.48). "I've never seen it happen before, but we all deserved it.
"The whole team just came together. We truly all deserve Swimmer of the Meet because we've been putting in the work all year long. We've been absolutely killing ourselves in practice, and it's been paying off. We're gonna keep doing it until districts and hopefully make it to state and do what we can do."
Buchholz earned individual golds in the 200 IM (2:04.60) and 100 backstroke (55.41).
"I was really just thinking just one of us is gonna get (Swimmer of the Year)," Buchholz said. "We all really worked hard. It was nice to see us all get it."
Just a freshman, Bosler-Kilmer won the 200 free (1:48.34) and 100 fly (53.72) but admitted he never thought he'd wind up sharing the OCC's top swimmer award.
"I went into this year not thinking that I was going to be very good, but then it happened," Bosler-Kilmer said. "I just worked hard in practice. I've been swimming for three straight years, and (Matthew) is the best coach I could ask for."
The only disappointment for the Wooster boys was not getting the OCC record in the 400 free relay (3:16.67, set by WHS in 2020).
"If we'd have swam the same time we had at NEACs, we'd have beaten it by 1.4 seconds," Dordea said. "It's alright. Stuff happens."
Bosler-Kilmer chimed in, "We'll get it next year. We'll all be back."
McConnell won the diving competition with 382.85 points, and Cole Walenciak won the 500 free (5:01.29).
Adding individual seconds for Wooster were Udell (100 fly), Kauffman (100 free), Walenciak (200 free), Boucher (50 free) and Santiago Salazar (100 back).
After watching since-graduated sister Gracie Chelf win OCC Swimmer of the Year the last three years in a row, Gretchen kept it in the family after winning the 200 IM (2:14.70) and 100 free (54.22) and helping the 200 and 400 relay teams touch the wall first.
"It feels really good for our team to win the OCC," said Gretchen Chelf, a senior. "I'm really proud of the girls. We all like did our personal best or season best. We all worked as a team to get to this title, and it's a really fun season. I enjoy it."
Asked if she felt pressure to win the OCC's top swimmer award, she said, "No, I just go in and swim my race and do the best I can. I get nervous, but once I won the 200 IM, I was ready to go. Hard work pays off, and as long as you do that, you'll have good outcomes."
Wooster's winning 200 free relay consisted of Chelf, Lillian Green, Gwen Miley and Piper Udell while the first-place 400 free relay team had Chelf, Green, Lauren Hershberger and Udell.
Frantz, a sophomore, scored 369.25 points to lead the divers while Udell won the 200 free (2:04.95).
Taking seconds were Green (50 free, 100 free), Margaret McBride (500 free) and Hershberger (100 back).
"I told our girls I thought it would be really close with Ashland, and it was, but they just really wanted to win it," Matthew said. "Almost every single one of our girls dropped huge amounts of time.
"We put some girls in different events that aren't their favorites, or certainly not their strongest events. It's all about balancing for these meets because we don't have a lot of flyers, backstrokers or breaststrokers. We had to put some freestylers in the fly, and it worked out."