Rockets advance to state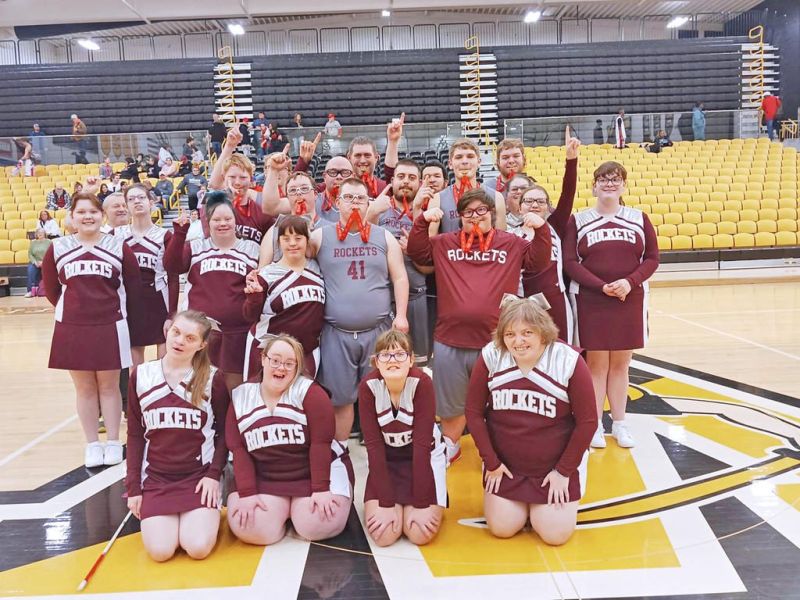 In a weekend packed full of basketball, the Rockets Silver team advanced to the 2023 Special Olympics Ohio State Basketball Tournament. The tournament will be held March 4 and 5 at Bowling Green State University. Swimming and competitive cheer also will compete.
In their first game of the weekend, the Rockets faced the Summit County Warriors for the second time this season. Trailing throughout the game, the Rockets battled back from a 16-point deficit to defeat the Warriors 77-69.
Matthew Medley led the Rockets with 30 points, 12 rebounds, 10 assists, four steals and two blocks. Alex Adkins added 16 points, seven rebounds, two assists and two steals. Zach Dryden had 12 points, 17 rebounds and two assists to help in the victory. Deric Johnson put up 11, pulled down 13 boards, had four assists and stole the ball three times for the winners. Chris Wernert had six points and nine rebounds.
In their second game of the weekend, the Rockets faced Lorain Murray Ridge. The Raiders had defeated the Rockets earlier in the month, but it was the Rockets that emerged victorious this time by a score of 65-50, securing the Northeast Regional Championship and a berth to the state tournament in March.
Deric Johnson and Zach Dryden both had 15 points for the Rockets while Alex Adkins had 13. Matthew Medley and Chris Wernert both added 11 points. Johnson (14), Dryden (16) and Wernert (12) combined to grab 42 rebounds during the game. Medley had 19 assists, seven rebounds, two steals and two blocks. Adkins had three assists, eight rebounds and one steal for the winning team while Wernert had two blocks.
The Rockets Silver team will take on the northwest regional champion at the state tournament on March 4.
The Rockets Maroon team won their first two rounds of tournament play against Columbiana and Medina. They lost a heartbreaker to the eventual Div. V regional champions, Lake County, in the third round.
Allison Halsey led the way in the second-round game with 18 points, 16 rebounds, two assists and six steals. She added six points, seven rebounds and two steals in the third-round game. Rachael Russell added 14 points and one steal in the second-round game and two points in the third-round game. Kadyn Cook-Linamen had eight points and 22 rebounds in the second-round game and four points and 12 rebounds against Lake County; he also had a total of four blocks on the day. Tyler Ross had nine points and six rebounds at both games on Saturday.