Scots put 4 players, coaches on All-NCAC basketball squad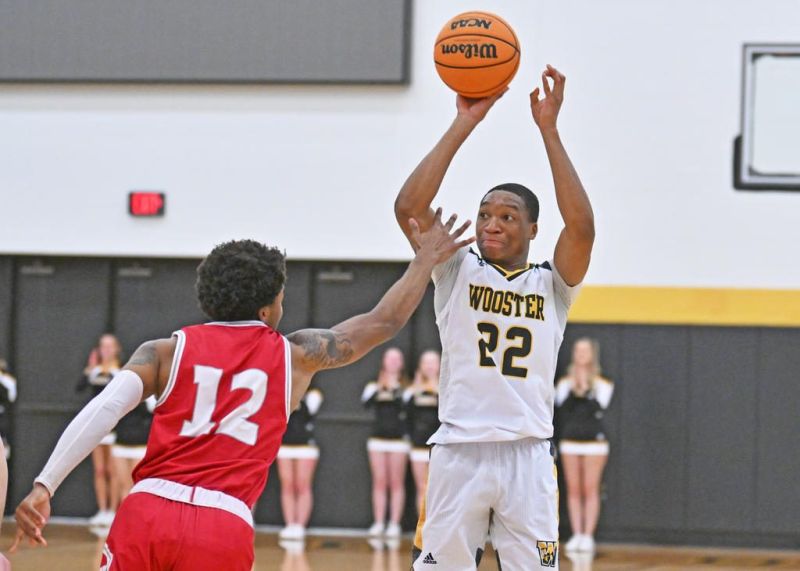 The North Coast Athletic Conference champion College of Wooster men's basketball team had four players earn all-conference honors, and the Fighting Scots took home the NCAC Coaching Staff of the Year award, as announced recently by the conference office. Sophomore guard Jamir Billings earned first-team All-NCAC honors, senior guard Najee Hardaway and senior forward Turner Kurt were second-team selections, and junior Nick Everett earned third-team laurels.
Billings scored his second all-conference award and an elevation to first-team status after being an honorable mention last year. The sophomore was one of five players on a very balanced Wooster team to average over 10 points per game. Billings paired 5.2 rebounds, 5.2 assists and 2.6 steals to his 10.8 points per game. He tied his single-game program record with 12 assists against the University of Rochester and broke Rick Hochstetler's 26-year-old program record with 10 three-pointers in the championship game of the NCAC Tournament.
Hardaway led Wooster with 12.3 points per game and had 20 games with at least 10 points this year. Kurt repeated as a second-team all-conference selection after averaging10.3 points and 5.2 rebounds per game. Everett ranked third on the team with 11.3 points per game, and he averaged 4.5 rebounds, 1.0 steals and 0.6 assists per game, leading the NCAC with a 69.1 field-goal percentage (112 of 162).
Doug Cline just completed his third year leading the program he once starred for. The 1995 Wooster alumnus is 43-19 as head coach, and Wooster has a 654-155 record with Cline on staff. He guided the program to its league-leading 19th conference title, the program's 1,800th all-time victory and the program's 34th consecutive full season with at least 18 wins this winter.
Cline is assisted by Jack Stevens, Phil Kuchta and Mel Burke, Jr. The NCAC Awards Committee recently enhanced the conference's coaching honors, designating the award for the full staff instead of just the head coach, starting with the 2022-23 academic year.
This is the 19th consecutive time at least three Wooster players made the all-conference team. Wooster last had four players on the all-conference team in 2013.