Seniors — all 15 of them — lead WHS boys soccer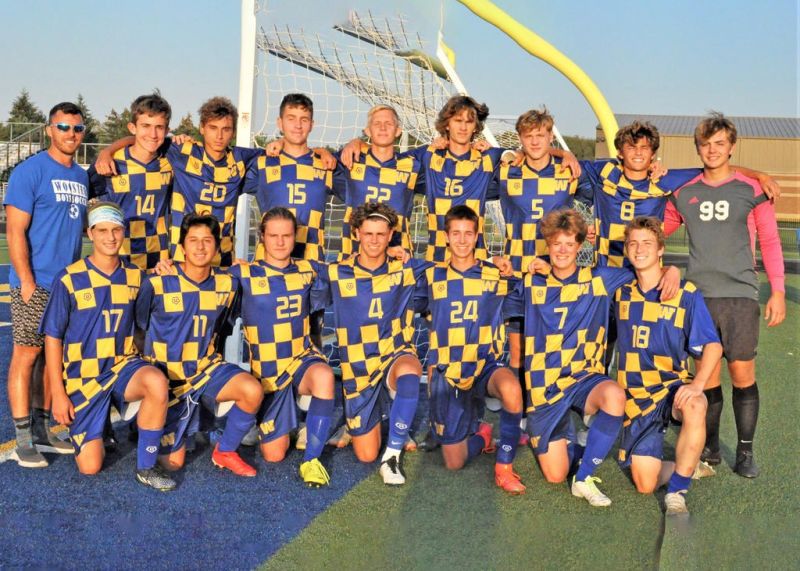 When walking into a boys soccer match at Wooster High's Follis Field these days, fans might expect to see rocking chairs all along the Generals' sideline. The team, driven by head coach JP Lytle, is teeming with seniors — citizens of the pitch.
Fortunately, those wearing jaunty blue and gold uniforms are long-timers still full of fit and vinegar. It's a most unusual circumstance. Seldom does a high school varsity soccer squad have 15 seniors on its roster, young men who have played the sport together throughout their youth.
Lytle, in his fourth season as the Generals' top taskmaster, has seen the group through thick and thin.
"It's good and bad," Lytle said of the senior-heavy unit. "There's only 11 guys who can be on the pitch at once. And with that, we put a lot of emphasis inside with practice and things like that. These guys can lead the younger guys. The intensity of practice is much better.
"You always have seniors who come up through the years and then naturally think, 'This is our season.' But really, it should be everybody's season because you never know, whether you're a freshman, sophomore, junior, senior, this is going to be the best of the four years you're going to be in there. You don't know what's going to happen during the season. You don't know what's going to happen health-wise. Something little can knock a group of guys out."
Whatever the forecast might hold, senior captain/midfielder Aiden Strand-Fox is sure about one thing: fun will be an ingredient in the overall recipe.
"There's a family aspect here," he said. "We're all here for each other. We're all friends on and off the field. It's a good time for all of us. I want to play to the top of my ability. You always look forward to stepping onto the field, having a good time and enjoying my senior year. These are the best memories I'm going to make with my best friends. I wouldn't trade that in for the world."
Strand-Fox hopes to continue his soccer career in college, where he plans to major in criminal justice. Though final details are still in the works, he's leaning toward Ohio Northern or Mount Union.
Center-mid Nate Monastra thinks having a large senior group is a positive for the team as a whole.
"I think it's a great thing because it adds a lot of experience. We can really help to talk to all the younger guys and help teach them day in and day out," he said. "We can tell them about game experiences, and having veterans adds a lot to that sort of stuff."
Monastra is in his third year on the Woo crew and said his involvement has countless benefits.
"I've taken away so many things from my sophomore year up to now," he said. "I've learned how to work together as a team, how to win as a team and how to lose as a team. All these guys have taught me so many different things about life and soccer."
Lytle knows his team is capable of reaching new levels of achievement.
"There are a couple of teams on our schedule this year that Wooster, that this group of seniors, hasn't beaten. But we're not shying away from any competition," Lytle said of the 2021 agenda.
A mixture of regular-season trips to the far reaches of the district will give the Generals a good idea of how they stack up against some of the best.
"It's good for them in high school to ride a bus together, to travel far distances. It's good for the camaraderie and for teamwork as we build forward," the coach said.
The ultimate road trip would be a ride to Columbus and the new downtown stadium occupied by the Columbus Crew. That is where the state championship matches will take place.
But first things first. The district is one of the toughest anywhere and includes juggernaut Cleveland-St. Ignatius, which is ranked No. 1 in the entire nation by the MaxPreps and United Soccer Coaches polls. The Wildcats are No. 1 in the OHSAA Div. I state poll as well.
Opponents such as Copley and Medina Highland are hurdles as well. So Wooster, ranked No. 13 in the most recent OHSAA Div. I lineup, can't look too far ahead. A premature case of "senioritis" would spell doom.
The Generals' recent 2-0 loss at Lexington likely means a second-place finish for Wooster in the Ohio Cardinal Conference.
Lytle doesn't seem to fear graduation and the loss of 15 of his 24-member varsity roster. The cupboard will still include junior captains Simon Shonfeld and Brendan French, along with four other current juniors and a trio of sophomores.
In the Generals' recent drubbing of Mansfield Senior, the WHS starting lineup consisted of two sophomores, five juniors and four seniors. In the end Lytle hopes his seniors leave behind a legacy of leadership.
"It's good. It's good when you're growing up like that to know when another guy is having a bad day or a good day, to know whether he needs a high-five or somebody needs to get under his skin a little bit. These seniors know each other, and they push each other. Even our younger guys are starting to see it," Lytle said.
Drew Rader is a senior who does double-duty for the Generals, putting his footwork and kicking skills to good use as a midfielder/forward in soccer and a placekicker/punter on the football team. He thinks he's best suited to play football at the next level.
"Soccer is a lot of fun, for sure," Rader said. "Being friends outside of soccer is the main part. After we leave the field, we hang out or go out to eat together."
Pass on the pizza and wings. And if you want to get the seniors to smile for a group photo, "Say cheese" doesn't cut it.
"Say Asian Wok" is the sure-fire instruction to extract toothy grins from everyone.
"We like to go there. I'd say it's our go-to place," Rader said, "either Asian Wok or Wild Ginger. We like to go there too."
It makes sense. On a very windy day, both eateries are just a very long punt from friendly Follis Field.