Triway teams rule PAC in baseball, softball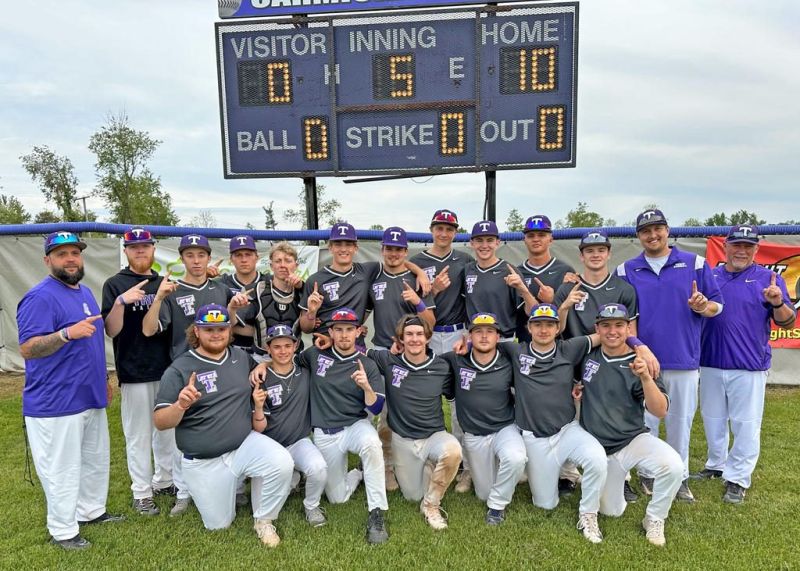 The Diamond Kings (and Queens) of the Principals Athletic Conference are all from Triway this spring.
The Titans baseball team clinched the outright PAC title with a 10-0 win over Tuslaw on May 16, improving its record to 19-4 (12-2). Coach Justin McDowell's team was scheduled to host the Fairless vs. Cuyahoga Heights winner in a Division III sectional final on May 17.
Triway's softball team improved to 20-3 after defeating Loudonville 7-1 in a Div. III Norwayne District semifinal. Coach Ron Rock's team finished 13-1 in the PAC to win the league and moved on to a district final rubber match on May 18 against Manchester, which split with the Titans in the regular season.
Resilient baseball team
If there's one word McDowell would use to describe his baseball team, it would be resilient.
Despite a more challenging spring than usual weather-wise and many players asked to step into new roles, it's been a stellar season the Titans hope to continue as long as possible in the tournament.
"With the weather and the schedule, it's been a challenging spring, but we always came to the field ready to go," McDowell said. "We're deep, which really helps. One through nine (in the batting order), everyone's contributing. And our top two on the mound have been very good and given us a chance to win."
The top two pitchers are senior Chad Harper (7-2, 2.15 ERA, 62 Ks, 52 IP) and junior Simon Kitchen (4-1, 1.07, 64, 45.2).
"Since we got here Chad's sophomore year, he's been one of our top two pitchers, and he's really embraced that role," McDowell said. "Simon threw a lot of nonleague games for us last year and worked hard and won some big games. Knock on wood, we've played some really good defense behind them."
Senior catcher Easton Barnard has anchored the defense while batting .328 with seven doubles and 25 runs scored.
"Easton would have been a fourth-year starter if not for the COVID season, and he's phenomenal out there: calling pitches, receiving, blocking and throwing out runners," McDowell said.
The infield of first baseman Kade Whitman (senior, .290 batting average), second baseman Owen Walter (junior, .256), shortstop Grant Schag (sophomore, team-best .469) and third baseman Riley Gumber (senior, .259) has been outstanding, McDowell said. Harper, who also plays right field, is batting .461 with a team-high 15 extra-base hits and 26 runs while his 21 RBI tie with Schag for the team lead.
"Riley was hurt all last year, so him coming back was huge," McDowell said. "Grant has been phenomenal at shortstop all year. He makes every single play, and that's huge when the ball's hit and you feel confident with your fielders fielding it.
"Owen and Simon have both played second and done a good job. Kade is also a fourth-year starter at first base and played very well. He's helped everyone calm down at times and understands the game very well."
Left fielder Cooper Barton (.328), center fielder Cale Drown and right fielder Wyatt Posten (.347) have been solid. Outfielder/DH Tyler Snyder is batting .333.
With the top seed in the 24-team Tri-C district ahead of Manchester, Waynedale and Chagrin Falls, the Titans are hoping to make some noise in the postseason.
"We had a good regular season and won a few games in a row there to put ourselves in a good position," McDowell said. "Hopefully, we can win some games and keep going in the tournament."
Softball team reloads
Despite returning only three starters from its Div. II state championship team, Triway powered its way to a repeat PAC title and the Div. III Norwayne District final against Manchester.
"Things haven't changed," Triway coach Ron Rock said. "We look at one team at a time and that's whoever we're playing. That's what we focus on. I don't go and look at or talk to them about anybody else down the line."
Triway junior pitcher Carter Wachtel has been fantastic once again on the mound and at the plate. The Georgia Tech commit entered the district with a 15-3 record, 0.69 ERA, 213 strikeouts and 16 walks in 112.1 innings pitched. She's also batted .500 out of the leadoff spot with 13 doubles, two triples, three home runs, 23 RBI and 14 runs.
The two other returning starters are both in new positions, with junior Hanna Massaro moving from left field to shortstop and senior Emma Flinner going from right field to first base.
Massaro, a Bowling Green commit, is crushing the ball at a .523 clip with eight doubles, four triples, five homers, 38 RBI and 33 runs. Flinner is hitting .455 with 12 doubles, two triples, three longballs, 35 RBI and 27 runs.
"We might have been a little stronger offensively last year, but these girls are all doing a great job," Rock said. "We have only one player in the same position she played last year, and that's Carter, of course. Everybody else is in new positions, and I have a bunch of new faces on the team who are doing well."
Also playing big roles are second baseman Livia Grabowski (.436), center fielder Callie Robson (.433), left fielder Alyssa Hochstetler (.403), third baseman Myah Lester (.355) and catcher Michelle Lyons (.327).
Transfer Kenzi Gatti was only permitted to play the first half of the season after transferring from Waynedale but was fantastic with a .547 batting average in 13 games. She clubbed three doubles, three triples and four homers.