Waynedale to go for gold after winning state semifinal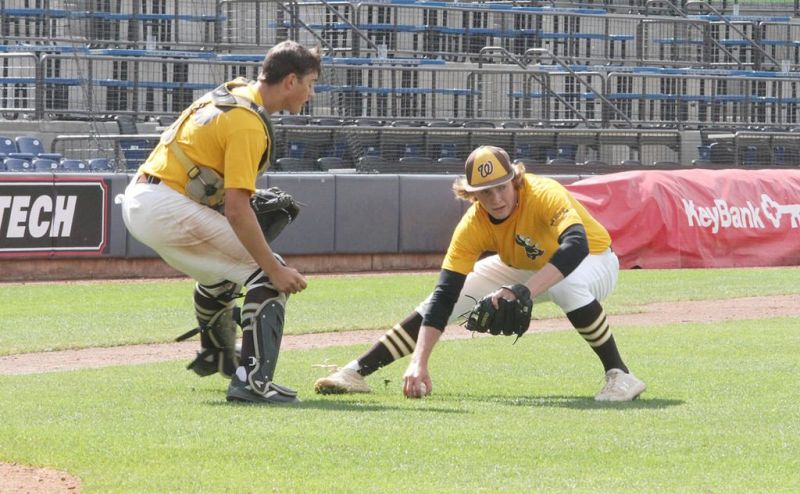 Not often does a high school team face mid-90's fastballs and guys projected to go in the first round of the Major League Baseball draft.
However, that was the challenge for Waynedale when it faced hard-throwing Jacob Miller of Liberty Union in the Div. III state semifinals Thursday, June 9 at Canal Park in Akron.
A great deal of patience and a pretty strong pitcher of their own in Trey Barkman presented the Lions with a challenge, and in a stunning effort, the Golden Bears outlasted Miller and claimed a 4-3 victory.
The first inning was a showcase of how difficult it was going to be to score runs in this contest. Miller recorded a pair of strikeouts around a Josiah Raber groundout, while Barkman was a picture of efficiency, taking all of seven pitches to whip through the Lions' first three hitters.
It was more of the same in the second, with Miller recording three more strikeouts after yielding a mammoth one-out triple to Ean Miller. Barkman responded with another perfect seven-pitch inning.
Eventually Jay Mast drew a walk to lead off the fourth inning for Waynedale, and after falling behind in the count, Timmy Short rifled a triple down the right-field line to plate Mast for the game's first run. Miller would record a pair of strikeouts, but a wild pitch would allow Short to score for a huge second unearned run.
"Getting on top was huge for our confidence," said Waynedale head coach Lucas Daugherty. "When we can get a lead, we feel that with our pitching and defense it gives us a good chance."
Liberty Union finally got to Barkman in the bottom of the inning, when Cayden Carroll produced the Lions' first hit, a double, leading off the inning, Barkman then walked John Edwards, and a sacrifice bunt turned into an error when catcher Josiah Raber's throw to first was off target, loading the bases with none out.
That was when Barkman truly proved his worth on the mound. After Miller lined out to left for a sacrifice fly, another walk reloaded the bases. With the Lions poised to pounce on the lead, Barkman induced a pop-out and then struck out Trevor Wood to end the threat in a monumental moment.
"Trey Barkman is a true competitor," Daugherty said. "He left it all out there tonight."
Inspired by that turn of events, the Golden Bears went to work on Miller again in the top of the fifth. Barkman drew a full-count walk and Braden Hershberger's groundout to second moved him up a base. Dylan Raber's long fly to right moved Barkman to third, and Miller was on the precipice of getting out of the inning unscathed.
However, that was when the All-American hurler lost his cool. Miller went to a full count on Josiah Raber and thought he had a third strike, but the umpire saw things differently, issuing a walk to Raber, who advanced to second on indifference. Short then hit a screamer down the line at third that the third baseman was unable to handle, bringing home Barkman.
Miller's moaning on the mound only got worse. He had Connor Gatti down 2-2 when he again thought he caught the corner, but the pitch was called a ball. Miller's next pitch was head high and the walk forced in a second run giving the Golden Bears a 4-1 lead, prompting the umpire to give Miller and catcher Austin Ety a warning.
"He showed him emotions and we used that against him," Barkman said of Miller. "We took it right to the finish line."
The bottom of the inning provided perhaps the game's defining moment. Austin McClure led off with a double to left, and on the next play, Ian Wilson grounded to short, where Ean Miller gobbled it up and threw a perfect strike to Short at third base. What should have been an easy out turned into an error when Short dropped the ball, putting runners on the corners with nobody out.
The unflappable Barkman remained poised, and he quickly got Carroll to ground into a 1-4-6-3 double play that saw him deflect the sharp grounder to Dylan Raber at second, setting in motion a key double play that scored a run but ended the Lions' threat.
"Show no emotion, that is something that (Daugherty) preaches to us," Barkman said. "I think that gave us an edge today. We just leaned on each other and trusted each other."
"That play was huge," Daugherty said of the twin killing. "You could feel the momentum kind of swinging their way, but credit to our kids for staying composed and finding a way out of it."
Both teams went quietly in the sixth, but the Golden Bears had worked the pitch count high enough that it forced Miller out of the game. Waynedale got hits from Dylan Raber and Josiah Raber in the seventh but couldn't produce a run, setting the stage for a thrill-ride finish.
Barkman induced grounder to shortstop, but Ean Miller bobbled the ball, then hoisted it into the Waynedale dugout, allowing Braden Shreyer to reach second. Barkman then hit Wood, signaling his final batter of the game.
Marching in from the right-field bullpen like Ricky "Wild Thing" Vaughn in the movie "Major League" came Otto Soloranzo, who was asked to put out the fire and save the game.
"I never like getting pulled out of a game, but Otto is a stud and I trusted he'd do the job," Barkman said. "That's all that matters."
"We trust Otto," Daugherty said. "He's so tough mentally. He came in and got the job done."
McClure attempted to move the runners up by bunting, but Soloranzo charged the bunt and fired to third to get the lead runner. Ian Wilson did get down a sacrifice bunt, moving two runners into scoring position and bringing up the top of the Lions' order.
The dangerous Carroll hit a chopper up the middle, and Ean Miller's throw to first was just late, allowing a run in while putting the tying run at third. After moving to second on indifference, the tying and winning runs were now in scoring position, where a single would spell defeat for the Golden Bears.
Instead, Soloranzo dug deep. Edwards fouled off here pitches to stay alive, but Soloranzo went inside and struck him out to send Waynedale into the Div. III finals.
"I'm incredibly proud of our guys, were worked very hard to prep for Jacob Miller," Daugherty said. "He's a great pitcher, and they are a tough opponent."
Barkman went six innings, allowing just two hits and one earned run, walking a pair and striking out seven. Miller ended up going 5 1/3 innings, striking out 10 and allowing four hits, but five walks came back to haunt him.
"I thought we stayed very disciplined at the plate and forced him to throw more pitches than he is used to throwing," Daugherty said. "He throws 95 and has a great breaking ball, so we did a good job of picking up the spin on the curve and laying off of those."
Waynedale, now 26-4 and winners of 24 in a row, will play for the Div. III state crown Saturday at 1 p.m. against Milan Edison (24-8), which blanked Cincinnati Roger Bacon 3-0 in the other semifinal.