WHS Drama Club preparing for upcoming spring play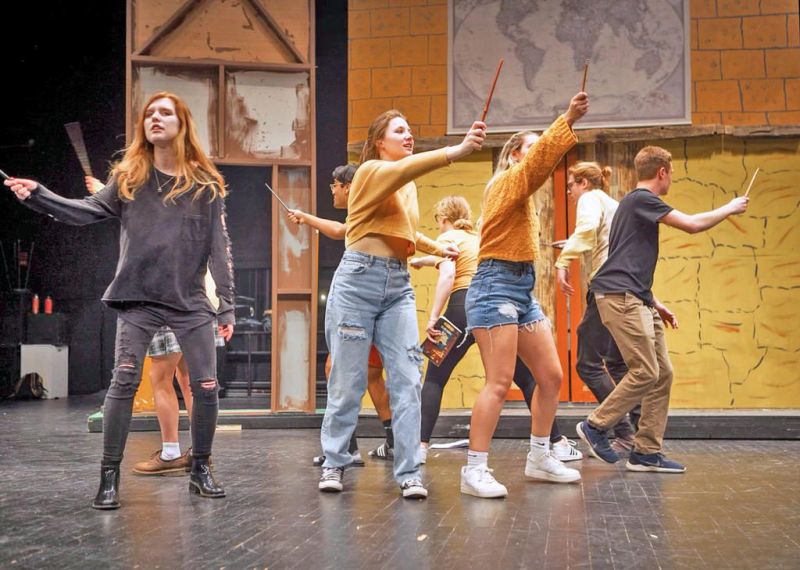 Brett Hiner, Drama Club advisor/director, will be the first to tell you he has only read one of the Harry Potter books — a shock to many because people assume all English teachers have read the popular young adult series.
But that did not stop him from landing on the play, "Puffs or Seven Increasingly Eventful Years at a Certain School of Magic and Magic," for the Wooster High School Drama Club's spring production.
The show will be produced March 24-25 at 7 p.m. and March 26 at 2 p.m. in the Wooster High School Performing Arts Center, all in conjunction with the Wooster City School's Fine Arts Festival.
"Ugh, I am judged all the time by students and colleagues because of my lack of Potter readings," Hiner said. "But what appealed to me regarding this show is the perspective/point of view; it is the story of another house of students, the 'Puffs,' who were not cool enough to be in Harry's circle when Harry was there but still faced all the challenges he did. They are the outcasts at a school for outcasts, and underdog stories always allow for wonderful theater."
"Puffs or Seven Increasingly Eventful Years at a Certain School of Magic and Magic" tells the story of a different trio of students — Wayne Hopkins, played by senior Ethan Keating; Oliver Rivers, played by senior Ishaan Gireesh; and Megan Jones, played by senior Hayley Sleek — as they journey through their own struggles and triumphs at magic school.
Facing evil wizards, trolls and insurmountable wizarding tasks are all par for the course in the play, but also the much more relatable teenage issues like peer pressure, the struggles of fitting in and tackling school dances provide for some of the truly hysterical moments in the show.
"This play is a little different than anything we have done before," said Kristi Hiner, assistant director. "There are a lot of belly laughs, and our students do such a wonderful job of conveying that hilarity, but the play itself is one connected piece. Matt Cox, the playwright, had to get through seven years of wizarding school quickly, so a lot of the show's progression is conveyed in character movement, not set/scene shifts or character entrances/exits like traditional shows. It is a challenge, but one the students have certainly accepted."
The cast agrees.
"Capturing the complexities of a character is always a challenge. (Megan) has a great story to tell, and doing her justice is not easy, but the high-energy show makes it exciting," Sleek said.
Senior and second-year member Olivia Hiner said, "It is a play with constant movement; there is no downtime, and that has really forced us to rely on each other. It is a reminder that friendships are so, so important — in character and out."
These challenges also allow for some wonderful moments to peak through.
"I think the audience will leave the theater assured that everyone has a story to tell, that sometimes we get lost in another's story, but 'Puffs' is a reminder that everyone is important and unique in their own way," said senior Stella Powers, who portrays the show's narrator.
The cast and production team said one does not have to be a Harry Potter expert to enjoy the show.
"The show is unique because it does have an established universe, but the main characters are unknown so we get to delve deeper into their world, which is great," said senior Hannah LoGiudice, who plays Ernie Mac.
"Yes, there are some inside jokes that the fans of the books or movies will truly enjoy, but the overall comedy and enjoyment is not contingent upon Potter expertise," Brett Hiner said. "One of the taglines for the show is that it is for anyone who has never been destined to save the world, and that is how we have approached every rehearsal. Getting that universal message/feeling across to an audience bigger than the Potter experts has been really, really important to us."
Another added bonus for the production team has been seeing club members consistently display their talents with enthusiasm.
"After two months of rehearsals, it is tough to be surprised and keep laughing at the same lines or moments over and over, but the students' delivery of some of those lines honestly has me in stitches every night. It has been a joy working with these kids and playing in this universe the last couple of months," Brett Hiner said.
Along with Powers, Keating, Gireesh, Sleek, Hiner and LoGiudice, the show is led by seniors Layne Nelson and Caleb Singer-Holden and juniors Daisy Carmon, Emily Hammond and Ben Wright, and it features a cast of 20 more Drama Club members.
Tickets for "Puffs," now on sale, are $10 for adults or $8 for students/senior citizens and can be purchased by visiting www.ticketpeak.co/whsdrama or at the door the day of the shows.