WHS girls tennis team goes from no season to title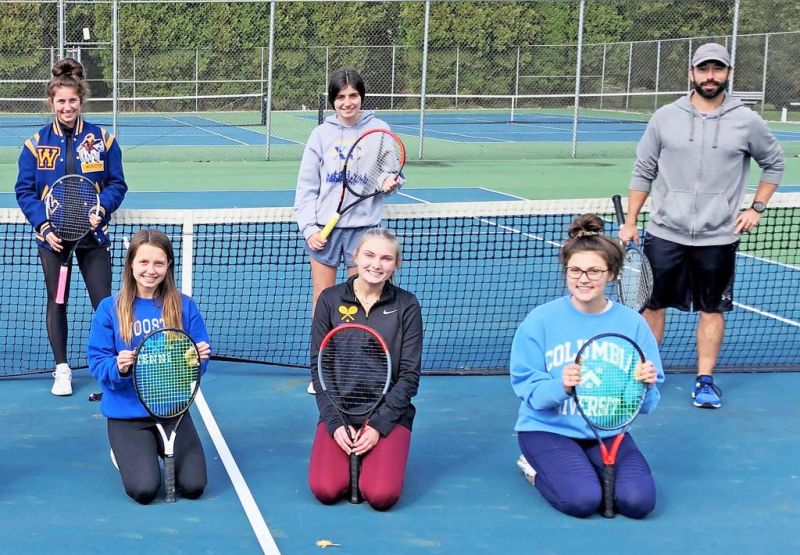 The Wooster girls tennis team went from wondering if it would even have a season to people pondering how long it's been since the program won a league championship.
Suffice it to say, it's been a memorable season for the 2020 Wooster netters with more highlights expected.
The Generals won the Ohio Cardinal Conference championship at the league tournament, which was held at Mount Vernon on Sept. 26. It was Wooster's first OCC title in its 18th year in the league.
"That's what some people said originally, but we really didn't believe them," said senior Audrey Cochran, who was the OCC second singles champion. "We found out later that it's been like 40 years since Wooster (girls tennis) won a league title. It's kind of crazy to think about. Being in the moment, it hasn't really hit me yet, but when I look back on it, it'll be really meaningful."
Lexington swept every OCC championship from 2003-16. Ashland won titles in 2017 and 2019 with Lexington working back into its usual championship spot in 2018.
And then came the Generals in 2020.
"Wooster girls tennis needs more attention," junior first singles standout Sophia Mathur said with a smile.
Mathur placed third at the OCC tournament with her only loss coming to repeat OCC Player of the Year Gracie Pfieffer of Lexington.
Cochran defeated Ashland's Lydia Sinchok 6-0, 6-1 to win the second doubles title.
Wooster sophomore Minnie Pozefsky captured the third singles gold with a 6-2, 6-2 win over Mount Vernon's Marah Statts.
All three Wooster singles players entered the Div. I sectional with identical 10-4 records.
The Generals' superior depth continued with a first- and second-place finish in doubles.
The first doubles gold went to junior Emma Boreman and freshman Alexia Kakanuru with a sweep of Ashland's team in straight sets while the runner-up second doubles duo of senior Macey Dillon and Lauren Anderson were edged out in two close sets with Lexington. Kakanuru has a 13-1 record playing doubles while Boreman is 11-0.
Wooster's title run didn't come out of nowhere. The Generals were actually undefeated in matches entering last year's OCC tournament at The College of Wooster, only to come up short against the Arrows in longtime coach Stan Burris' final season.
"I'd like to publicly thank coach Burris for leaving me an OCC championship team," first-year head coach Matt Knight said. "That was very nice."
Knight is in his 11th year as a science teacher at WHS and was an assistant coach last season. He's assisted by former Hiland state qualifier Brad Mullet, who's a teaching pro at Aspen Racquet Club in Wooster.
Both coaches have been extremely impressed with the dedication of a team mixed with experience and youth.
"The team is full of people who were born athletic," Knight said. "They're competitive, and they've been very fortunate that they've had a lot of chances to train, learn and get better. They've been playing since they were young."
Mullet, who played in the 2011 state tournament for Hiland and is in his seventh year as a teaching pro, said the Wooster girls team has "the complete package."
"These girls have athleticism, consistency and are all-around players," Mullet said. "They know how to win points, and that's probably the most important thing."
Knight has been thoroughly impressed with his singles players.
"Sophia is our best singles player," Knight said. "She comes from a family full of competitive tennis players, which only makes her better. Even when she just recreationally plays, it's with people who challenge her. Audrey is a wall. She gets everything back. She has great finishing shots, but she just makes very few errors. Minnie never gives up and is the hardest worker."
Tennis is in Mathur's blood as her father, Dr. Kevin Mathur, was a standout player for Wooster High in the late 1980s.
"My dad went to state twice in high school and got me interested in tennis," said Sophia, who's in her third year playing first singles for the Generals. "My mental game has definitely improved. The new (Aspen) facility has been great for our team to practice at. It's been helping bring a lot of new players into the sport."
Cochran said she's thankful the COVID-19 pandemic didn't take away the team's chance to play. "I really didn't know if we were gonna get to have a season, but it's really been great," she said. "It's been cool to see all of us work together, to build each other up and finally win the OCC."
Boreman is a strong doubles player who likes to go to the net while Kakanuru is a lefty-hitting freshman who keeps getting better all the time, Knight said of his first doubles squad.
The second doubles pair of Dillon and Anderson matches up strong team leaders. Dillon is one of the toughest girls Knight said he's ever met while Anderson is an athletic, hard hitter.
Sylvie Shaya and Sophie Garcia have been valuable substitutes on the doubles teams.
The Generals were hoping to continue their success in the Div. I Akron Sectional, which was scheduled for Oct. 7.