Full speed ahead for Smithville's Carr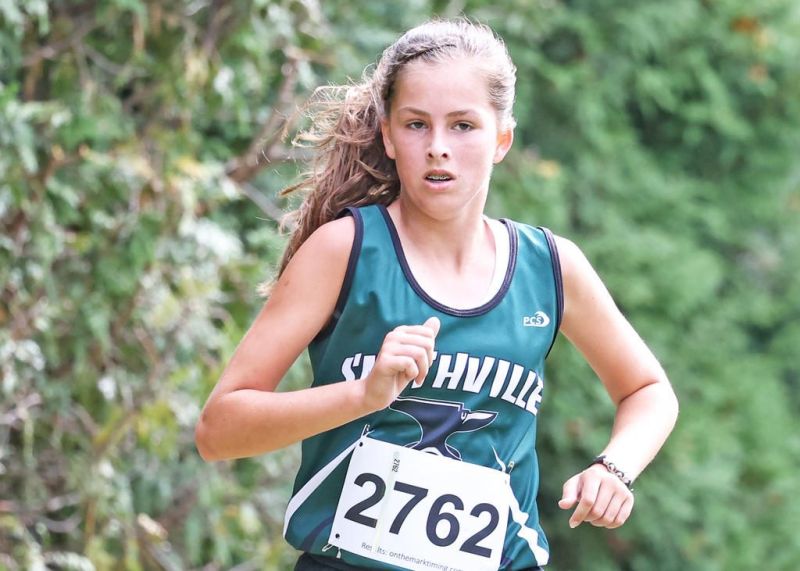 Smithville's Kaitlyn Carr was able to check a bunch of goals off her list a year ago.
The then-freshman broke the school's 5K record and become the program's fourth All-Ohioan after a seventh-place finish at the OHSAA Division III state meet.
With a new season, comes new goals and Carr is wasting little time getting to work.
"Last year the goal really was to just get to state," theSmithie sophomore admitted. "I never thought that I would get on the podium.
"Now that's changed my mindset of what I'm working towards; not only getting to state again, but placing higher."
Carr has already taken some giant steps towards some of those new aspirations, recently clocking a personal-record 18:01.80 at the Wooster Invitational – bettering her previous-program record time of 18:15.8 from last fall.
Even more impressive in the mark is the second-fastest in county history, passing Rittman graduate Pyper Gibson (18:07) and trailing just Norwayne grad Jaylee Wingate (17:15).
And even after running one of the best times ever for a local harrier, she still wanted more.
"I really wanted to get sub-18 today," Carr said. "But I've been running 20-30 seconds faster on every course (than last season), so that's really the goal.
"The (Wooster) course is pretty fast and, with everyone else out there pushing me, I think without them I wouldn't have been able to run so fast."
Carr came up just short of the win at Wooster, losing to Northwest's Madelyn Begert (17:59.2), but already has three wins under her belt this season – taking the title at the GlenOak Golden Eagle Invitational, Ashland Invitational and Smithie Invitational at Wayne College.
For her, though, the process is about logging miles and doing everything she can to get ready for the second half of the season.
]"I definitely need to train more, but a big part of it is mental," Carr said. "You to keep that in the front of your mind to know what you're working towards."
Carr isn't alone as the she also has been a leader for a pair of teammates: standout freshman Maryn Erdman, who was eighth at Wooster, and sophomore Maggie Wenger, an individual regional qualifier in 2022.
Dalton senior Emberlynn Nolt came close to breaking 20 minutes in her 12th-place run of 20:03.40, while fellow 12th grader Clara Sundberg -- a regional qualifier last season and a key part of the Golden Bears state-qualifying team as a sophomore — was 21st in a season-best 20:53.50. Fellow Waynedale runner, sophomore Anna Pittman (21:35.90), also is among local leaders.
A pair of sophomore boys also had career performances at Wooster as both Waynedale's Jackson Varner and Orrville's Owen Lacy recorded personal-best marks.
For Varner, the time of 16:01.40 came in an impressive win as he passed Minerva's Grasyn Retting with 400 meters left in the race for the victory in 0.6 seconds. Varner, a state qualifier last season, has bettered his personal-best in each of the last three meets and now has three individual wins on the year.
Lacy had never come close to breaking 18 minutes until this fall where after back-to-back runs in the 17-minute range, the underclassman ran a 16:36.30 in placing fifth at Wooster.
Also on the boys side, Waynedale's Jayden Varner (17:13.60), Smithville's Joey Clabaugh (17:18.20), Dalton's Caleb Hofstetter (17:40), Carson Steiner (17:41.50) and Waynedale's Nick St. John (17:42.50) and Wyatt Moore (17:42.80) enter the second half of the season among the area's fastest runners.