Locals help AAU hoops team have 2 great summers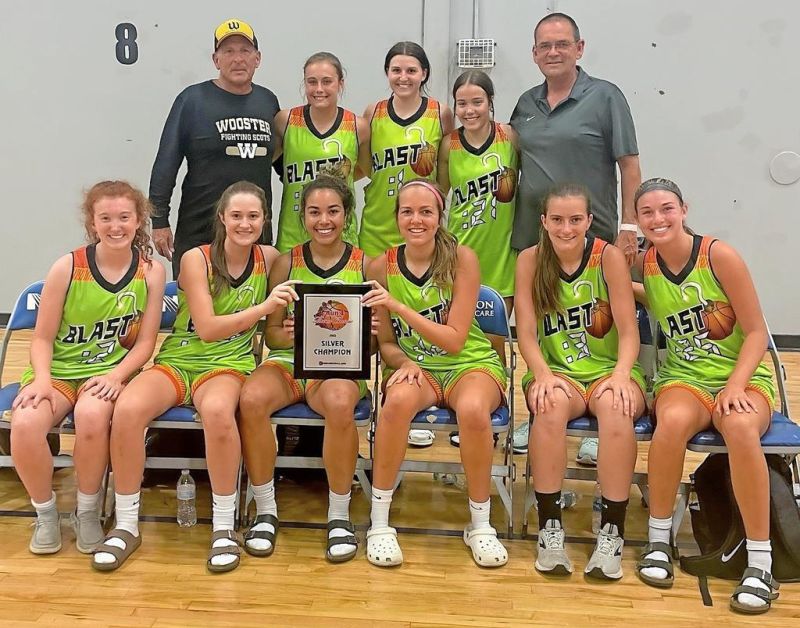 Practices for another OHSAA girls basketball season are underway, and opening night for regular-season games is Nov. 22.
A quintet of area girls will enter the season with a huge amount of added confidence and experience after playing in several high-level AAU tournaments this summer.
Triway's Caitlin Titler and Aaliyah Wirth, Smithville's Cam Wickens, Waynedale's McKenna Baney, and Northwestern's Caydence Scale were a part of the Buckeye Blast Neon 2024 team, which compiled a 49-9 record over the last two summers.
Buckeye Blast Neon, which was coached by Sid Cline and Mike Baus, also included Lexington's Cora Palmer, Streetsboro's Ella Kassan, Lake's Paige Marshall and Marlington's Chelsea Evanich.
A BB Neon schedule that included playing in college exposure tournaments in Cincinnati, Columbus and Pittsburgh was highlighted by winning their division for the second straight year in The Run for the Roses in Louisville, Kentucky July 5-8. Neon won the silver championship this summer and captured the platinum title in 2023.
"The Run for the Roses is the largest high school girls basketball tournament in the United States," said Cline, an assistant coach at Smithville and former head coach at Waynedale for nine seasons and Northwestern for five. "More than 2,000 college coaches attended, and there were 2,800 teams, representing six different countries. They used 100 full courts in the Louisville Convention Center. It's actually covered by ESPN."
Buckeye Blast Neon's season went from April through July and once again culminated with an exclamation point in Kentucky.
"Last year the highlight was we played the No. 1-ranked team out of Kansas and beat them by 26 points," Cline said. "These girls were just dialed in.
"This year we also beat some really good teams including Carolina Express in the championship. It was pretty special to walk into the Kentucky Convention Center this July and see the team's banner hanging from the rafters as 2022 platinum champions."
Buckeye Blast Neon also had a memorable win over a Pennsylvania team to win an AAU tournament in Pittsburgh this past summer.
"As I was talking to the Pennsylvania coach, he told me before the game that all of his players were either in the state semifinals or state finals," Cline said. "We beat them by 20-plus."
Cline and Baus used an up-tempo strategy to outrun, outscore and outwork nearly all opponents.
"We get out and run," Cline said. "The girls totally bought into what Baus and I were doing, and it was just a lot of fun.
"Part of our belief is 'shoot it before you lose it.' We get out and run. We're going to do man-to-man defense and a variety of presses and traps. Our mentality is 'get out and go.' We're not looking to always get the ball to our point guard. If you get it, go, and the other girls fill the lanes. We just wore out a lot of teams that we played."
Among the college commits from BB Neon, Titler is headed to Lake Erie College, Evanich to Seton Hill, Wickens to Heidelberg and Kassan to Westminster. Several other girls are weighing offers.
"It was fun because there were college coaches everywhere watching our team," Cline said. "With nine girls on the roster from eight different schools, we had to get many different personalities to play together, and they did that. They were very unselfish, and we did a good job finding the hot hand."
Asked to comment on the Wayne County players, Cline said, "Baney, the past two seasons, has done a remarkable job rebounding the ball, both offensively and defensively. She really improved her shooting this summer, making seven 3-pointers in a game.
"Wickens is very confident in her ball handling, an excellent defender and has good range as a shooter. Scale shot lights out in many games and handled the ball well. Wirth has outstanding athletic ability and had some big games scoring. Titler ran the show at point guard. She really improved her decision-making, long-range shooting as well as attacking the basket and finishing."