Blocking for Brady — Wooster resident played with all-time great at Michigan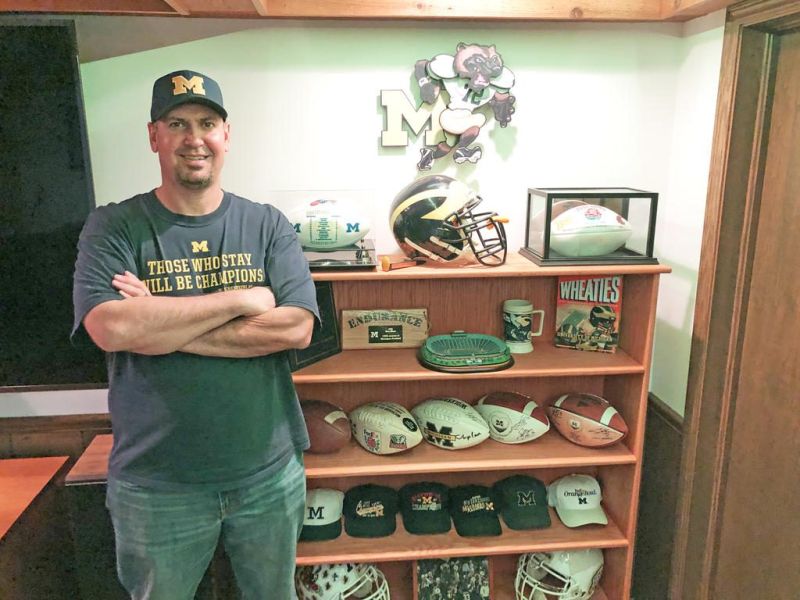 Nobody who watched Tom Brady play quarterback at the University of Michigan would have predicted he'd go on to become one of the all-time NFL greats.
They might not have even wagered a lunch that he'd become a starter in the pros.
However, Brady is still proving doubters wrong at age 43. He'll lead the Tampa Bay Buccaneers vs. the Kansas Chiefs in Super Bowl 55 on Feb. 7 (6:30 p.m., CBS).
It will be the record 10th Super Bowl for Brady, who's in his first year with the Bucs after playing 20 years for the New England Patriots and coach Bill Belichick.
Massillon Washington graduate Ben Mast, now a Wooster resident, was a teammate of Brady when he started making a name for himself at Michigan. Mast marveled at Brady's moxie even as the young signalcaller was fighting just to get playing time.
"I always knew that Tom had the skills to be successful because nobody outworked him," said Mast, a first-team All-Ohioan at Massillon in 1996 who was Brady's teammate at Michigan from 1997-99. "Of course none of us would have guessed he'd go on to have the NFL career he's had, but he was the first player on the practice field and the last player to leave.
"He studied more film than anyone. He was not the greatest athlete, which you can see from his combine numbers, and he was the 199th player taken in the 2000 draft (sixth round). The thing that stands out about him most looking back was his work ethic and determination."
Brady's performance at the NFL Draft combine was one of the worst ever for a quarterback. He ran a 5.28 time in the 40-yard dash, his vertical leap was only 24.5 inches and his "official" combine shirtless photo is still mocked more than 20 years later.
However, Brady had the "it" factor even at Michigan: an ability to perform well in crunch time, which can't be measured on any tests.
"Tom had a calming presence in the huddle, like 'Don't worry guys, we've got this,'" said Mast, who redshirted as a freshman and then played guard for the Wolverines on the 1998 (10-3) and 1999 (10-2) teams that Brady led in his final two seasons at Michigan.
Brady was a seventh-string quarterback in his freshman year and backed up Brian Griese on the Wolverines' 12-0 1997 national title team, which defeated Washington State 21-16 in the Rose Bowl.
Even in his final two seasons, Brady had to share playing time with highly touted recruit Drew Henson, who would later have brief stints in the NFL and Major League Baseball.
"Drew Henson was an unbelievable athlete, but there was definitely a difference when Tom was leading the huddle versus when Drew was in," Mast said. "I'll always remember the game against Michigan State in 1999.
"Tom and Drew had been platooning in the first half of games, and coach (Lloyd) Carr would decide who he wanted to go with in the second half. He played Drew to start the second half, but we got behind by 17 points. (Carr) went back to Tom in the fourth quarter, and he almost led us all the way back (34-31 loss that dropped UM to 6-1). After the following week, Tom got the job full time."
Mast has a picture hanging in his man cave with him blocking for Brady. Also pictured in the photo are Aaron Shea, Jeff Backus, Dave Brandt, Maurice Williams, Anthony Thomas and Steve Hutchinson.
Every player in the photo except for Mast went on to play in the NFL.
Mast appeared headed for the pros as well, projecting as a second- or third-round pick entering his senior year. However, the 6-foot-5, 295-pound guard tore ligaments in his right knee in the second game after being clipped while trying to chase down a Washington player who had picked up a blocked field goal.
"I came back and played a little in the last two games of my senior year," Mast said. "I went to the combine but didn't do any drills. I was told to play in the Arena League or CFL, show I was healthy and I'd get invited to an NFL training camp. I hurt my knee again in the Arena League, though, and decided it was time to give up football and start a working career. I wanted to be able to walk when I'm 50."
Mast is a plant supervisor for Alro Steel and enjoys family time with his wife, Vanetta; daughter, Alexa, 13; and son, Marc, 10.
Over the years Mast has reunited with Brady a couple times including a team reunion about 10 years ago.
Mast stays in touch regularly with Shea, who was Brady's roommate and went on to play for the Browns. Shea and Mast call Brady every now and then in the offseason and "shoot the breeze."
"I also had an offer to Ohio State, but I'd always liked Michigan growing up and wasn't a big John Cooper fan," Mast said. "It was an incredible experience playing for Michigan. It's unbelievable to think that three guys I played with will wind up in the Pro Football Hall of Fame: Steve Hutchinson (2020 inductee), Charles Woodson and Tom Brady."
Brady's story of exceeding expectations — even in his 21st season highlighted by his most unlikely Super Bowl trip — should provide a great lesson for other athletes, Mast said.
"If you push your kids in sports, Tom Brady is who you want to push your kids toward," Mast said. "He's a great example of what can be accomplished through hard work and belief in yourself."
Aaron Dorksen can be emailed at aarondorksen24@gmail.com. Follow him on Twitter at @AaronDorksen.