College of Wooster pole vaulter makes program history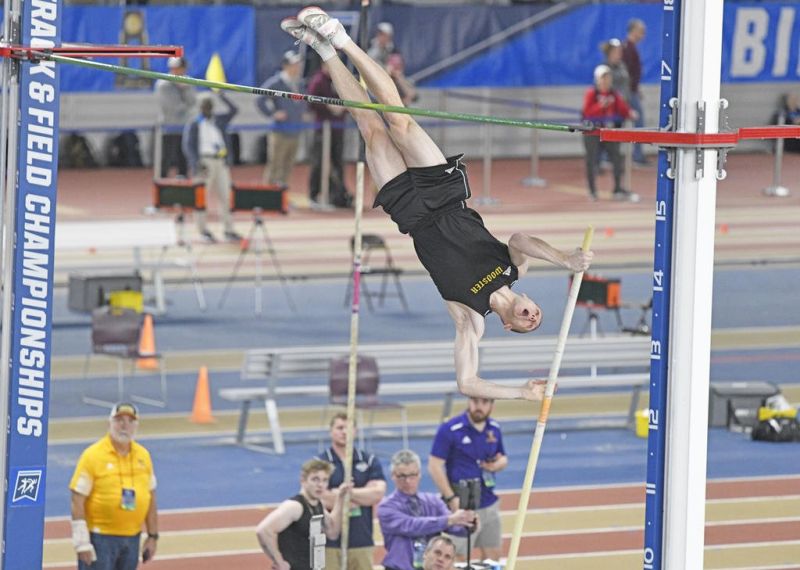 The College of Wooster's Dylan Garretson made program history on March 10 as the junior pole vaulter became the Fighting Scots' first men's indoor track and field All-American. Garretson placed fourth at the NCAA Div. III Championships after clearing a school-record 16 feet, 2.75 inches at the meet in Birmingham, Alabama.
"It was an awesome performance," said Dennis Rice, Wooster's head coach. "We are super proud of Dylan. His consistency throughout the whole season really carried over and enhanced his opportunity to perform at the national championships and earn our first men's indoor All-America honor. We are looking for an exciting start to the outdoor track and field season."
Garretson, who upped his school record for the sixth time this indoor season, passed on the opening height of 14 feet, 11 inches, then got over the crossbar on the first try at 15 feet, 5 inches. The music education major needed two tries once the bar was raised to 15 feet, 11 inches, and then he mustered up enough to get over 16 feet, 0.75 inches on his final try, which secured the All-America honors as just six competitors remained after that progression. Garretson had one more clearance in him, getting over 16 feet, 2.75 inches on his second try.
The University of Southern Maine's Ben Drummey was the national champion at 16 feet, 6.75 inches.
On Saturday Wooster senior Claudia Partridge logged a career-best ninth-place finish in the high jump.
Partridge, who has qualified for the last three NCAA Div. III track and field championships, had no problem with the opening height, clearing 5 feet, 1.25 inches on her first try. The first-try success carried over to 5 feet, 3.25 inches, after which just 14 of the 20 competitors remained.
Eight of the 14 cleared 5 feet, 5.25 inches on their first try, the mark Partridge was unsuccessful in clearing. Thanks to her unblemished performance in the opening two heights, that vaulted the fifth-year senior up to ninth place.