Sports Wrap: Detweiler leads Hawks by Huskies; Lady P's cruise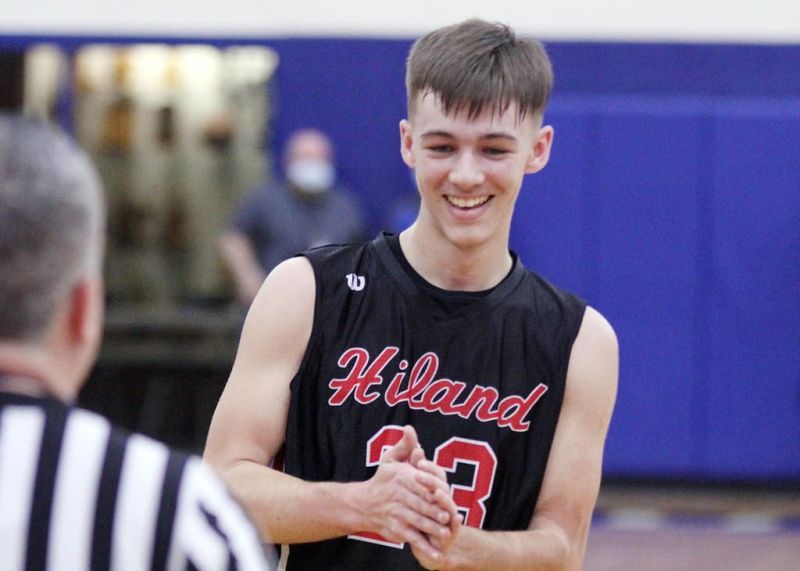 Akron East goes 3-by-3 to drop Hawks in opener
While Noah took his animals onto the ark two by two, Akron East upped its score three by three in the early going, and that long-range effort handed the Hiland Hawks a season-opening 54-44 loss.
For a while it appeared as though the Dragons were going to be perfect on the night from downtown, hitting all seven of their 3-point attempts in the first half. The long-ball barrage opened the door for an early 21-9 lead for the Dragons, a lead they would not relinquish.
Mike Woodall hit two treys, and LeGrand Sewell scored seven in the first period. Hiland got five early points from Dylan Weaver.
The Hawks then made a big move in the second quarter to get back into the game, and it all came from a monster effort from Caden Miller. Miller scored 12 points in the period, and his jumper at the buzzer saw Hiland creep to within eight at 33-25.
The Hawks kept inching closer in the third quarter, using its defense to sneak to within three points, eventually settling for a 39-34 deficit heading into the final frame. That was when Dragons' star Eric Holley took over late, after the Hawks had again gotten to within four after four Tony Yoder free throws.
Later trailing 46-39, Chris Shetler made a steal and scored to trim the deficit to five, but Holley delivered on several key plays for Akron East, and the Hawks could never recover from the early deficit.
Holley scored 16 to lead all scorers while the Hawks were led by Miller with 13 points and Weaver's 12. Yoder went a perfect 6-for-6 from the charity stripe to add to his total of eight points.
Hawks outscore Huskies for first win
The Hawks got their first win on Tuesday, Nov. 30 when they outscored offensive-minded Northwestern 74-60. Hiland used a big start to build a 36-26 half-time lead and never let off the gas. Grant Miller hit three treys in the opening quarter, and Sammy Detweiler added seven points. Weaver caught fire in the second quarter with eight points with Caden Miller matching that number.
Hiland employed its stifling man-to-man defense, providing an effort the Huskies probably don't face often. Northwestern responded with a full-court zone press and half-court pressure zone that did little to deter the Hawks.
However, it would be the electrifying show Detweiler put on in the third period that would blow the game open. The sophomore hit four triples, and the Hawks rolled to victory. Detweiler ended with a career-high 23 points, with Caden Miller adding 15 and Weaver pitching in with 12. The Huskies got 19 from Alex Ciolek and 18 from Brett Alberts.
Lady P's rout East Canton in early season win
Garaway inched out to a 9-5 lead through one quarter and built that lead to 24-15 at the half. Then came the deciding third quarter in which the Lady Pirates hammered East Canton 17-8 to effectively pull away for good. Garaway played slow-down, keep-away basketball much of the final period and emptied the bench with plenty of room to spare.
Audrey Wade led East Canton with 10 points while Riley Putt knocked down 16 points to go with six rebounds and four steals. Makayla Sitzlar added eight points and four boards for Garaway while Meghan Schwartz recorded seven points and four steals and Kenadi Yoder added six points, a game-high nine rebounds and five steals.
The Garaway JV team spanked East Canton 31-15 on the strength of a strong opening quarter in which they outscored EC 12-3. Paige Regula scored 11 points, and Jazzy Miller and Mercedes Schlabach added eight apiece in the win.
In its season opener, Garaway fell behind to River View early before rallying for a 43-27 victory.
Garaway used defense as its calling card, shutting down the Black Bears over the final three periods. Garaway fell behind 11-7 after one quarter but held River View to just 16 points the rest of the way.
Meanwhile, the Lady P's won the second quarter 14-4, taking a 21-15 half-time lead, and they never looked back. That included a dominant fourth quarter that saw Garaway hold River View to just two points.
Marley Metzger went nuts in the contest, pouring in a career-high 25 points on 8-of-11 shooting and a pair of treys. She added four rebounds. Yoder scored four points and hauled down seven rebounds to go with five thefts. Putt scored six points and tacked on three assists, and Sitzlar scored six points, adding three steals.