Different look, same expectations for OHS football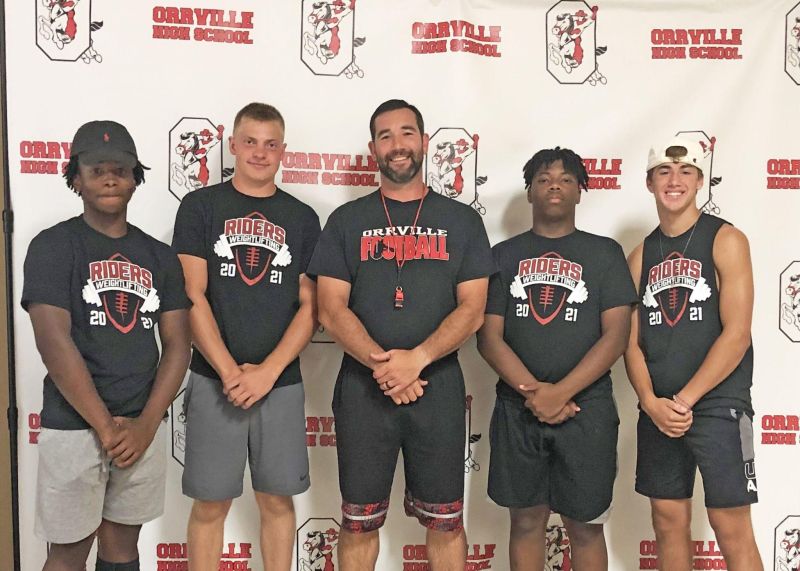 Like many football teams in the Principals Athletic Conference, Orrville will look a lot different in 2021.
The Red Riders have a new head coach and will have an almost entirely new set of players at the skilled positions.
That doesn't mean Orrville has lowered its always lofty expectations; it just means the Riders are putting an extra emphasis on the fundamentals it takes to win.
"We've been getting back to the basics that build success," said Matt Zuercher, who was hired as head coach in the offseason after serving as an OHS assistant the previous four years. "That's coming every day, that's being accountable, that's being responsible and it's putting the work in.
"We're stressing the importance of taking care of business on and off the field. Doing those things provides the building blocks to be successful, whether it's on the field, in the classroom or outside in real life. The kids have come a long way, and they're really buying in and are working hard. We're excited about what the season's gonna bring."
The OHSAA is allowing unlimited coaching days in June and July, which is quite a difference from just 10 contact days in the past.
Zuercher and his staff are keeping their training camp going throughout the entire two months but also understand kids play other sports or might want to go on a family vacation.
"We're going three days a week — Monday, Wednesday, Friday — and we're here for a good two hours," said Zuercher, who compiled a 58-57 record including four playoff trips at Waynedale from 2006-16. "Some of the days we've used an extra hour. We get in our lifting, conditioning and speed work and also some of our implementation.
"July has gotten a little heavier with some seven-on-seven passing scrimmages and a few more of those extra coaching days you might say, but we've been using every day as an opportunity that we're here to get better."
Orrville leads the area with 25 playoff appearances and two state titles. Davault compiled a 95-72 record over 15 seasons including a state title in 2018.
Helping make the transition smoother for Zuercher is a big group of returning assistant coaches: Brent Steiner, Mike McCreary, Mike McMorrow, Mark Besancon and Tyrone Mosley. Also on the staff are Dan Edwards (Massillon Perry alum), Keontae Owens (Orrville alum), Von Schrock (returning after previously coaching at OHS) and Joe Yurik (Ohio Wesleyan alum).
"We're very fortunate the majority of the staff that was here the last couple years is coming back," Zuercher said. "They're obviously great guys, Orville alumni who bleed the Red and Black and really care about the program and the kids. It's great to have Dan, Keontae and Von on the staff as well."
The Riders finished 3-4 last season and will build around returning senior linemen Kyle Endsley, Ashton Garrett, Beau Hochstetler and Haiden Luangraj.
"We're going to be a lot of new faces," said Zuercher, who has nine seniors, seven juniors and 21 sophomores on the roster. "We've had a couple big senior classes over the last three or four years, and there's been a lot of turnover. We are going to be fairly experienced up front, which was a very green group for us last year. Beau, Ashton. Kyle and Haiden were juniors last year who all started up front, and they'll be playing both ways this year.
"Truthfully, they're gonna have to kind of lead the way for us because they're the ones that have the most experience."
Senior Tyler Schroer played linebacker last year and is the frontrunner to start at quarterback after being the backup the last two seasons.
"Tyler is an extremely coachable, intelligent, tough kid," Zuercher said. "He has a lot of the intangibles you look for, and we're excited to see how he progresses."
Schroer learned a lot playing behind since-graduated Cooper Haley and can't wait for his opportunity to start under the Friday night lights.
"I'm feeling really good about this year," Schroer said. "We don't have very many seniors, but we do return a bunch of up-front guys. I'm really excited about that. Shout out to them because they're who help me the most. Skill-wise, we have a lot of good younger kids. I think it'll be just fine. We've worked our butts off in the offseason, and we want to compete for a spot in the playoffs."
Another player the Orrville coaches are looking forward to watching is senior Kaiden Griffin. He lettered on the Riders' 2019 regional final team but tore his ACL on the first day of contact last year.
"Kaiden is a savvy, hard-nosed football player," Zuercher said. "A lot of fans really haven't seen a lot of him because he hasn't gotten to play a whole lot. We're excited to see what his senior year will bring for him."
Senior slotback Chris Smith and sophomore wide receiver Brady Marshall have had good summer camps, Zuercher said. There's lots of competition among others at the skilled positions to see playing time including sophomore Greg Smiley and juniors Asiah Smith and Brant Besancon.
Orrville will host Chippewa for a scrimmage on Aug. 6 at 10 a.m. and then visit Canton South on Aug. 13 at 7 p.m. The Riders will open the season by hosting longtime rival Wooster on Aug. 20.
Aaron Dorksen can be emailed at aarondorksen24@gmail.com. Follow him on Twitter at @AaronDorksen.