Former players' trip to Wooster to see old coach checks all the boxes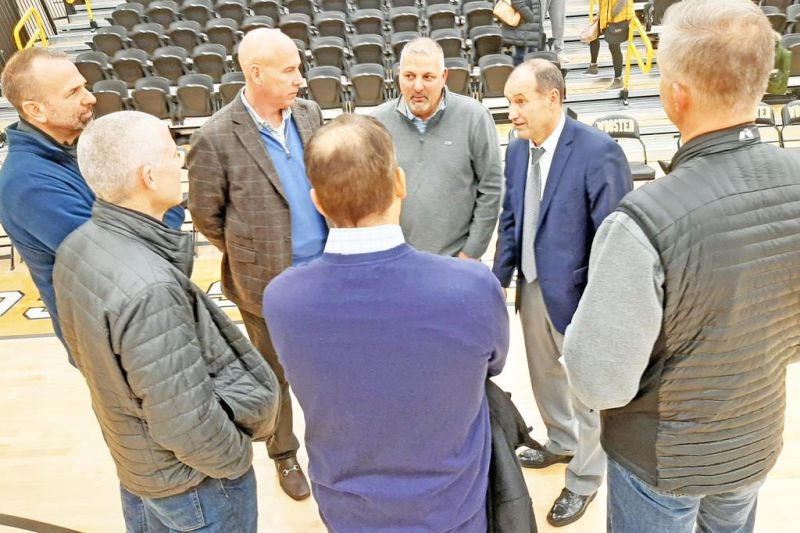 The six former Muhlenberg Mules huddled yet again. And all agreed on one thing: they had learned a lot from their college basketball coach.
Yet the way Steve Moore remembered it, the culture was a two-way street.
"They always talk about how much they learned from me. But I learned a lot from them too," Moore said on Feb. 12 inside The College of Wooster's Timken Gymnasium. "These guys mean the world to me. I was a young coach in my first head coaching job. I was very fortunate that a few of the guys were already there when I got there. They really helped us turn it around."
With the clock ticking down on Moore's 39th and final season on the bench — the last 33 as the architect of the Fighting Scots' history-making program — the special guests were not about to miss out on an opportunity to see Moore at work one last time. Some made the trip from many hours away to sit several rows up in the bleachers, directly behind the Wooster players.
It was in 1981 at Muhlenberg College in Allentown, Pennsylvania that Moore began his now-legendary career. With a full head of hair and a full head of steam, that's where he got to know young men such as Matt German, Ken Chwatek, Jim Ferrell, Chris Kahn, Bob Duffy and Matthew Andrews.
In street clothes this time, they convened, expecting to watch Moore bark at the referees, to see him provide fiery words of inspiration to his players. They fully anticipated Moore would chalk up career victory 862.
They also looked forward to sharing a meal and memories.
All those boxes — and more — were checked: Wooster 80 and Ohio Wesleyan 71, handshakes and hugs, laughter and libation, and some good-natured ribbing and an abundance of reflection.
"It wasn't only about basketball. Of course that was a big part of it," said German, the 1987 Muhlenberg graduate who played four years under Moore's tutelage. The 6-foot-1 shooting guard poured in a total of 1,560 points, sixth on the school's all-time scoring list.
"But it was more about how Coach taught us to be men and going from an 18-year-old to a 23-year-old in college," German said. "Coach was instrumental in all of our lives. From a sports perspective, yes, but he taught us how to be gentlemen. And I think that was the most important thing."
In the 1940s and '50s, basketball was a big deal at Muhlenberg. Yet in the years prior to Moore's arrival, the Mules were having a tough time finding victories. The year before Moore accepted the position, Muhlenberg won just three games.
Ultimately Moore in six seasons would guide the Mules to a Middle Atlantic Conference championship in the 1984-85 season. They repeated the accomplishment in the 1985-86 campaign, the school's first 20-win season in 40 years. Moore garnered MAC Southern Coach of the Year kudos in 1983.
"I think for Coach, and for all of us, it was really about the little things," German said of the turnaround. "It's about the small details that Coach was, and is, really good [with]. You learned the fundamentals of basketball and about the importance of playing every play almost as if it was your last."
Until the 1986-87 season, there was no such thing as a three-point line. The shot clock had been introduced only a year earlier. Basketball was just different than it is these days.
"It was difficult," said German, who now lives outside of Philadelphia and works in the bio-tech industry. "I didn't know, 'Should I shoot it from out here?' Well, I was going to shoot it from there anyway. It's what I had been doing all along. We had a bunch of big guys who scored well over a thousand points. It used to be an inside-out game back in the day. So it was a struggle the first year because we just didn't know how to manage the three-point line to score."
Chwatek, a 1984 graduate, was a 6-6 post man who scored 1,333 points in his college career. He also was a fierce shot-blocker.
"Coach Moore is a great man, a great mentor," Chwatek said. "Obviously he's a great basketball coach. But really what we learned from Coach was the value of hard work, of desire and working as a team. What I learned from Coach has carried me through life, career, family. You've just got to admire the guy."
Ferrell, a 1986 graduate, became known as the player who simply did not travel with the basketball, no matter what an official might have said. It's one of those funny memories that lives on and on.
"Every day we did a thing called the 'no travel drill' for about five minutes at the start of practice," German said. "Jimmy Ferrell was the most fundamentally sound basketball player I'd ever seen. But then during a game, Jimmy was called for walking. Coach Moore was at the sideline and walked right out there on the court and was yelling at the ref, 'Jimmy Ferrell does not walk. We do the no-travel drill every day.' And we're still telling that story 40 years later."
"I still don't think he ever traveled," Moore said after the victory over Ohio Wesleyan. "He was just so fundamentally sound."
Ferrell, now a geometry teacher, coach and athletic administrator in the Philly area, said learning not to travel was simply a part of Moore always focusing on the little things.
"We're just so excited and thrilled to be here to spend some time with coach Moore because he has meant so much to all of our lives," Ferrell said. "He's just the consummate gentleman, the way he carries himself, the way he lives his life. He's a family man, a very spiritual person. It was just how hard he's worked and how much he gave to us. You try to emulate that in your life."
Ferrell said Coach just always wanted people to do their best. "That was so important to him. Of course that leads to winning plays and winning games. But it's more about him being so upset if you weren't giving a hundred percent. So that's a life lesson you take away. Just always demand the best of yourself, and the rest of it will fall into place," he said.
Moore said the unusual level of responsibility his players displayed at Muhlenberg helped him learn how to handle people.
"These guys were mature beyond their years," Moore said. "They are quality guys."
Mules who will forever cherish the time they spent with their quality coach.