Hawks tame 'Beast of the East'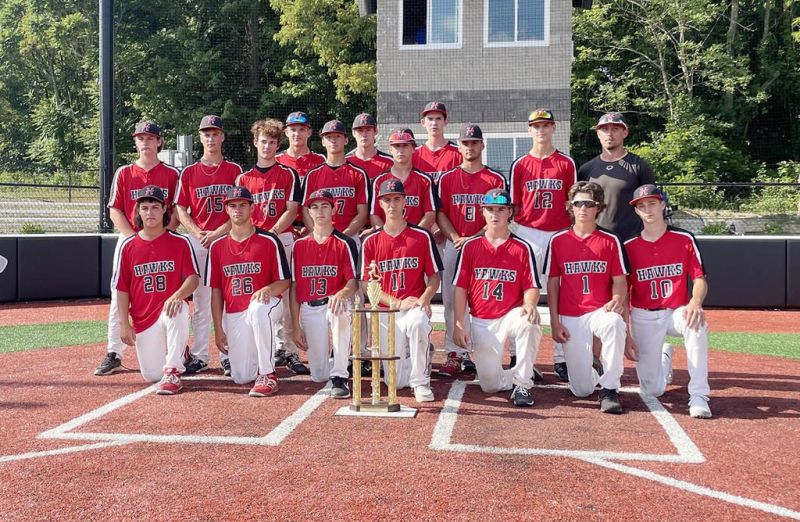 The Beast of the East has been tamed by the Hiland Hawks.
The Beast of the East has become a sensational baseball showcase near Wheeling, West Virginia, featuring a host of talented 19-U teams with squads filled with loads of talent.
During the tournament that took place June 30 to July 3, the Hiland Hawks stayed true to form in sticking with high school players who will return next season and battled through the gauntlet to emerge victorious.
"There are no weak teams in this thing," summer head coach Kevin Schrock said. "It is loaded with talent, and there is a challenge every time you take the field."
On Thursday, June 30, the Hawks got off to a big start by steamrolling Madonna Dons 18-3. After that, nothing came easy in a field of teams loaded with talent, much of it college age, most of the teams filled with travel ball players.
The Hawks capped off the day with a 4-3 win over the E80 IronPigs 17U team. Friday saw them earn a 4-2 win over Jefferson County Elite before suffering their only loss, an 11-4 defeat to Wheeling Post 1 Varsity that wasn't quite as lopsided as the score would indicate.
The two teams were tied at four after seven innings, prompting the Texas tie-breaker rule to go into place, which places a runner at second with a 3-2 count on every hitter. After both teams escaped the eighth unscathed, Wheeling reeled off seven runs to scorch the Hawks.
Hiland responded the next day with a pair of workmanlike wins, a 4-1 victory over Ohio Bison 18U and a 4-0 shutout over Highland Legion.
That three days of round robin was good enough to advance the Hawks into Championship Sunday, where they would face the best of the best for a shot at the title.
Hiland kicked off the quarterfinals with a 1-0 win over Jefferson County Elite, Hiland scoring the game's lone run in the first inning with Will Schlabach firing a one-hit, one-walk performance on the mound in a dominant effort.
"Will was so locked in. I've never seen him that good," Schrock said. "He was just dominant from the first pitch."
That win sent the Hawks into the semifinals, where the Wheeling Wildthings awaited. This time it was Isaac Weaver on the mound for Hiland, and the Hawks' star hurler came through in a 4-2 win. Yoder allowed single tallies in the first and second inning, then got the ship righted and was dominant from there on.
"Isaac gave up the two runs early, but he settled in after that and was as good as Will was the game before," Schrock said.
Then came the finals versus Armory Baseball.
Schrock said having played so many games in so few days, he knew the pitching situation was going to be dicey.
He turned to senior Alec Weaver, an off-speed artist who hadn't thrown a lot last season.
"I've been using Alec a little in relief this summer, but he didn't have a lot of experience," Schrock said. "But I threw the senior out there hoping to get a few innings out of him."
The guy his teammates call Cheese answered the bell like a seasoned pro.
"He was spinning sliders, spinning curveballs and keeping guys off-balance," Schrock said of the senior. "He probably only threw 20-30% fastballs. Early on they were rolling a bunch of balls over, and they got frustrated. Once we took the lead, it was kind of over."
With Weaver flipping goose eggs, the offense didn't get on track until the fifth inning, when the Hawks unloaded for three runs to take the lead. Three more in the sixth on a long, hot day was more than enough to completely deflate Armory.
Weaver's two-hit shutout capped off a championship weekend of baseball, and the Hawks had claimed one of the top prizes in summer baseball.
"Our pitching was sensational all game," Schrock said. "We showed a lot of poise, and our guys showed they know how to pitch. It was a lot of fun watching them work."
As for the bats, Schrock said one guy stood out.
"Nolan Yoder was locked in all weekend long," Schrock said. "He just put up good at-bat after good at-bat and really drove our offense."
Schrock said Cody Yoder also had a nice weekend at the dish, and Alec Weaver and Collin Coblentz did a nice job setting the table at the top of the order.
In a weekend filled with great competition, featuring a lot of travel teams that had a lot more experience, the title was something Schrock said will help this team grow.
"It was a challenge, a grind, but it was a lot of fun," Schrock said.
Hiland head baseball coach Chris Dages said this type of effort and outcome can only bolster an already highly confident team.
"Seeing our guys perform to that level and compete with teams that boast a lot of college freshman level players is going to go a long way in building confidence," Dages said. "It was a big step in the right direction for our program and for these kids, who have worked hard and deserve the success they have achieved."