Knights finally shake No. 2 to take regional crown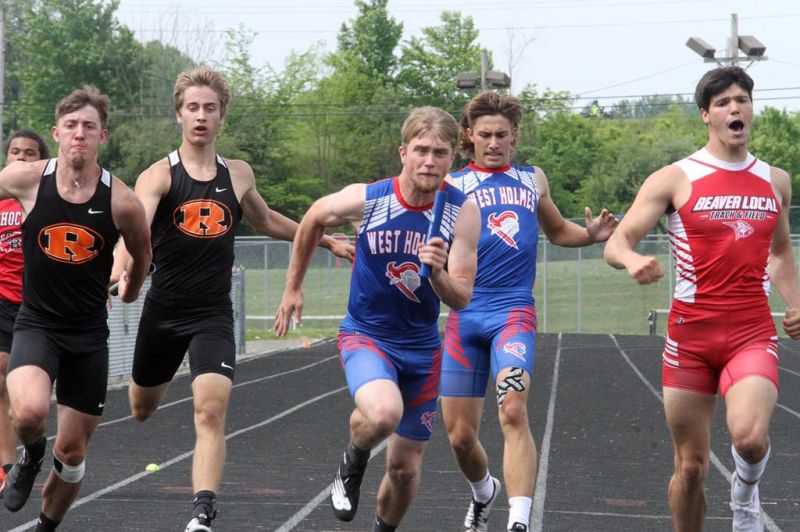 All season long the West Holmes boys track and field team has been knocking on the door of victory at a host of meets, somehow seemingly always taking the bridesmaid spot in second place.
Maybe they were just biding their time for the biggest moments.
On Saturday, May 29, the Knights sewed up the Chillicothe Div. II regional championship with an all-around team performance that saw them gain key points at almost every turn in the 36-team field.
The Knights used both the field and track events to accumulate 56 points, which pushed them past runner-up Lisbon Beaver's 51 while McDonald and Union Local finished next with 44 and 40 points, respectively.
It was a satisfying victory, considering WHHS lost a district crown on a weird moment in the 4-by-400 relay where the baton was kicked out of the hand of Sawyer Pritt with the Knights in position to win it all.
Head coach Ty Harris said it all boiled down to one simple fact.
"We just ran with more passion," Harris said.
In the field events, the big dogs did what they've done all year. Lane Graham went 61-02.25 to easily win the shot while his throw of 170-10, which was way above his seeding throw of 149-08, placed him second.
Gavin Freeman went 21-06 in the long jump to grab sixth place, missing a state-qualifying berth by inches, while pole vaulter Emmett Myers dropped a 14-footer to claim second and advance to state. Teammate Zach Snow tacked on a point by placing eighth, clearing 12-06.
Senior Brady Taylor sizzled in winning the 200-meters, where his time of 22.14 pushed him past Lisbon Beaver's Caleb White (22.46).
However, it would be in the speed relays where the Knights would really prosper. The team of Freeman, Pritt, Emmett Myers and Taylor twirled a gem in the 4-by-100 relay, taking second in 44.13, trailing only winner Lisbon Beaver's time of 43.62.
In the 4-by-200 relay, those two teams again went one-two with Lisbon Beaver winning in 1:30.63 and the Knights quartet of Freeman, Austin Myers, Emmett Myers and Taylor pulling in right behind in 1:31.05.
Failing to move on to state were Zach Galbraith in the 3200, where he placed 10th, and Zander Shultz, who cleared 5-10 in the high jump to place 10th.
While the boys were busy winning it all, the Lady Knights also could celebrate. West Holmes placed 14th overall out of 35 teams. Leading the way in qualifying for state was senior Katie Sprang. Sprang ran a 2:21.14, finishing second behind champion Hannah Wyler of Tusky Valley (2:19.87). Sprang also anchored the 4-by-200 relay team, joining teammates Hannah Rohr, Daphne Alexander and Jasmine Giauque to place fourth and earn a spot at state.
Giauque qualified for the finals in the 200-meters, but her time of 26.9 placed her seventh, outside of the top four advancing to state.
The Lady Knights couldn't quite gain entry to state in a second relay, placing seventh in the 4-by-400 with the same quartet of runners. West Holmes had qualified fourth in the prelims. Laney Duff cleared 5-00 in the high jump, good for ninth place, while Amy Hughes' throw of 35-00.05 in the shot found her placing sixth.
For the Garaway boys team, Brendan Chapman found a way to get to state, placing fourth in the 400-meters in 52.76, his time a mere 0.06 ahead of the fifth-place finisher Andrew Vincent of Warren. Pirates' teammate Quinten Schwartz suffered the unkindest cut, placing fifth in the 3200-meters in 9:54.87. He needed to run a 9:47.45 to advance.
In the Div. III regional at Perry High School in Massillon, Garaway thrower Makayla Sitzlar earned not one but two spots at state. Sitzlar went 37-08 in the shot finals, placing her second behind winner Anna Yates of Barnesville, who threw a 38-08.75, barely getting past Sitzlar for the title. Hiland's Kelsey Swihart also found a spot at state, finishing in fourth with a throw of 36-03, two feet off of her best but more than enough to qualify for a shot in the state meet.
Sitzlar also had fun in the discus, where her throw of 109-10 wasn't her best, but it was good for third place and a spot at state.
Garaway's 4-by-400 relay team of Grace Yoder, Kenadi Yoder, Megan Schwartz and Hailey Schlabach ran a 4:21.97, placing them 12th, while the freshman Schwartz ran a season PR of 2:24.01 in the 800-meters, which placed her sixth, just on the outside of qualifying for state by just more than one second.