Knights strike first, but Hawks respond in boys soccer win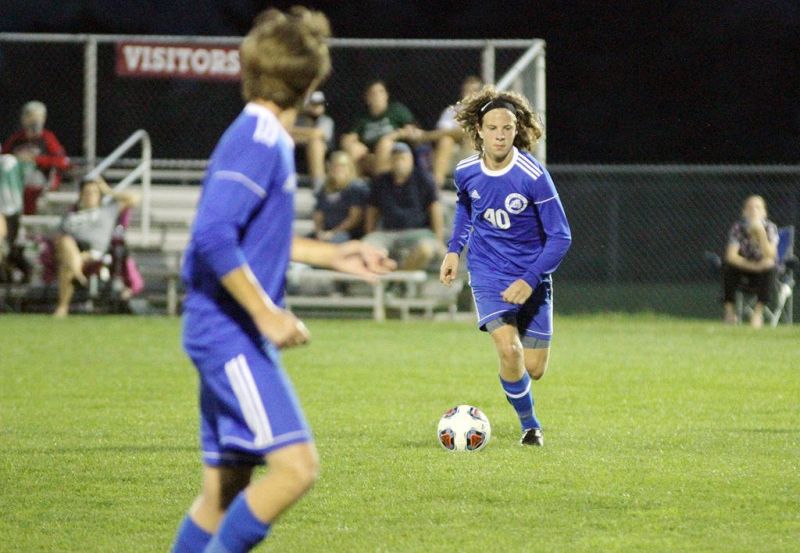 After the West Holmes Knights scored on their first trip past midfield just 90 seconds into their game with Hiland at West Holmes High School Oct. 13, the Hawks started to attack, and attack, and attack.
Hiland kept on attacking offensively, keeping the pressure on the Knights all night in hammering their way to a 5-1 win.
Things started off on the right foot, literally, when West Holmes took advantage of an errant midfield Hiland pass and Jackson Oliver found the right foot of Carson Yoder, who rocketed home a goal in the second minute of play to put West Holmes ahead.
The good feelings didn't last long, however, as the Hawks started an onslaught at West Holmes keeper AJ Jones and the Knights' defense.
"We did exactly what we wanted to do in getting out to the lead early, and we made them go flat for five minutes, you could feel it," said West Holmes coach Jason Arnold. "Obviously we knew they would counter and keep applying pressure, and we knew one goal wasn't going to be enough. We just didn't sustain our game of using precision and building up field, and we lost our concentration and consistency. You can't score one goal on that team and think you're going to possess the ball and win 1-0."
In the span of 100 seconds in the 15th and 17th minutes, Hiland took the lead. Casey Lowe found JJ Miller for the tying score, and Zach Mullet took one in himself to give the Hawks the lead. Hiland padded its advantage in the 24th minute and took a 3-1 lead into intermission when Reese Mullet got loose and drove one home.
Six minutes into the second half, Caleb Beachy scorched a perfect cross to Caelen Howell, who did a nice job of getting his leg up high and driving the waist-high pass into the net for a 4-1 Hiland lead. The Hawks then got some added insurance with Lowe assisting Zach Mullet on the game's final score.
Hiland's continual pressure on the Knights' defense was relentless and Bodiker said it was much needed.
"It feels good because we have struggled a little offensively for a good portion of the season," Bodiker said. "It was a little worrisome going down a goal that early and I wondered how we would respond to that. I was proud that our guys really stayed on the front foot and kept being aggressive."
Bodiker said having dropped a pair of games prior to this one, that it was important for his team to get back to its winning ways. He said the Hawks have played a difficult schedule to prepare for tournament play and placing rivals West Holmes and Kidron Central Christian back-to-back the week before the tournament begins was done with purpose.
"Those are probably our two biggest rivals, and both are talented programs," Bodiker said. "It's a good way to get us prepared."
Bodiker added that the defense did a nice job of balancing pressing West Holmes and playing off the ball when it needed to, stating that the Knights' goal was one that WHHS definitely earned.
That was small consolation for Arnold.
"That start was huge for us, but then we went away from what works and stopped moving the ball well," Arnold said. "We started with such good pace, we just didn't sustain it. I told the kids from the beginning that their discipline is always on point, and we couldn't slack off at all. We did and it bit us. That game had to be played with fast pace for 80 minutes and we failed to do that."
Arnold said he hopes his team learns from this game as it continues its tough schedule. He continues to have high hopes with a team that he believes has plenty of skill. He said it is just a matter of putting it all together and playing the way they are capable of playing when they do move the ball consistently.
Jones made nine stops in goal for WHHS while Wyatt Freeman made a pair of stops for Hiland. The Hawks outshot the Knights 13-6. With the win Hiland improved to 10-4-1 while West Holmes dropped to 6-7-1.