Knights survive Senior in double-OT cliffhanger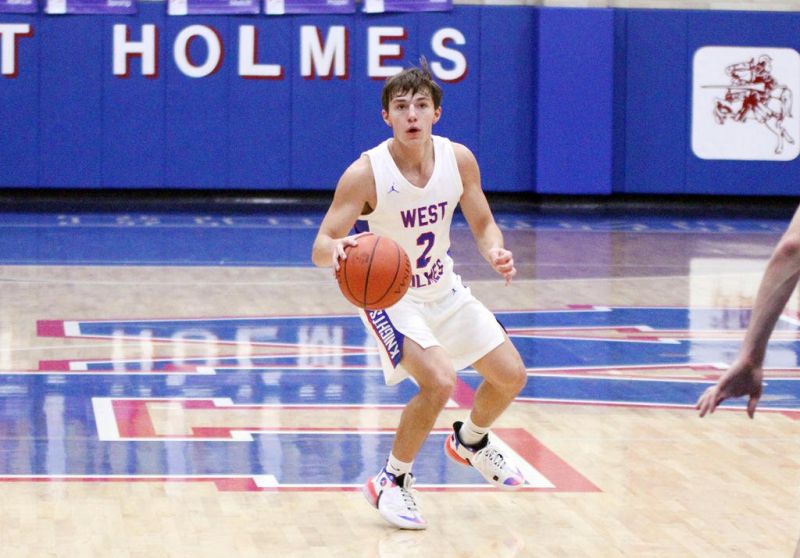 Don Hall's plan heading into the Knights' battle with Mansfield Senior for third place in the Ohio Cardinal Conference was well-scripted ahead of time. Coming off of a hectic year-end schedule that featured a ton of rescheduled games, in the Saturday, Feb. 20 match-up, Hall planned on giving most of his starters plenty of rest time with tournament action looming.
He had to scrap that plan when the two teams went into double-overtime, where the Knights pulled out a 69-62 win that turned into one of the most exciting games of the season.
The Knights got out to a 15-11 lead through one on Peyton McKinney's 3-pointer and a jumper by Blake Morrison, and teammate DeAndre Thomas' score followed by a free throw from Senior's Maurice Ware saw West Holmes leading 21-15 at the half.
What was pretty standard fare through two quarters was about to heat up in a hurry. The Knights led 29-22 until the Tygers scored six straight to draw to within one. Garrett Eastep scored three points, and after Senior scored inside, Payton Miller hit two free throws and scored on a put-back to give the Knights a 38-30 lead heading into what was supposed to be the final period.
The Tygers came roaring out of the gate and took its first lead since early in the game at 41-40 on the shoulders of Ware and Aahman Thomas. Eastep and Josh Shrock scored for the Knights, but they were answered by scores from Thomas and Nathan Chapman.
That was when things got crazy. Fighting for a rebound, McKinney came up with the ball, and in the melee Senior's Shad Creamer was assessed a technical foul. With a possible six-point swing, the Knights couldn't capitalize and came away with just McKinney's two free throws for a 46-45 lead.
Moments later with one minute, Creamer picked up his second technical foul, ending his night. Morrison split the two free throws, and after a stop, Miller also split two free throws to give WHHS a 48-45 lead. Anthony Wilson scored his first three points of the night on a trey to knot things up at 48 with 10 seconds to play.
The Knights literally kicked a chance to win away in the closing seconds, and the game went into overtime, where Chapman and Anthony Pearson delivered threes to give the Tygers a 54-50 lead. Right back came the Knights with Morrison and McKinney delivering triples of their own to give the Knights the lead back at 56-54, McKinney's coming with just 33 seconds to play.
Shrock grabbed Ware's missed free throw, was fouled and split a pair to give WHHS a 57-54 lead with six seconds to play.
However, Nathan Haney was fouled attempting a 3-pointer with 0.1 seconds showing on the clock. Needing to make all three, Haney calmly made them amidst two Hall timeouts, sending the game into double-overtime.
The Tygers had all the momentum now, and Haney's jumper and a Myles Bradley free throw gave Senior a quick 60-57 lead. However, it would be almost all Knights from there. Morrison's two free throws drew West Holmes to within one, and after a Tygers turnover, Shrock delivered a huge 3-pointer with 1:11 to play to give the Knights a 62-60 lead. With 48 seconds left, Haney would make a steal and turn it into two free throws to even the score, but McKinney made a monster three with 21 seconds left.
Ware missed two free throws, with McKinney rebounding. After a timeout, West Holmes wisely got the ball to Morrison, who went to the line and calmly sank both free throws. Haney's three with six seconds left went awry, and Morrison again found himself on the line, knocking down both charity tosses to put the final dagger into the Tygers.
Morrison ended the evening with a double-double of 23 points and 10 rebounds while Eastep and McKinney both reached double-digit scoring with 14 and 13 points, respectively. Miller added nine points in helping West Holmes finish its regular-season mark at 14-6, capturing third place in the OCC with a 6-5 record.