New Phila deals Knights 2-1 OT loss in district finals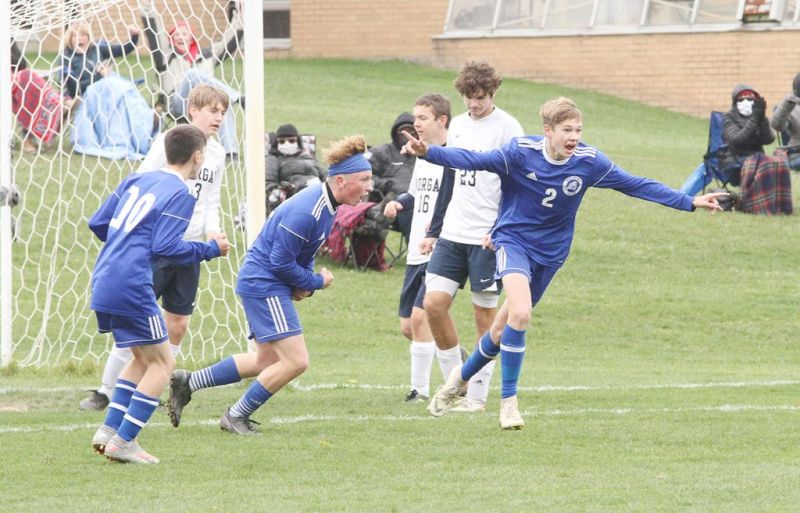 All season long, West Holmes Knights head boys soccer coach Jason Arnold has said he felt his team's talent and a difficult trek through a rugged Ohio Cardinal Conference schedule had prepared them for a lengthy trip through the rigors of Div. II tournament play.
After qualifying for regionals last season, the Knights did their best to return to that plateau again this year, but after earning a 1-0 defensive gem over number-two St. Clairesville in the district semifinal, the Knights fell out of the tournament in a 2-1 overtime loss to East top-seed New Philadelphia on Saturday, Oct. 31.
"It was a pretty brutal way to end the season," Arnold said. "Having it end with 40 seconds left to play in OT was tough to take. It hurt a lot."
West Holmes faced a strong St. Clairesville team in the semifinal, and when Camron Arnold scored a first-half goal, little did anyone know it would be the lone score of the contest. The two teams battled between the 18s much of the game, battling for possession, and it would be in the 25th minute when Curtis Wagner found Arnold for the game-winning score. West Holmes' defense buckled down and built a wall around keeper AJ Jones, although Jones did have to play a key role in the win, capturing 10 saves to secure the victory.
In facing the Quakers in the district finals, the Knights knew what they were up against in traveling to Woody Hayes Quaker Stadium, having dropped a 1-0 contest in the regular season to New Philadelphia.
West Holmes struck first, scoring early in the game when Carson Yoder found Jackson Oliver for a 1-0 Knights' lead. However, in the 30th minute, the Quakers got the equalizer with Drew Maurer knocking in a header off a cross from Nick Barker.
"When we scored and they answered back, with the way the game was going, I felt like the score might stay that way for a long time," Arnold said.
That was the way things stood the rest of the first half, and neither team could generate a score in the second half, although both units nearly found the net on several occasions.
The game seemed destined for a second 15-minute overtime as time wound down in overtime period one, but Logan Garner's unassisted goal with 40 seconds remaining gave the Quakers the victory.
"The ball entered the box and was bouncing around, and we just couldn't quite clear it," Arnold said. "I never even saw who knocked it in. I just saw the net move and knew it was over. Give them credit. They stayed after it. They are a talented team, and I thought both teams got a lot better from the first time we played them."
The Quakers advanced to the regional semifinal sporting a 12-4-2 record, facing Dover for the right to move on. New Philadelphia held possession and was able to generate quite a bit more offensive opportunities than the Knights, outshooting WHHS 14-3 and forcing Jones to make 10 saves in net as he wrapped up a sensational senior campaign for the Knights.
"AJ had a sensational season," Arnold said. "He could put together a terrific highlight reel of saves. He had some unbelievable saves in this one, and Tanner Schad had just an amazing game defensively for us. He told me after the game how much he appreciated me, and I told him I have never had a kid who came to practice and games showing more effort and fight than him."
As for this group of 10 seniors, Arnold said coaching them was a true joy and watching them grow into better players and leaders this season was rewarding. He had four players — Wagner, Arnold, Yoder and Jackson — who scored at least 10 goals this season. He noted the talent and skill level among this group was great, but watching them slowly but surely come together as a team this year was what he admired the most from this year. He said the entire tournament run was a culmination of all of the work they put in.
"It was refreshing to watch us come together at the right time," Arnold said. "We finally found that belief in ourselves, and we were leaving everything we had on the field."
The Knights finish at 11-8-1, and with this run to the district finals and last year's regional appearance, it marks one of the more successful stretches for the Knights.
He said this group did everything he asked of them, leaving everything on the field right down to the final moment, and win or lose, that is something any coach will take from his players.
"This is a chapter in these guys' lives that they only get once, and these guys should be proud of the way they worked and played," Arnold said. "They sacrificed and responded, and it came together late. This group of seniors has played together forever. When they get a chance to look back at their careers, there should be a lot of reasons to smile."