Triway, Wooster bowling teams renew rivalry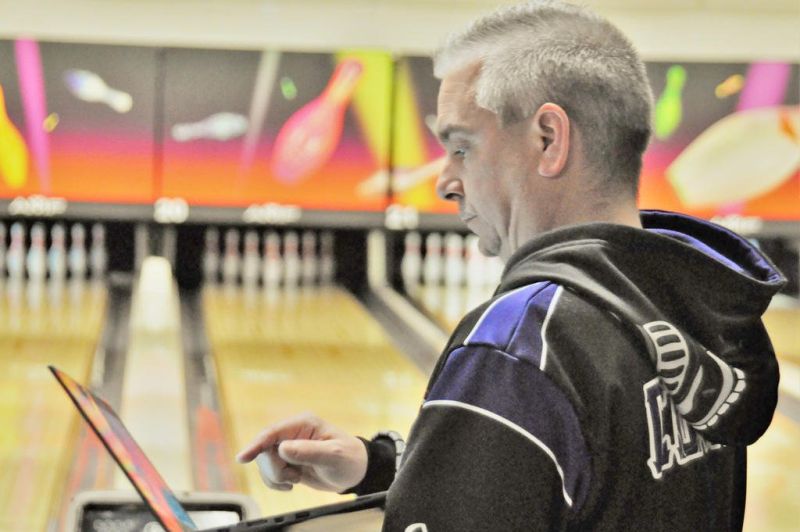 A steamy sports rivalry doesn't always require thousands of lathered-up fans in the seats. Sometimes even a hundred or so fervent followers are enough to get the competitive juices boiling.
Just ask students from Triway and Wooster high schools, who have cultivated a natural enmity ever since the two began squaring off at Wayne Lanes or Triway Lanes about eight years ago.
Even without pom-pom-shaking cheerleaders or a marching band on hand, a bowling showdown between crosstown foes like the Titans and Generals can generate plenty of excitement, especially when the matchup shifts from the initial individual play to the alternating-shots "Baker" rounds.
"It's a good rivalry. We know everyone, and we always have fun when we're bowling against each other," Wooster senior Selina Powers-Good said following the most recent "pindemonium" on the Generals' "home" lanes.
Even veteran coaches Vince Yoder and Chrystal Way of Triway and Tracie Leiendecker of Wooster seemed to have an extra bounce in their steps.
"Being the only two schools in Wayne County that have bowling teams, it's become a friendly but still rival-type of thing," Yoder said after the tabulation of the total pinfall. "The kids look forward to it every year. Obviously the coaches do too. We don't have to travel too far. It's been fun."
The Generals' program began two years before the Titans joined in. At the outset the two local teams competed in the Stark County League. Now, however, there are enough teams in the Ohio Cardinal Conference that Wooster vies for honors in the OCC.
Over the years it's difficult to say one school has established total dominance over the other. At present Triway is the more veteran squad, both on the boys and girls sides. The Titans won both the boys and girls varsity meetings this time around with Triway also prevailing in the boys junior varsity action.
Yet Leiendecker quickly pointed out that last year the Generals swept both home and away matches. Her girls have held the upper hand in the overall series.
In general "home-lane advantage" has been the biggest influencing factor in determining the outcomes. It stands to reason that the bowlers are at their best when in their familiar surroundings.
Yoder said bowling proprietors usually provide "league conditions" for consistency's sake during the regular season. Yet the students are sure to be challenged by different oil patterns in the key out-of-town tournaments.
While a common dual match opens with two games rolled by every member of each team, the best five from each then engage in the "Baker" action, where depth plays a prominent role.
In the "Baker" format, a team's members bowl frames in a repetitive order to complete a single game. For example, bowler "A" bowls frames one and six, bowler "B" bowls frames two and seven, and so forth.
Way has experienced both sides of the Triway-Wooster rivalry. She used to keep score for the Generals because her daughter, Karlie, was a standout on the Wooster team. Now the bowling shoes are on the other feet. Karlie assists her mother on the Triway side.
"I remember the very first match we had against [Triway]," said Karlie, who graduated from Wooster in 2015. "It was tense and exciting."
Here's something extraordinary Karlie shares with Leiendecker's daughter, Allie, who graduated from WHS last spring: Both young keglers recorded perfect 300 games while still in the prep ranks.
"Coaching now where I used to bowl, it's a whole different atmosphere," Karlie said. "And coaching against my old coach, it's unique, I guess, is the word you could use for it."
This could be Triway's year to make some serious waves in the postseason. There are six seniors on the boys team and five seniors on the girls roster.
Leiendecker, meanwhile, said her lineups are more lacking in overall experience.
"We have trouble getting girls out because the sport is not taken real seriously by their peers," Leiendecker said. "It's very difficult to convince them that we're competing. It's an individual sport, but you also compete as a team. You can go all the way to state."
For Powers-Good, just being on a team is a big plus.
"We grow together. We grow together in bowling. We practice and help each other throughout the games. We team bond all the time," said Powers-Good, whose best single game is the 266 she posted earlier this season. "It's always exciting to watch the other girls get their [personal records] too. It makes you jump for joy."