Siegenthaler back scorching the nets again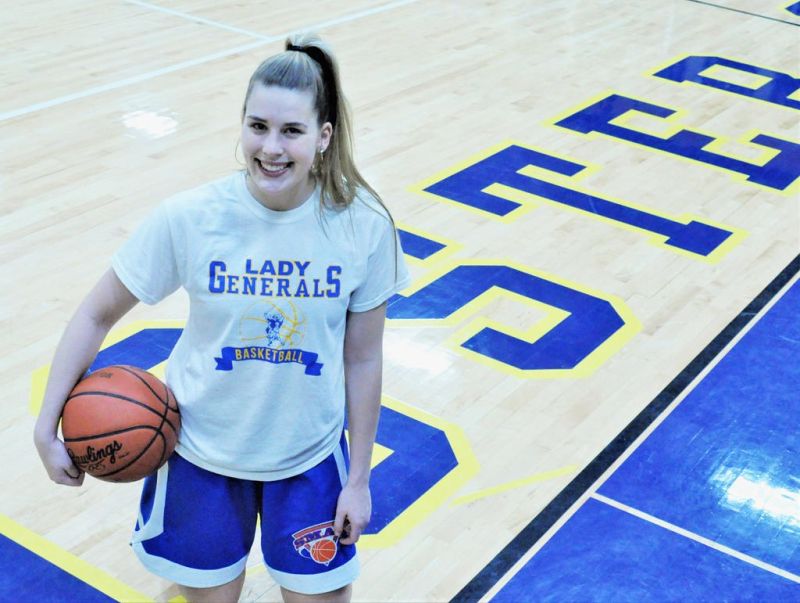 It was months ago that senior Macyn Siegenthaler accepted the notion that her life — and her basketball career — would involve a "new norm." Even her coach at Wooster High, Mike Baus, knew things were going to be a little different.
Yet both forged ahead into the 2019-20 season with renewed promise, hope that one of the area's top performers would show only minor symptoms from the knee injury she suffered near the end of the first game a year ago. Could she overcome surgery and sitting out her entire junior season?
The answer is a resounding yes. Back in her Generals uniform, Siegenthaler is scorching the nets once again, lighting up Ohio Cardinal Conference opponents almost as if nothing had happened.
So far the results include surpassing the 1,000-point career milestone faster than any General in history. It was in her 54th game at WHS that the sharpshooter they call "Sig" put in 26 against Madison to soar past former Wooster great Marcie Alberts. Siegenthaler this season also had a 43-point night against Massillon, nearly topping her own personal high of 44, set during her sophomore season.
Siegenthaler averaged a tick more than 21 points per game during early-December action, serving notice that she doesn't intend to allow double-teams and gimmick defenses to stand in her way.
"It hurts, but that's the new norm," the 5-foot-9 standout said.
The surgical scars on her left knee are hardly visible. She opts not to wear a brace when she plays.
Siegenthaler shored up her confidence by playing volleyball during the fall sports season, eventually getting back in the gym to start shaking the rust off her offensive skills.
"I came into it not really having any fear," Siegenthaler said. "The mind-set I have is that what's meant to happen will happen. I think my injury was meant to happen because it opened my eyes in a lot of different ways and changed my perspective."
On top of the ACL knee injury itself, the 17-year-old Siegenthaler said she was diagnosed with epilepsy during her time off the court. She also dealt with a blood clot in her left calf. She couldn't drive a car, much less drive to the basket.
"I should never have taken any sport for granted," Siegenthaler said. "A lot of girls walk into practice and complain, acting like they didn't want to be here or something. I realized I was doing that at times. Maybe I thought there was something better to do than practice or that I was just tired. Ever since then I've come to practice with a positive mind-set. I want to work hard. I want to get into shape. Whether we're winning or losing at the time, I try not to take it for granted, and I cherish every game and every practice. I'm not going to be able to play basketball forever. It's my favorite sport."
Like many high school athletes piling up impressive numbers, Siegenthaler has yearned to play hoops at the collegiate level. She said prior to the injury she was getting interest from Div. I schools, only to hear less and less about such opportunities. Also a travel-team standout, she said she even had some D-I offers pulled. Her spirit has been rekindled recently after receiving more interest from college recruiters.
"You know if I didn't play in college, I know I'd miss it," Siegenthaler said. "But like I told you earlier, I think what's meant to happen will happen. If I am supposed to play basketball, I will play it. And if I don't end up playing in college, I can always play intramurals and have fun with that. But I think it would be too bad if I didn't play college basketball. I don't have any fear. I'm back. I feel a hundred percent."
Despite Sig's absence last year, Baus was able to guide the Generals to an undefeated Ohio Cardinal Cardinal Conference championship. Already this season injuries have begun to play a role in the team's defense of that title. Seniors Daisha Brown and Anna Cichello have suffered knee injuries as well. Baus said numbers in general are down. He currently has 14 girls in the combined varsity-junior varsity program.
The local dentist said if Siegenthaler would ultimately be able to lead the current Generals to a repeat championship, that would be a major feather in her cap.
Siegenthaler's newest goals include shooting for the 1,500 mark in career points, which still would leave her shy of the school-record 1,626. She's also striving to become the OCC Player of the Year.
"Every game she's getting stronger," Baus said. "Sometimes you have the idea that somebody is just going to turn on the light switch and be back to 100 percent normal. But it takes a little while. She's getting there every game. This last game against Brunswick was by far her strongest, so that's encouraging."
Siegenthaler put in 30 points and totaled 11 rebounds in the 55-52 victory, following it up with a 20-point effort in a 44-28 decision over Mansfield Senior to head into a brief Christmas break in the schedule.
"She's kind of developed into our on-the-court leader," Baus said. "It's kind of like on-the-job training right now, but I think she's really starting to pick it up. She's starting to realize that if everybody's clickin' and we're playing as a team, that's good for everybody."
Everybody except the Generals' opponents, that is.