Vertical Runner trail race benefits Wooster Memorial Park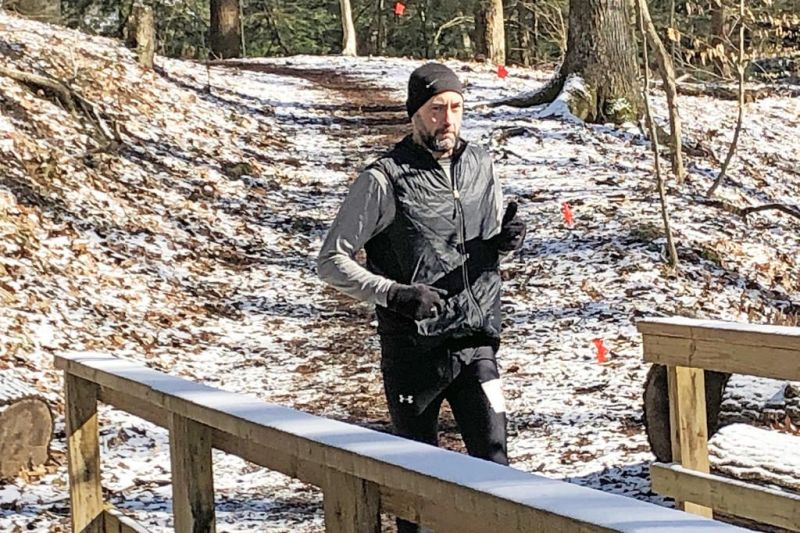 Vertical Runner held its annual Super Bull Trail Championships on Saturday, March 7 to raise money for Wooster Memorial Park, which is located at 5197 Silver Road. Race proceeds once again benefited the Friends of Wooster Memorial Park, the group that keeps the park up to date with trail maintenance, cleanup and land development.
Runners from seven states joined the race, as well as those from all over Ohio.
"It just gets better each year," said Brian Polen, the owner of Vertical Runner in downtown Wooster. "We once again achieved new records as far as the number of participants, amounts of the awards that go to the runners and the donation we're able to make to Friends of Wooster Memorial Park."
Polen said the donation to FWMP this year will exceed $4,000.
Celebrating its fourth anniversary, the event sold out as it has every year. Two-hundred-fifty registrants — an increase of 50 from last year — competed for more than $1,300 in total prize money.
"We're so excited to be able to do this," Polen said. "It's great to go for a run out there and see new bridges, new signage and other improvements every time."
Polen said he remembered just a few years ago he'd go for a run out at the park and there would not even be anyone else out there. "That is sure changing now. The park is going from being a hidden jewel of the area to a major attraction," he said.
The event featured 50k, 25k, 12.5k and 5k timed runs on the park's rustic trails. The course featured a 7.75-mile loop with approximately 1,000 feet of climb per loop. The course is mostly made up of single-track trails with some very technical treks and some incredible views. There are creek crossings, steep hills, lots of downhill and a lot of mud this year.
"That's what trail running is all about," said Matt Fremon, a runner from Akron. "It really is a beautiful course."
There were two aid stations along the race course, one at mile 4.8 with water and electrolyte drinks, gels, and bathrooms. The other main aid station was at the start and finish and featured chips, pretzels, bananas, peanut butter and jelly sandwiches, some hot foods, cookies, M&Ms, licorice, chews, gels, water, soda, electrolyte drinks, and portable restrooms.
Cash prizes were awarded to the top-two males and females overall in each event: 50k champions received $150; 50k runner-ups, $75; 25k champions, $100; 25k runner-ups, $50; 12.5k champions, $50; and 12.5k runner-ups, $25.
Awards were given for the top-three overall male and female finishers in each race distance, as well as top male and female overall in the Master's (40-49) and Grandmasters (over 50) divisions in each race distance.
Awards were given out at the Official Super Bull Afterparty on race day, held at JAFB Brewery in downtown Wooster. Racers had pizza and a free beer. All runners received a finishers medal.
Polen said the event has the help of several local business partners like JAFB and Lem's Pizza from Fredericksburg.
"College Hill Honda is a huge sponsor, and I don't know how we'd do it without them," Polen said. "We also have so many individual volunteers."
Polen said Brian Kiper, a teacher at Triway, is out at the park early on race day to figure out the logistics of being able to park more than 200 cars.
Kiper's wife, Jenn, is the course "sweeper," cleaning up all the signs and ribbon after the race.
Polen said the course is marked with 1,700 orange flags, about 50 directional signs and about 600 feet of ribbon. Nathan Quinn marks the course. "Imagine, that's the equivalent of doing 1,700 squats," he said.
FWMP member John Abt was at the park at 6 a.m. to start a fire for the runners as they got ready to compete.
"There are just so many unsung heroes of this event, and it's great to see everyone coming together for it every year," Polen said.
The Super Bull Championships kicked off Vertical Runner's season of events, which includes race management for more than 100 races throughout the region.