Wenger rebounds from injury scare to lead Bulldogs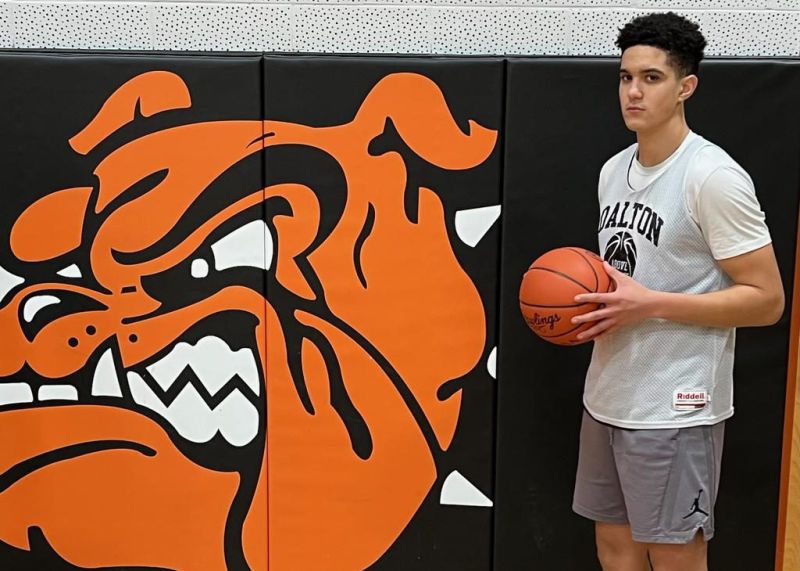 It should come as no surprise to area boys basketball fans that when Dalton visited Norwayne on Friday, a share of first place in the Wayne County Athletic League was on the line. (Editor's note: Norwayne defeated Dalton 45-44.)

The Bulldogs and Bobcats have finished first and second, respectively, in the WCAL each of the last two years, and both have strong hoops traditions.
What is amazing about the match-up is Dalton senior Braylon Wenger will be front and center as one of the key players.
Wenger suffered a serious head injury after losing his balance on a dunk attempt against Canton Central Catholic during a home scrimmage on Nov. 19. The 6-foot-7, 210-pound returning Div. IV special mention All-Ohioan landed on his shoulder and then head, suffering a fractured skull and small brain bleed.
Even the most optimistic doctor estimates had Wenger returning to game action in February, just prior to the OHSAA post-season tournament.
However, Wenger wound up missing only six games. He was cleared to play prior to Dalton's 70-67 loss against University School on Dec. 28. Wenger didn't just return — he came back with a vengeance and scored 36 points.
"Once basketball gets taken away from you like that so quickly, I think you just start to appreciate it more and more," Wenger said. "You should never take any opportunity for granted when you step on the court."
Wenger remembers getting a steal against Canton Central Catholic and jumping toward the rim, but his next memory is waking up in a hospital bed.
First-year Dalton coach Justin Greenfelder, who had been an assistant at CCC the previous five years, will long remember every detail of Wenger's injury.
"It was the most difficult day I've ever had as a coach," said Greenfelder, an attorney who also spent time as an assistant at Chippewa early in his career. "Our team had a really good preseason up to that point.
"Braylon had been playing out of his mind in the scrimmages that we had, and we had really high expectations. It was just kind of a freak thing, with Braylon going up for a dunk in transition and he thought the defender was trailing closer than he actually was. Braylon jumped a little farther out from the rim than normal, and when he got his hands to the rim, he kind of swung his feet down underneath and his hand slipped off."
Wenger was unresponsive for about three minutes.
"Scary is the best word to describe it," Greenfelder said. "I was the first one out to him, and he immediately flopped onto his stomach. I tried to stabilize his neck and flipped him back over. There was blood on his face, and I wiped that away.
"When Braylon wasn't responsive, I urged him to breathe. The trainer called 911, and we brought the AED out just in case we needed it. Luckily, we had some parents who were medical folks in the stands. The squad got here quickly, and they got him stabilized and to the hospital."
The first indication Greenfelder and the Bulldogs got that Wenger might come back quicker than they thought was when he actually showed up at their practice three days later.
"The Monday after Brandon's injury, I was prepared to come in here and have a conversation about sticking together as a team, 'next man up' kind of mentality, and unexpectedly, Braylon was there," Greenfelder said. "I certainly didn't expect that, but he was feeling well enough to watch practice, so we all kind of healed together. I think for the team to see him there was really important."
Following doctor's orders, Wenger resumed shooting and exercising on his own for several weeks. He kept his sense of humor by asking Greenfelder for a coach's shirt because he was right there with teammates in the huddle and helping with advice from the bench.
"It just showed how much he cares about this team," Greenfelder said.
Greenfelder also is proud of the rest of the Bulldogs.
Dalton didn't lower its goals during Wenger's absence, despite also losing another key player for the season after issues stemming from an off-court issue.
"Even without Braylon we thought that we had a chance to go out and win every night," said Greenfelder, who played basketball and baseball at Massillon Jackson and went on to play baseball at Denison University. "I think in those first six games without him, we saw some guys step up.
"Senior Jack Steiner (14.3 ppg, 5.8 rebounds, 3.7 assists), sophomore Brady Hignight (8.8 ppg), junior Keller McFarren (5.7 ppg) and some other guys stepped up and took on bigger roles. That's really paying off now that Braylon's back."
Once Wenger passed an EEG test and his doctor talked with his parents, Morgan and Tira, the decision was made for him to return to practices and then games. In three games Wenger is averaging 32.3 points and 12.7 rebounds a game. A true multi-threat player, Wenger has dropped in ten 3-pointers. He's even back to dunking with full authority, cramming home two slams against Hillsdale.
"He's just made an incredible recovery," Greenfelder said. "He had a lot of people in a lot of places that were praying for him. God is real, and that's been proven to me with all the support and to be able to come back so quickly."
Last season Wenger shared the spotlight with his since-graduated brother Jalen, who finished as Wayne County's second all-time leading scorer and is now a part of the Speights Academy team in Florida.
Greenfelder tells the college coaches who inquire about Braylon that his best basketball is still to come. For now he is just savoring being on the floor again with his teammates and coaches.
"I'm just kind of working back into (basketball shape)," Wenger said. "I'm going out there and playing hard every night and having fun. I'm trying to take the right steps every single game to try and win the state title."