Wooster AD Rubino's first year was crazy at start, finish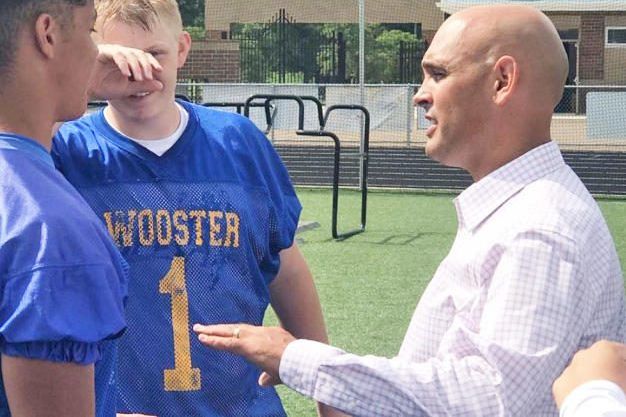 Over the summer of 2019, Wooster City Schools' own Joe Rubino was hired into the position of athletic director at Wooster High.
Rubino was all set for his third year in the same AD position at Edgewood Middle School when the dominos started to fall.
Adam Bracken, who had been selected to replace Andy Kellar as the WHS AD in June, decided a month or so later that his heart wasn't in it and resigned abruptly to return to Ashland University, where he had been in athletic administration.
That left a sudden vacancy, and Wooster turned to Rubino. Bracken's resignation was accepted on a Tuesday last July, Wooster superintendent Dr. Michael Tefs interviewed Rubino on Tuesday night, and on Wednesday, the job was Rubino's — a week before the official start of practices for the Generals' fall athletic teams.
That accelerated timeline didn't bother the new AD.
"I considered it a great time to acquire the position. The school had a need and I had just finished my coursework. The timing could not have been better." said Rubino, who had finished his Master's of Education with administrative licensure earlier in the summer.
The former youth pastor came back to Wooster after five years with various churches in Painesville, earned a teaching degree and a Master's, and was eventually hired to teach special education in the district.
In addition to his teaching, he also served as an assistant coach on the football staff of Wooster High's Doug Haas.
"Both of these fields have not only taught me a lot about myself but have provided a great way to give back to the community that I love by serving families," Rubino said. "Athletics is a great vehicle to experience this kind of giving and that is why I am honored to work at WCS in this capacity."
Rubino's first year, of course, ended with some major challenges brought on by the COVID-19 pandemic that cut the winter sports season short and forced the cancellation of spring athletic activities.
Even then, the athletic staff of Rubino, assistant AD Cass Dixon and athletic department secretary Angie French maintained a positive attitude. "Navigating the obstacles of the pandemic has led to opportunities of viewing athletics through the scope of creativity and focus on teamwork," Rubino said. "(The athletes) are the ones that my heart goes out to when I think about the impact the pandemic has had on our student-athletes."
Now, the big question looming, at least athletically, is what will happen for fall sports and the athletes in the 2020- 2021 school year? As of June 22, offseason workouts have resumed, with facilities in use once again by coaches and staff in accordance with the guidelines required by the Ohio Department of Health and the local Health Departments. With the return of offseason training, the school's top priority is ensuring the safety of its student-athletes. "This will be the framework that we operate in as we look forward to and we prepare for the upcoming school year," Rubino said.
Rubino's broad-range perspective for the future of WHS athletics is to set up a culture that will grow and prosper by instilling values in athletes through their coaches.
"My long-term goal is to continue to make our community proud to be Generals, we seek to lift up the whole athlete as an extension of the educational experience," he said. "As our young men and women who are athletes are preparing to serve and live in society as adults, school sports are a unique commitment that prepares the heart, mind, and soul for further education/vocation, working hard to help others, and discovering greater purpose in life beyond oneself."
With all of the uncertainty that has plagued the community over the last few months, WHS and its student athletes appear to be in good hands with Rubino at the helm.