Wooster baseball reaches milestone, looks for more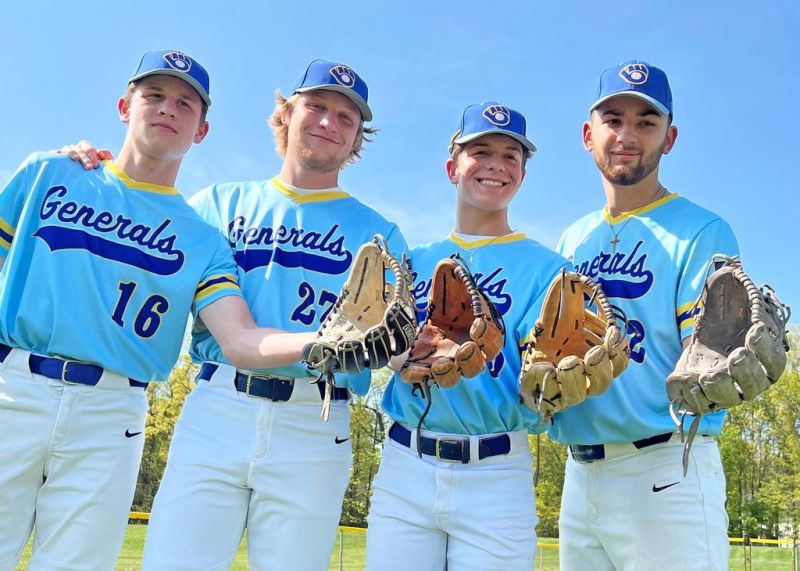 The Wooster baseball team accomplished something this spring that hadn't been done by the program in 38 years: three-peat as a league champion.

The Generals' 10-2 win over visiting Ashland on May 3 gave Wooster its third straight outright Ohio Cardinal Conference championship. The last Wooster baseball three-peat occurred in 1983-85.
Seventh-year Wooster coach Steve Young called it a surreal feat.
"The past three years we've taken the kids into the gym in early January and showed them the baseball banner," said Young, who notched his 100th career win at Wooster after an 11-1 triumph over Cloverleaf on May 15. "We had nothing up there in my tenure until 2021, and then to do it again last year was huge because we were so young.
"To win it a third straight year with a target on their back all year was really impressive. We just came out and competed, and even when we didn't play well or let one slide, they showed up the next day and kept playing hard."
The only thing that has eluded Young and the Generals is OHSAA tournament success. Wooster hasn't reached the district tournament since 2016. The Generals, who opened postseason play when they hosted the Normandy vs. Maple Heights winner in a Division I sectional final on May 18 (Editor's note: Wooster won 4-1), are seeded fourth in a 37-team district, behind Cleveland St. Ignatius, Medina and Wadsworth.
"It's been great competing for three conference championships with the squad," said senior shortstop Blake Bowen, who's made a strong case to be a repeat first-team All-Ohioan and OCC Player of the Year. "It's a very competitive conference, and it's always great to win that, but ultimately, the goal is to win a state championship, so we're going to try our best in the tournament."
It's been a total team effort, but if Wooster is to make a postseason run, the infield quartet of seniors Blake Bowen and Elisha Steiner and sophomores Brady Bowen and Ben Winge will need to continue to step up big. Brady Bowen and Steiner also are the top pitchers.
Blake Bowen, a 6-foot-2, 195-pound shortstop, has earned a full ride to Kentucky and has a chance to be selected in the June MLB Draft.
The last WHS player drafted right out of high school was catcher Tim Jones in 1976. He was picked in the 18th round by the Dodgers and played three seasons as an outfielder at various levels of the minors.
"I personally have talked to at least 11 different Major League teams about Blake," Young said. "The interest is there. I think when that time comes, if it comes, it will be a family decision that they all sit down and talk about.
"Regardless of what Blake does, I trust he has a very bright future because of the family around him and how he handles things on and off the field. When you talk to teachers in our hallway, they say he's one of the best students in our school. He will go very far in life, no matter what happens with baseball."
Bowen leads the team in batting average (.492), on-base percentage (.630), triples (4), home runs (4), runs (31) and walks (26). He's struck out only twice in 92 total plate appearances.
His composure despite being pitched to with extreme caution — or not at all — while also being asked about college and the upcoming draft has been extremely impressive. Bowen takes it all in stride.
"It's all a part of life," Bowen said. "It's my life, and I enjoy every bit of it. I love playing baseball, so whether it's in the minor leagues next year or it's Kentucky, I know I'm gonna have a great team around me, and being around these guys has helped me a lot. As of now, I'm planning to be at Kentucky."
Steiner also is enjoying every bit of this season. He appreciates baseball more than ever after a triceps injury in the 2022 season opener took him out of the rotation the rest of the year.
"It was hard to battle back, but luckily, I have a good, solid team to support me," said Steiner, who plans to play baseball at Clark State in Springfield. "We've formed a family out here. They're all like brothers. We love each other and support each other, even though we may make fun of each other sometimes. (The OCC title) is a confidence booster going into the playoffs, and it speaks to how this program is built and what the coaches put into it."
Steiner was the OCC Pitcher of the Year as a sophomore, and this spring he's 4-0 with a 4.90 ERA and 35 strikeouts in 25.2 IP. He's also batting .307 with 19 RBI and 19 runs.
"Steiner has come all the way back, and now he's just dealing," Young said. "He is a 100% team player and one of the most selfless kids I've ever coached."
Sophomore Brady Bowen (7-1, 1.32 ERA, 45 Ks, 42.1 IP) is in contention for OCC Pitcher of the Year. He also is batting .324 with a team-high 28 RBI. Classmate Ben Winge (.319, 8 2B, 2 3B, 23 R) has provided a spark in the No. 2 hole in the lineup and played stellar defense at second base.
"Brady is very coachable and one of the most competitive kids I've ever had," Young said. "He's a little bulldog.
"Last year Ben led the area in on-base percentage from the bottom of our lineup and has worked his butt off in the weight room. It's paying off as he went from no doubles to tied for the team lead. He's driving in runs, stealing bases and is a well-above-average defensive second baseman."
Also batting over .300 for Wooster heading into the tournament are outfielder-pitcher A.J. Likowski (.433, 19 R) and first baseman Sam Nielsen (.342, 8 2B, 18 RBI, 18 R).