Wooster has solid showing at OCC track and field meet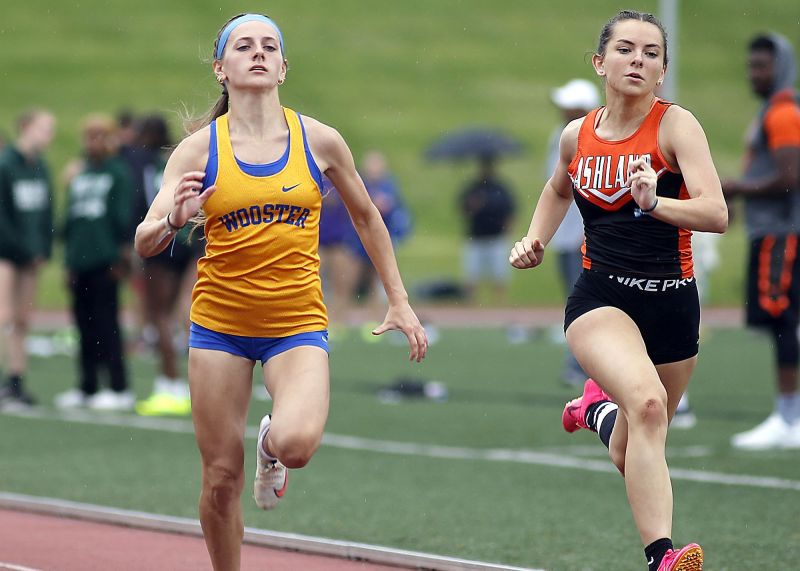 The Wooster boys and girls track and field teams had several athletes put forth strong performances at the Ohio Cardinal Conference Championships on May 12 at Ashland University.
Ethan Keating led the way for the Wooster boys. The senior won the 1,600 in a personal-best time of 4:21.33 and finished second in the 3,200 in 9:46.13. His winning time in the mile was roughly 10 seconds better than his previous top effort.
"(Keating) has worked his tail off since he was a freshman here," Wooster boys coach Doug Bennett said. "He believes in our training system. He believes in our plan. He gives throughout each season what he needs to be successful. He trusts me. I trust him. If I said I expected him to run that well in the mile, I would be lying. Every once in a while, as a distance runner, you get a big time drop, and it's a nice surprise, and he got a nice surprise today.
"He is a fierce competitor, and he ran with great confidence."
With Keating leading the way, the Generals placed fourth in the eight-team field. They finished with 88 points, just behind second-place New Philadelphia (93) and third-place Mansfield Senior (90). Ashland ran away with its seventh consecutive team title by racking up 138 points.
Wooster had two other champions — senior Michael Howman-Williams in the discus with a throw of 157-feet-3 and the 4x800 relay (8:18.74) of Owen Buchholz, Gabriel Thompson, Oliver Miller and Luke Hootman. Howman-Williams also placed fourth in the shot put with a toss of 45-4.
Thompson in the 3,200 (9:48.95) and the 4x100 relay (45.98) of Jayden Ortiz, Julian Franklin, Anthony Sines and Landen Hamilton-Topovski placed third. Kenyonn Jolly in the high jump (6-0) and the 4x200 relay (1:32.52) of Ortiz, Franklin, Tristin Walker and Hamilton-Topovski finished fourth.
"We finished fourth and were within five points of second, which is nothing in track and field," Bennett said. "That tells me our kids went out and competed all over the place. I was really happy with the field (athletes). We scored a lot of points out there, which set us up very nicely for the track.
"There were no disappointing performances from our kids on the track. We had a lot of nice PRs and positive races for our kids, which set us up well for districts. We did about as well as we could do."
Mansfield Senior's Keontez Bradley was named Male Runner of the Year, Ashland's Landon McFrederick Male Field Athlete of the Year, Lexington's Carter Newman Male Athlete of the Year and Ashland's Ryan Stackhouse Boys Coach of the Year.
The Wooster girls didn't have any champions, but six athletes earned top-three finishes. Using a team approach, the Lady Generals finished third in the eight-team field with 98 points. Lexington won the team title with 149, and Mount Vernon finished second with 129.
Sydney Older in the 400 (1:00.60), Grace Kostohryz in the shot put (36-6¾) and the 4x800 relay (10:04.99) of Ani Tzonev, Mattie Dunlap, Margaret McBride and Audrey Miller all finished second to lead the way for Wooster. Ava Eagle in the long jump (16-2¼), Abbigail Jones in the shot put (35-1) and the 4x200 relay (1:49.00) of Faith Timko, Abi Strand-Fox, Eagle and Older all placed third while finishing fourth were Dunlap in the 800 (2:29.63), McBride in the 3,200 (12:35.48), Timko in the 300 hurdles (50.03), Jones in the discus (109-10) and the 4x100 relay (52.61) of Avery Hamilton-Topovski, Natalie Fagart, Ilana Tucker and Eagle.
"I was hoping that (my athletes) would do their very best and set a lot of personal bests, and we did that today," Wooster girls coach Chris Mascotti-Rasor said. "I was pretty proud of everybody. They did a good job. It was a good team effort.
"I told (my athletes) to come out and lay it out there and do the very best you can and make me write more ribbons because I write PR ribbons. I had to write a lot of them, but I'm very happy."
Mount Vernon's Marissa Ritter was named Female Runner of the Year, West Holmes' Laney Duff Female Field Athlete of the Year, Lexington's Elyana Weaver Female Athlete of the Year and Lexington's Michelle Smith Girls Coach of the Year.