Fifth Grade Farm Tour enters 54th year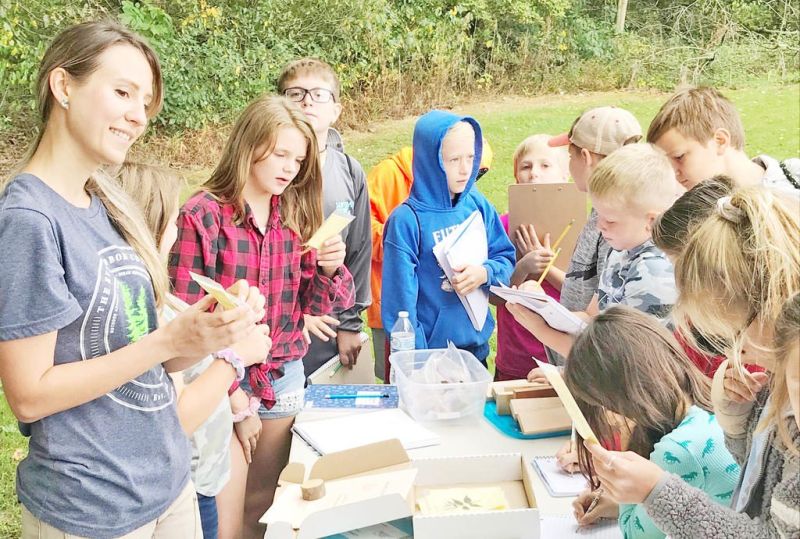 For 54 years the Holmes Soil and Water Conservation District has hosted a fifth-grade conservation farm tour for East Holmes and West Holmes students. The tour included just the main school districts, but recently they had requests to accommodate private schools as well.
Students from both sides of the county gathered for one tour, but with the addition of the new students, they created two tours at two different locations, offering plenty of space for fifth-graders at private and parochial schools to join.
The Tom Graham Fifth Grade Farm Tours took place Tuesday, Sept. 24 at Harold's Equipment, 2120 County Road 168, Dundee, where students from East Holmes schools and private and parochial schools attended, and Thursday, Sept. 26 at the Wachtel family-owned Spring Walk Farm, 13079 Township Road 503, near Big Prairie, where West Holmes School District students attended.
After a rainfall simulation demonstration by Holmes SWCD began the tour at Spring Walk Farm, the students rotated between five stations with 25 minutes at each station. The five stations included presentations from soil scientist Duane Wood about soils, farming topics shared by farmers Bill and Kurt Wachtel, forestry that featured Ohio Volunteer Naturalists Denny Jordan and Kelley Purvis, a wildlife presentation from Carrie Elvey of The Wilderness Center and John Lorson of Holmes SWCD, a talk on water quality by SWCD's Karen Gotter and Joe Christner, and a safety presentation from WHHS FFA leaders.
Each station had a hands-on component and was taught by resource professionals including the SWCD staff, Future Farmers of America high school students and volunteers.
For exactly 20 of those 54 years, both West Holmes FFA advisor Jaime Chenevey and Holmes SWCD program director Michelle Wood have been involved with the event.
Chenevey said over the two decades the locations have changed and equipment is different, but the overall theme of the tour remains identical to when it first began.
"Agriculture is pretty steady, and the things we taught back then are relevant today," Chenevey said. "It's still every bit as important to teach kids the basics about soil and agriculture and the role they play in our community and in the world. A lot of these kids have never been exposed to a farm setting, so this is new to them. One big change is that not as many kids are ever exposed to the farming world. That has been a change, but the information is still as pertinent as ever."
Wood said while the gist of the tour is constant, it has changed in one way. She said when she first became involved, fifth-graders would take their pencil and paper, sit down, and scribble notes and fill in the blanks as to what they were hearing and learning. She said today they have made a huge effort to create more interaction and more hands-on stations where the students can become more engaged.
"One of the challenges we face is making it more engaging and incorporating as much hands-on stuff as we can for the students," Wood said. "With fewer kids into farming today than there were 20 years ago, we want to make the connection between their world and why farming and conservation are important to us in ways that go well beyond just living or working on a farm. The message we hope to share is that soil and conservation are important in ways that they do not realize. Our hope in being more hands-on is that they put down their paper and pencil and really listen and participate to what we are saying and worry about the paperwork part of it later."
Each of the fifth-graders will be asked to write an essay about their experience and about what they heard and learned and how conservation, soil and farming play a key role in society today.
Each of the fifth-grade classroom teachers will eventually pick the top-two essays and present them to SWCD, which will pick the top-three entries. Those students will be awarded during the annual SWCD banquet later this fall.
Wood also said the reality of today's society is that there are fewer and fewer farms in an industry that is incredibly demanding.
"I think the way we have made this more hands-on creates a really fun vibe that is relaxed and enjoyable for the kids compared to the way we used to do it," Wood said.
After debuting at the tour last year, Elvey returned to discuss area wildlife with the students. She said knowing what was expected made things easier, but it remained nonetheless very enjoyable.
"It is every bit as much fun as it was last year," Elvey said. "I actually came through this program when I was in the fifth grade, and it remains a very important part of the learning process for them as it was for us back then. The kids ask such interesting questions, and they seem to get engaged, and this setting helps them enjoy the event a lot more than they would in a school setting."