Local students illustrate book as part of art curriculum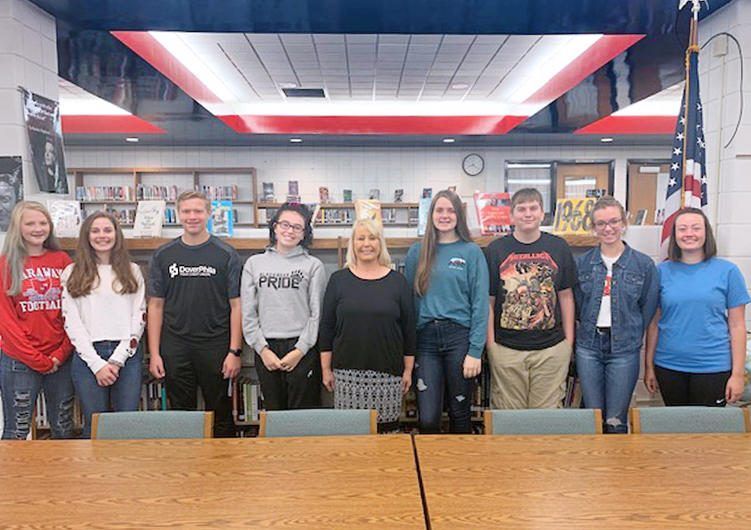 Students in Heather Agar's New Philadelphia High School advanced art class have spent the first part of the school year illustrating a book.
The work of eight students will be featured in an upcoming work by Sugarcreek author Patricia Miller, "Mysterious Tales of the Unexplained," a book aimed at a teen and young adult audience.
"We started in September, right after the start of the school year," said Agar, who said she came to work with Miller through a mutual friend. "I learned that she wanted to feature student artists in her book, so we started talking about that."
Agar said she understood New Philadelphia High School was the only area school to take up the challenge.
Miller proposed a contest calling for artwork to illustrate scenes from the book and provided strong guidance for students, intending to select perhaps one or two pieces for publication. "Instead," Agar said, "she ended up choosing eight pieces. She was very pleased with the results."
There were 37 entries for consideration. "We are so excited that the artistic visions of New Philadelphia High School art students will be featured alongside this new book," Agar said.
The book is a collection of four tales made up of one novella and three short stories.
"I was overwhelmed at the number of submissions and the talent we have in this area," Miller said. "The sketches really help the stories come alive."
Students were free to submit as many black-and-white sketches as they wanted, and the cover art for the book was provided as guidance for the tone of the work Miller was looking for. Work from students grade 7-12 was accepted.
Works were chosen by Madyson Robbins, Hannah Levengood, Nathaniel Demuth, Alyssa Herron, Trista Fox, Logan Heichel, Fiona Armstrong and Anna Winn.
"It was a really good experience for me as a young artist," Armstrong said. "To be able to work with an author and take her idea and interpret it to create an original piece of artwork, I'm grateful for that unique opportunity."
Included in the book is a story of an inherited old house sold off to a restoration team that soon finds it has purchased more than anticipated. Miller asked for illustrations of the vine-covered stone entry to the mansion, interior views of the house in the midst of restoration and a crumbling upstairs bedroom.
In another story several friends embark on a mystery weekend package at an inn, only to find the mystery they are attempting to solve reaches beyond the limits of the game. Miller sought exterior images and some of an interior dining room setting.
For another tale, a thriller ensues as a young female private eye looks into the suspicious suicide of a local businessman. Again, the story needed exterior garden images and interior bookshelves.
All of the resulting entrees featured ominous, dark and mysterious pencil sketches on 8-by-10 thick stock and were scanned and submitted to Miller via email.
Miller, a mental-health counselor in addition to her writing, also is author of "Joshua: Life After Theos," published in 2017.
Agar said Miller had worked with another young artist in illustrating a previous book and wanted to do so again. "Doing this is part of our effort to reach outside the classroom for new art ventures," she said.
As in years past, Agar's class has submitted work for a show sponsored by Cleveland Clinic called "Expressions."
"We actually had 37 submissions for that this year," Agar said, "and we're waiting now to get the results of that. They researched 15 different topics as part of their submissions."
Of the students' feelings about Miller's book, Agar said, "They were thrilled to participate in this project with Patricia Miller and especially thrilled to be chosen."
The book is expected to be published in the coming weeks. Miller is on Facebook as Patricia Miller - Author. When released, her book can be purchased via Amazon.com.