Strange magic: Local rock band teams up with classical musicians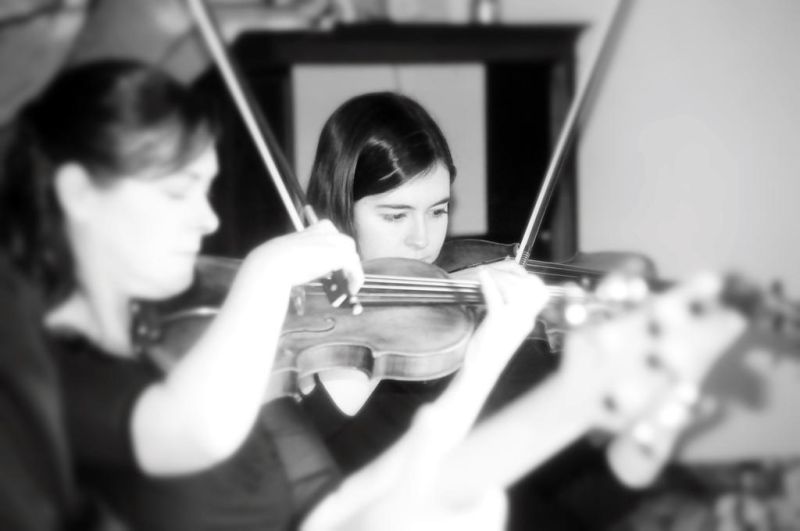 Ronda Price said something "just came over" her. Call it a strange magic. Call it a livin' thing. Call it what you will, but she decided at the ELO concert in Columbus last summer that she would start an Electric Light Orchestra tribute band.
ELO is an English rock band formed in 1970 by musicians Jeff Lynne, Roy Wood and Bev Bevan. Their popularity soared during the 1970s and 1980s with hits like "Can't Get It Out of My Head," "Mr. Blue Sky," "Evil Woman" and "Don't Bring Me Down."
Price has long been an ELO fan. "It started in the summer of 1979 when my mom died," she said. Her dad, whose favorite band was ELO, had a copy of the double album, "Out of the Blue."
"That music was my savior when I think back. I was 14, and I had that whole summer by myself as an only child, and I would listen to those two records over and over," Price said.
ELO has not been a band to tour much, so when Price saw they were coming to Columbus last year, she knew she had to go. She took along her then-16-year-old son, who wore a T-shirt she had bought at a 1981 concert her dad took her to at the Cleveland Colosseum. "People were coming up to him and asking where he got the shirt," she said.
During the concert Price said the idea came to her to start a tribute band. "I just had this feeling that I could actually pull it off," she said. "I've been in rock bands most of my life, and I know every single ELO song ever written."
Price started by asking her existing classic rock band, Piece (formerly Peace by Piece), if they were interested. "I was afraid they'd say no, but they didn't hesitate," she said. "They answered, 'Yes! Absolutely!'"
Lead guitar and vocalist Jeff Rutter recalls being blown away by ELO when he first saw them perform on the 1970s late-night music show, Don Kirshner's Rock Concert. "I started stealing my brother's ELO albums, and when I saw them on TV come out of the space ship, that's the moment I said, 'That's what I want to do!'"
Bass player Paul Zavasky said he has been a fan of ELO since he spent summers in the '70s at the Uhrichsville pool and heard them on the radio. He was actually invited to be in an ELO cover band several years ago, but it didn't work out. "This time," he said, "when the opportunity came about, I thought there was no way I was going to turn it down."
Price's son, Ben Williamson, was mesmerized by the band and music at the concert. While a bit skeptical of his mom's plans at first, Williamson wholeheartedly agreed to become the drummer for the band after seeing how much it meant to his mom. He has studied percussion since he was 5 years old under the tutelage of Bobby Stocker in New Philadelphia, who Price called "the ultimate drum teacher."
Williamson, a marketing student at Buckeye Career Center, also developed the band's logo, based on the space ship on the cover of the "Out of the Blue" album and came up with the band's name, "Into the Blue."
Pulling strings
Of course anyone who is familiar with ELO knows you can't have a tribute band without violins and cellos. At first Price said she was drawing a blank as to where to find string players. Then a friend of hers suggested she contact Pellegrino Music Center. When she did, the person who answered said, "Oh, I play clarinet for the Tuscarawas Philharmonic. You want to talk to Mary Bontrager — she's our concert master."
Price contacted Bontrager, who readily accepted the gig and suggested adding her two daughters to the group: Kaylee, a violin player, and Abigail, a cellist. A second cellist, Josh Williams, and a third violinist yet to be named will round out the string section.
To round out the rest of the band, Price secured Brent Schloneger to play synthesizer and Megan Sams, the Tusky Valley choir director, to play keyboards.
And it all happened in less than four days.
A family affair
Five members of Into the Blue are family: Price and her son Ben Williamson, along with Mary, Kaylee and Abigail Bontrager. This isn't the first time the Bontragers played together, though.
In addition to being the concert master for the Tuscarawas Philharmonic, Mary Bontrager is a freelance violinist who plays wherever she is called to play, often with her daughters. Kaylee Bontrager was the featured violinist at the March 7 concert with a performance of Mendelssohn's "Violin Concerto."
"They are at the top of my list when I choose people to play with because they are good enough, not because they're my kids," Bontrager said.
"I think it's a privilege to be able to play with my mom, and I'm also excited about playing in a band with a string section," Williamson said.
"It's good to be in a band where we're all friends," Zavasky said. "Everyone is talented, but there are no big egos. It's more like a family."
Debuting at the PAC in September
The first concert Into the Blue will perform will take place at the Performing Arts Center at Kent State Tuscarawas on Sept. 12 at 7 p.m. Bontrager said she will feel right at home because the PAC is home to the philharmonic.
"It's going to be cool," Rutter said. "When Ronda decided to shoot for the PAC for our debut, I got excited. This is a huge endeavor, and we want to make sure we do it right."
"Considering that I've been in bar bands my entire life, playing at a venue like the PAC is a great opportunity and something I am eagerly looking forward to," said Geo Malatesta, another lead guitarist and vocalist for the group.
Zavasky echoed that sentiment. "It's really the classiest place around," he said. "I've played in front of some large crowds in my career, but I don't think anything is going to top this."
For its debut performance, the band will play all of the songs on the "Essential ELO" album with the exception of "Calling America," which is not as well-known as the other songs.
So far the PAC performance is the only one on the band's schedule. "We are waiting for the philharmonic to set their 2020-21 schedule," Price said. "We depend on the strings, so we will be working around their schedule."
"This is definitely a big task," Rutter said. "With something of this magnitude, the challenge is to do more than just show up and play a bunch of ELO songs. Our aim is to take the performance to another level and nail each song as much as humanly possible."
"I really admire the professionalism of the other band members and love working with them," Malatesta said. "The work ethic, dedication and love of the songs makes the job seem effortless. To be able to witness this thing happening from the ground up has been nothing short of amazing."
Tickets to the concert are already on sale on the PAC website at www.kent.edu/tusc/pac or by calling 330-308-6400. In the meantime the core Piece band will still perform in the area.
"I never said my dream is to be in an ELO tribute band," Price said, "but now it's kind of a dream about to come true."
The PAC is located at 330 University Drive NE in New Philadelphia.