50 years of wining and dining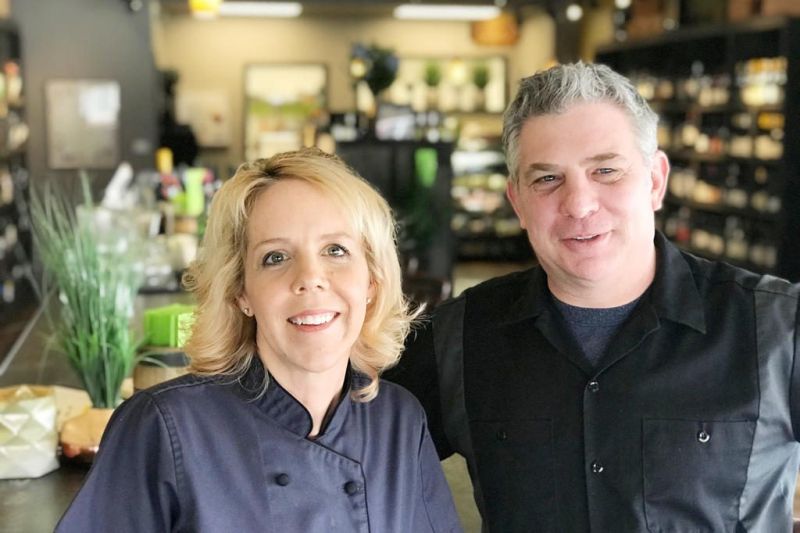 A small business that thrives for 50 years in the same spot is something of a marvel, and the Wine Rack and Mini Shop Drive Thru — and now Mustards — is among the rarefied league of places to reach such a milestone with beginnings reaching back to 1969.
"There were actually two of them," said Anthony Montero, who along with wife, Rachel, is a third-generation owner of the business today. "Grandpa Joe started one in New Philadelphia and one in Uhrichsville."
Joe Montero, Jr., returning home from military service in 1972, got into the business then, and the Uhrichsville location closed. "My grandpa was a painter by trade, and that's really what he wanted to do."
In 1980 Anthony Montero's mother got involved, and the family opened The Wine Rack, adjacent to the drive-thru. The building that was previously home to a small accounting firm would become the go-to place for wine, prepared and packaged gourmet items, and higher-end deli meats and cheeses.
"It was set up from the beginning to be a wine and gourmet shop," Anthony Montero said. "And it was the very first of its kind in the area, which really needed something like that. The Wine Rack developed the wine culture here with wine tastings and partnerships with many other area businesses and organizations. In the '80s The Wine Rack did tastings at Zoar Tavern, Atwood Lodge and other spots around the area."
It is something that Mustards at The Wine Rack continues today. A recent wine tasting at the small restaurant saw a shoulder-to-shoulder crowd sampling especially fine vintages.
"Joe, Jr. had been contemplating adding a full-service liquor store, and the opportunity to do so came up around 1990," Anthony Montero said. "And we were a state liquor agency for 20 years."
Anthony and Rachel Montero had previously operated another upscale small restaurant on the square in New Philadelphia.
When Joe Montero, Jr. was ready to ease himself out of the business, an offer from the New Philadelphia Buehler's grocery store to buy the liquor license came at the right time as the couple had other plans for the downtown mainstay.
Today, where there were once shelves of gin, scotch and vodka, eight tables are served by a small kitchen and bar offering craft beers and, of course, one of the best wine selections to be found anywhere in the county.
"I can't really say we sat down and formed any kind of plan," Anthony Montero said about putting together the complete remodel that became Mustards. "Rachel and I both kind of have an eye for decorating, and we knew what kind of place we wanted to create. It all just kind of fell together just the way we wanted it."
Rachel Montero, constantly busy in the kitchen, plans the menu and prepares meals to order. "I've always been a serious foodie," she said. "Tony and I both have different core strengths that compliment each other, and we work together well. We did a lot of traveling together and took ideas from the best places we visited."
She said the core of the menu at Mustards had its beginnings at the first location with specialty sandwiches, salads and soups. Also making the transfer was a dedication to high quality without compromise, from the food to the service and decor. "If we can't source the best quality ingredients for something, we don't put it on the menu," she said.
And the business continues to occupy the leading edge of helping customers discover and learn. Among the full- and part-time kitchen and front of house staff, Eric Gallion may be the only certified cicerone in the area. Similar to the expertise a sommelier brings to wine, a cicerone knows a lot about beer.
"You have to keep up with trends and stay up to date," Anthony Montero said. "There are so many craft breweries out there now. There were none around here just a few years ago, and now there are at least four, and that's just locally. We try to offer beers and wines you don't often find."
Mini Shop Drive Thru and Mustards at The Wine Rack is at 150 S. Broadway in downtown New Philadelphia.