A hardware store with heart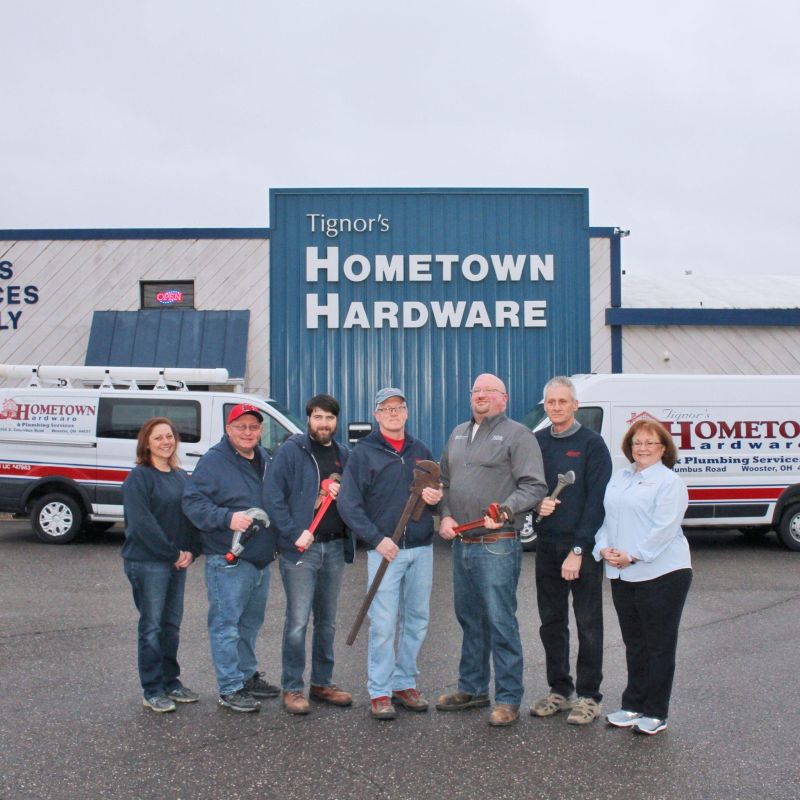 The hardware store was closed, but it did not matter.
A customer had an emergency and sent a text to Lorrie Tignor, co-owner of the family-operated Tignor's Hometown Hardware store in Wooster.
"I still don't know how he got my cell number," Tignor said. "But he had a problem, and we responded immediately to help him. That's what a locally owned business does for its community."
That philosophy is one reason why Tignor's, in January, was honored as 2019 Small Business of the Year by the Wooster Area Chamber of Commerce. The delighted customer was in attendance at the ceremony and showered the Tignors with accolades.
"It made my heart smile," Tignor said. "He was so appreciative that we responded so quickly. But that's what we love about what we do. We know that when something is going wrong or somebody is having a hard day because their basement flooded or something went wrong at their house, we can help to make it right. We want to do everything in our power to make their day that much better."
The Tignors — Lorrie, her son Matt and her daughter Katie — not only own and operate the hardware store, but Tignor's also provides plumbing repair and handyman services.
When Lorrie Tignor and her late husband, Michael, bought the hardware store from the Retzler family in 2003, the business offered plumbing services. About a decade later, at age 24 after graduating from the Ohio State University, Matt Tignor became a licensed plumber to help carry on the tradition.
Today Matt Tignor and Jim Retzler — a licensed master plumber who stayed on board after the sale — offer residential and commercial plumbing services from fixing leaky faucets and running toilets to clearing drain lines and installing water heaters.
Matt Tignor said having the inventory of a hardware store gives Tignor's an advantage in the plumbing business.
"Not only because we have immediate access to all of the products and merchandise, but also because we can save our customers money on the price of the part," he said.
According to Matt Tignor, there are no additional mark-ups on parts. "We charge the same price as what we charge on the sales floor. And it gives us a wider selection."
Because of their affiliation with the Do it Best buying cooperative, it is a big advantage. "If you're looking for something special or you're doing a larger project, I can go right to the manufacturer with all the buying power of Do it Best behind us. We carry a large inventory at the store, but the Do it Best catalog gives us access to more than 76,000 items. The Do it Best regional warehouse is located a half-hour away in Medina, so we can get special orders very quickly."
Tignor's handyman service, Matt Tignor said, takes care of just about any small repair in the home, from patching drywall and repairing lamps to changing locks and replacing glass.
"There are very few limitations to our handyman services," he said. "Yesterday we were moving refrigerators. We're not licensed electricians, so we can't run wire, replace electrical boxes or do work that requires a permit."
In the store, Lorrie Tignor said, the helpful and knowledgeable sales staff is part of what makes Tignor's stand out from home-improvement chains.
"As soon as you come in that door, they're there to greet you and help you and get you all taken care of as best as they can," she said. "And even though we're only 5,000 square feet, we carry most of what you would need. If we don't have it on the floor, we will order it for you. Or you can go on our website and order from there, and you won't have to pay for shipping. We have a lot of convenient options."
You can request plumbing or handyman services online at HometownHardware.DoItBest.com or by calling 330-262-8821. Tignor's Hometown Hardware is located at 160 S. Columbus Road in Wooster. Store hours are Monday through Friday from 8 a.m. to 5:30 p.m., Saturday from 8 a.m. to 4 p.m. and Sunday from 11 a.m. to 3 p.m. You can visit Tignor's on Facebook @hometownhdw.