Barn Storm invites visitors to take a closer look at Berlin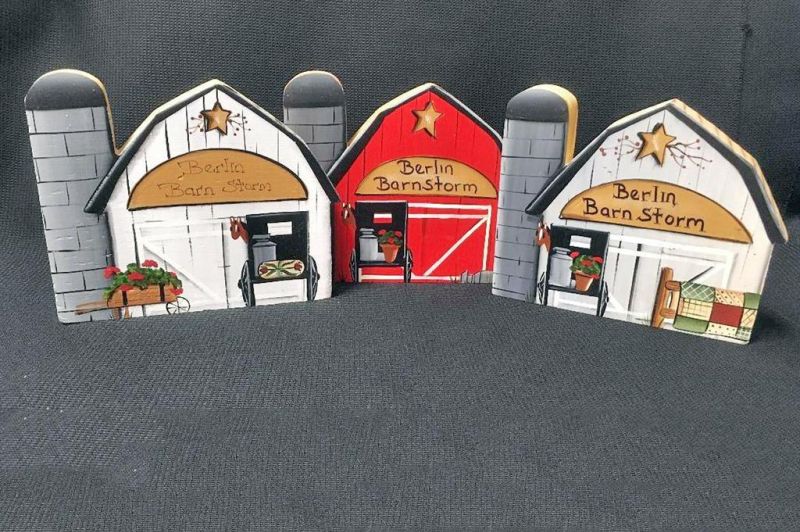 Berlin is getting ready for the hunt. The annual Berlin Barn Storm will be Saturday, April 27 from 9 a.m. to 3 p.m. in the village. Since 2005 this event has focused on the independent merchants of Berlin.
Visitors are asked to find a small wooden barn hidden, sometimes in plain sight, in each of the participating merchants. This year the number of merchants participating is nearly 50.
Once you find a barn, you get to fill out a ticket for a chance to win prizes. Find as many as you can to increase your chances to win. One grand-prize basket will be given away along with gift cards from participating merchants.
The Barn Storm will end at 3 p.m., and the drawing for prizes will be held at 4 p.m. in the German Village Center.
"We have a culture here that isn't matched anywhere else in the world," said Eli Small Hochstetler, owner of the Gospel Book Store and president of the Berlin Main Street Merchants. "Some people come here just to see if everything they say about us is true. Well, it is. We are a group of people that reach out to help each other in business and in life."
Always a bustling community of commerce with machine shops, a foundry, dry goods stores, hotels, tailors, hat factories, blacksmith shops, a tannery and a grist mill in its early days, Berlin is still home to an assortment of businesses, albeit a bit different than the ones found at the turn of the 19th century.
Today's Berlin businesses include attractions, specialty shops, restaurants, bakeries, lodging establishments and furniture stores.
The Berlin Main Street Merchants understand the importance of working together to create an atmosphere that keeps visitors coming back time and time again. The downtown merchants serve as hosts to a variety of events that showcase the Main Street businesses and the individuals that make them a success.
Every January visitors from all over gather in Berlin for the Sunrise Pajama Party, an event that blends lightheartedness with shopping. The annual Christmas Nativity Parade emphasizes the strong commitment to faith and family that is abundant in the people of the village.
This commitment also can be heard in the live music performed by bands June through September on the square.
Annual promotions like the Berlin Barn Storm, Moo Fest, the Harvest Festival, Shopping Under the Stars and the Christmas Open House celebrate the diversity of the village shops and give visitors an opportunity to rub shoulders with the residents of the community that call Berlin home.
Some visitors to Berlin's Barn Storm event have turned it into a fundraiser for their own community's needs. "We have a big group who comes down from Orrville each year," Hochstetler said. "A few years ago they turned the event into a fundraiser for a 17-year-old church member with cancer. We could never have imagined the good that could come from this when we first put it together years ago."
Hochstetler said larger groups of visitors are common and usually find the women shopping and the men hunting for the barns. In some cases merchants actually move the barns throughout the day to make it even more challenging.
"The Main Street Merchants work together because we know that together we can accomplish so much more than what we can as individuals," Hochstetler said. "We don't always do things perfectly, but we have fun, and that spirit is apparent in everything we do."
The Berlin Main Street Merchants continue to provide visitors with a taste of days gone while keeping up with the trends that shoppers are looking for. Upkeep and constant improvements make the shops of the village a must-see destination when visiting Amish Country.
Berlin is for families. "Right away visitors can tell that there is nothing typical about this tiny village that welcomes everyone with a smile. We understand quality here," Hochstetler said. "And we have a message that we want to share. By working together, we can spread that good message to everyone that comes to visit. We want to show people a taste of a very good life when they are here. We want them to feel like they are a part of something special."