Buckeye Deli is hot to cater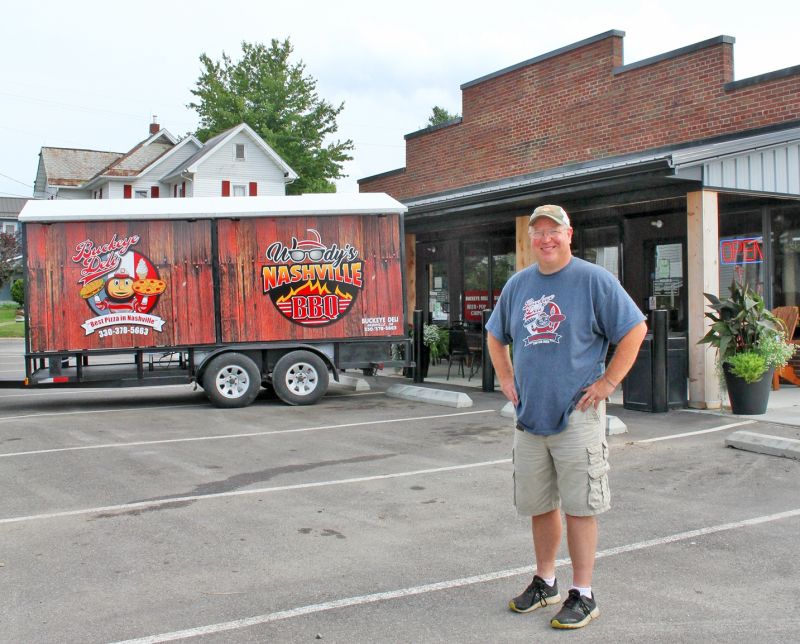 Most people in Holmes County know all about the savory pizza and mouthwatering chicken served up at Buckeye Deli in Nashville, but owner Steve Miller is ready to borrow a phrase from nationally renowned chef Emeril Legasse and "kick it up a notch."
Miller used his downtime during the pandemic to renovate the deli and create a new look and feel featuring all the old favorites while introducing some exciting new ones.
"When the pandemic hit, we decided to double down and really invest in the deli," Miller said. "We were able to make a lot of additions, including a new beer cave and a renovated store area that is better stocked with a greater variety of goods. It's created a much more enticing feel."
What really has Miller excited is the purchase of a new industrial smoker that opens some doors for Buckeye Deli. He has created a new catering business to provide delicious food offerings for weddings and other gatherings on a large scale.
"We are excited about this next step in our growth," Miller said. "We think this is something that will serve our community well, and we're thrilled to be able to cater large events."
The smoker can cook more than 300 chicken quarters in 90 minutes, perfectly tender and juicy. Buckeye Deli can also cater Italian food and sides, along with providing all types of liquid refreshment for parties, weddings and other events.
"We can provide everything for an event," Miller said. "We can supply the food, wine, beer, chaffers, coolers, tents, supplies, catering hot boxes that contain all of the food and more. All customers do is serve the food and return the boxes when they're done. We want to create a worry-free experience."
In addition, Buckeye Deli can provide party trays of deli meats and cheeses, veggie trays, chicken wings, hot creamed-chicken sandwiches, relish trays, and Trail bologna and Swiss cheese trays. A' la carte selections also are available, with pizza, assorted sides, salads and bread options.
"People can basically create and cater their own event and save money by serving our great food kept warm in our equipment," Miller said.
Miller said he understands people's desire to match quality food and service with savings, and he believes this catering option will check off all the boxes.
"We've made catering great gatherings easy," Miller said.
The smoker also will allow Buckeye Deli to work with area groups for fundraising efforts. Miller said groups can sell tickets for chicken quarters. Buckeye Deli will prepare the chicken, and rather than having the group dispense the meals, people can simply pick up their meal by presenting their ticket at the drive-thru window on a designated day. Each group sells tickets for $10 and receives $5 for each ticket sold.
"They have a full meal that includes green beans, rolls and apple sauce," Miller said. "We love the idea that we are able to help area organizations raise money, which was a big part of the equation for us."
Of course, Buckeye Deli will continue to offer its pizza fundraising.
With the new additions, Miller wanted to make it clear that Buckeye Deli will continue to offer the time-honored food it is known for serving.
"I'm proud to say we are the original 'pizza by the slice' for Holmes County, having sold over one million of our wonderful slices of goodness to our amazing customers," Miller said. "Our staff has done a wonderful job of carrying on our mission to make great food. We appreciate our staff, and we truly appreciate all our loyal customers who have supported us for so many years. All these improvements were made with them in mind. This has been a great journey, and we are excited about everything we can now offer."
To create a Buckeye Deli fundraiser or take advantage of the catering service call 330-378-5663. For more information on the exciting new additions, visit the website at BuckeyeDeli.com. Buckeye Deli is located at 124 E. Millersburg St., in Nashville. Hours are Sunday-Thursday 8:30 a.m. to 9 p.m., Friday 8:30 a.m. to 10 p.m., Saturday 9 a.m. to 10 p.m. and Sunday 9 a.m. to 9 p.m. Winter hours run November to March with the store closing one hour earlier. This story has been underwritten by Buckeye Deli.