Business as usual as Scheck's IGA celebrates 60 years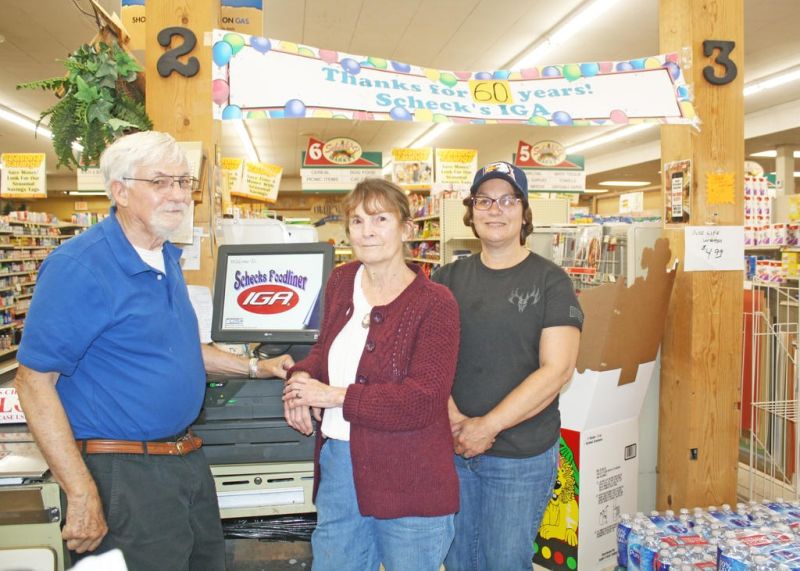 Except for the appreciation banner hanging above the cash registers, it was business as usual on Sept. 28, the 60th anniversary of Scheck's IGA Foodliner in Shreve.
Even the banner was recycled by taping a number 60 over the previous anniversary milestone.
Owner/operator Richard Scheck kept his usual schedule working around the store, not wanting much of a fuss, but longtime employee Lesa Morris thought he deserved recognition.
"That's a long time for anyone to own a business," said Morris, who has worked at Scheck's IGA for 37 years.
Morris described the grocery store as family-oriented, where employees get to know their customers by name, and she said Scheck does his best to help people in need.
"Customers tell us they like coming to the store," Morris said, because they're often addressed by their names and it's close to home for many.
When asked what's kept him in the business for 60 years, his wife Linda said, "That's all he's ever done."
At the age of 10, Scheck was sacking potatoes in paper bags in his father Everett Scheck's grocery store. He continued to work at the Loudonville grocery store until his father loaned him the money needed to purchase Scheck's IGA in 1960, two months after he and Linda were married. Richard Scheck said he saw the business as just something to do and a way to support his family. His daughter Margaret Scheck heads up the store's meat department. His two sons Bill and Tim also worked at the store in the past. Linda Scheck helps with book-keeping.
Richard Scheck said much has changed from his early days of working in the grocery business with his father. "Back then we had no refrigeration for produce," he said.
It was displayed on what was called a dry rack, then stored in a walk-in cooler at night. "In the morning we brought it back out," Scheck said.
There was no frozen food until Clarence Birdseye developed a process for freezing foods in small packages suitable for retailing.
Scheck said the advancement of electronic technology has given customers numerous ways to pay for their groceries. Once there were just two methods — checks and cash — and the cash register had a few buttons for groceries, meat, produce and sales tax.
Scheck said the pandemic has actually increased the store's business. "Because a lot of people don't want to go to the big stores, and restaurants are somewhat limited in the number of customers they can serve. That falls on us to pick up the slack, which is good for us," he said.
Richard and Linda Scheck would like their business to be remembered for the way they treated people. "We always tried to be friendly and honest," Linda Scheck said. "We wanted it to be a good place to shop. A lot of young people got their start (in a job) here."
One of those was Shreve Police Chief Ron Kiner, who worked at Scheck's IGA during his high school years. "I was on the track and cross country teams," Kiner said, "(and Richard Scheck) had a great understanding of my schedule and would always let me have time off for all of my races."
Kiner said it was his first opportunity to get to know a lot of people in Shreve.
At age 80 Richard Scheck is looking toward retirement and hoping to find a buyer for the store. His wife is an artist, and he likes woodworking, though gardening is where he wants to devote his extra time.
This year he planted 72 tomato plants and 1,000 feet of radishes and beets and sold the vegetables at the farmers' produce auction in Mount Hope. In retirement, he said, he wants to expand his garden, but it will depend on how his wife feels about it.
"I have plans, but I'm not sure they're going to fly," he said.