Camp in the country in a teardrop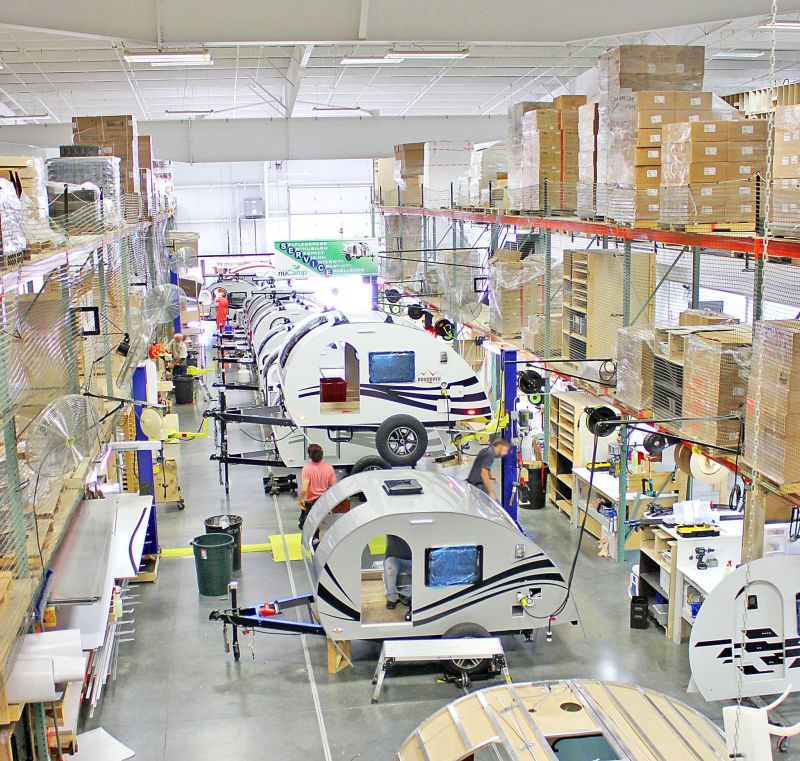 Travelers who pass a teardrop camper on the highway may be attracted by its distinctive shape. But owners of nuCamp RV teardrops are likely to notice something more important: the quality of construction, said Scott Hubble, CEO of the Sugarcreek manufacturer.  
"Quality is unquestionably our calling card," Hubble said. "Teardrop campers have become increasingly popular in recent years, which has drawn a lot of new manufacturers into the market looking to get a slice of the pie. When you compare the products, you can tell which manufacturers take pride in their work. Our quality is directly connected to the local culture and the resources that we have within our community."
The teardrops — named for their unique shape — became popular due to their compact, easy-to-tow size and weight.  
"It is essentially a bed on wheels," Hubble said, although the units also include a sink, stove and refrigerator.
Since introducing its first model — the TAB — nuCamp RV has added the TAG and a truck camper. It is now preparing to expand into producing a luxury camper with a more mainstream appearance.  
Not surprising considering the area's Amish tradition, Hubble said rugged, attractive cabinetry is one of the first things many people notice inside nuCamp RV's diminutive teardrop campers.  
"It's one of the things that sets us apart from most of the newcomers in the business," he said.  
The nuCamp RV quality, he said, is one of the reasons the company has continued to grow, from building 30-50 units in 2004 to more than 3,300 last year, supplying a national network of 120 RV dealers.  
The company began when Joe Mullet, a plumber, Amish minister and outdoor furniture maker, started Pleasant Valley Teardrop Trailers, the Sugarcreek operation that grew into nuCamp RV, in 2004.  
"The problem Joe had was that there were so many people making lawn furniture," Hubble explained. "Somebody would create a great design. Then somebody else would copy it and sell it for $10 less. Joe felt that in business, everybody should have the opportunity to thrive."  
Mullet found an opportunity for a more lucrative product when he was asked to construct a teardrop camper. Based on the quality of his first camper, more orders started to come in. By 2008 Mullet was building almost 150 units per year.  
Then the recession struck.  
"Quite a few RV manufacturers around the country went out of business," Hubble said. "Joe was one of them."  
At that time Hubble worked for a trailer distributor and had confidence in Mullet's product. In 2009 they forged a relationship that brought trailer production back to Sugarcreek.  
"The company I worked for sold a teardrop, but it wasn't like Joe's," he said. "It didn't have the same quality."
Starting at about a trailer per week, Hubble one day asked whether Mullet could produce 500 the following year.  
"Relying on the area's talented workforce to support the increased production, he agreed, and orders have continued to grow between 30 and 60 percent annually from there," Hubble said. "The pride that our local population puts into its craftsmanship is one reason why we have been so successful."  
The first units – called TABs – were 15 feet long and 7-1/2 feet high. Later nuCamp RV added a smaller option – called TAGs – which are 8-10 feet long and a little more than 5 feet tall.  
"The TAB turned out to be our bread and butter over the past six years," Hubble said.  
After expanding into a 63,000-square-foot manufacturing facility on Belden Parkway, the company added a truck camper to its product line. Recently, the company added 90,000 square feet expanding their facility to 150,000 square feet.  
NuCamp RV's teardrop campers are sold through RV dealers and don't offer on-site sales. However, Hubble said the proud company is happy to offer tours of its production facility. To schedule a tour, call 330-852-4811. The facility is located at 661 Belden Parkway in Sugarcreek.