Dennison welcomes new brewery in restored church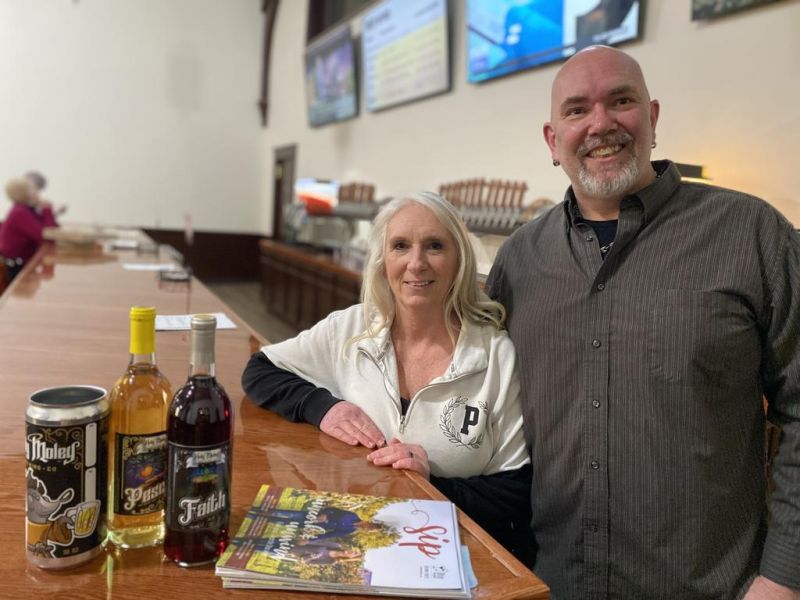 In 1980 there were fewer than 50 breweries nationwide, a number which is brushing against the 10,000 mark in 2023. Craft breweries are credited with breathing new life into sleepy business districts in cities large and small, and Dennison is home to one of the latest: Holy Moley Brewing Company.
The brewery and winery has just opened, and brewery partners Greg McCullough and Candy Gribble are already raising concerns about keeping up with demand. The business is located inside a long-vacant church next to Village Hall downtown and is open Friday through Sunday each week.
"I've been a home brewer for at least 25 years," McCullough said, "and opening a brewery and winery has always been a dream. I've always liked more flavorful beers, and that has stuck with me since I came of drinking age."
The dream became a full business plan for the Timken Company employee, and McCullough came up with a course to get started, complete with a character to represent the beer and wine he planned to offer.
The whole plan got moved ahead in schedule when Timken moved McCullough's IT department elsewhere. The search was on for the right place to house his dream. A previously planned pig character became a mole when the Holy Moley idea came about.
"The church building was empty for a long time," McCullough said.
A realtor brought him from his home in Canton to visit the former church in Dennison. "I fell in love right away. It was perfect," he said.
Getting past the nay-saying of friends, the building was purchased, and renovation began. There would be plenty of room for patrons on the main level and room for brewing downstairs.
McCullough was unconcerned about locating his new brewery in a small town. "I was never concerned. Beer drinkers will go to wherever they can get good product, and I was confident about that. As soon as we held a few soft openings, we were on the map, and we have been busy. The first day we had customers from Cleveland."
Holy Moley Brewing Company currently has five beers on tap, with plans to expand to 10. Those on offer are lighter-colored ales, with darker lagers beginning production later. Beers and wines offered are all created onsite.
"Our beers have a lot of flavor," McCullough said. "It's a disappointment for beer lovers to come out to a brewery and find something light and flavorless, and we're delivering plenty of flavor in our beers and wines."
For a hobbyist turned pro, McCullough has lost none of his passion for the process. "I am just as passionate this very day as I was when I walked in here for the first time several years ago," he said. "Making beer is my only artistic outlet. I love the process of making beer. I love sharing it. I love teaching people about it. I love pouring the beer into a glass and serving it, then watching the appreciative look on our customer's face. I could not think of a better retirement job."
McCullough said the brewery is very much a joint effort between him and fiancé Gribble. "We are doing all this together, and I could not have done it without her help."
Offering a selection of five wines to go with the beer menu was intentional. "Not everyone likes beer," McCullough said. "Sometimes one partner in a couple likes beer and the other prefers wine. We wanted to offer both so they can both come and enjoy what we have to offer."
The structural transition from church to serving customers was approached with sensitivity, keeping many elements such as light fixtures and stained glass in place. "We have kept it as an homage to its former life," McCullough said. "It has been very well received. Even just being open weekends, we are having to keep an eye on how much beer we have ready to serve."
Holy Moley Brewing Company is at 306 Grant St. in Dennison. It's open Friday from 4 p.m. to midnight, Saturday from 11 a.m. to midnight and Sunday from 11 a.m. to 8 p.m.