DiDonato aims to help promote Twin Cities in new role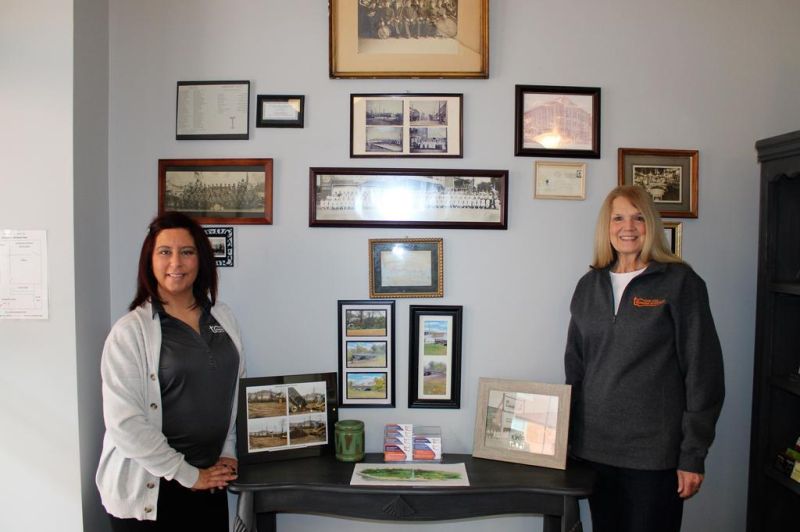 In little more than four months, Beth DiDonato of Dennison, in her new role as executive director of the Twin City Chamber of Commerce, has instituted new ideas and is returning some activities to help promote area businesses and help the community in general.
DiDonato retired from her previous job as principal of Claymont Intermediate School, but something was missing besides the students and the staff that were a big part of her work life.
"I questioned whether I would be able to stand sitting around a lot, and I couldn't," DiDonato said.
She was a member of the chamber's board at the time the director job came open. "I wanted to continue to be involved in the community. If you're involved with the school, you're also involved with the community. So I applied for the job. The board liked what I had to say, and here I am."
Business After Hours sharing and networking get-togethers are one thing DiDonato is looking forward to. She believes in the mission of the chamber and is pleased the first event of the year has garnered more than 40 reservations.
"The purpose of the Chamber of Commerce is to assist businesses to be the best they can be and to just make sure that they are getting some of the things that they need," DiDonato said.
Another program DiDonato has scheduled is a Lunch and Learn. The first event is on Feb. 22 and will feature speaker Tim Liversage of Stray Cat Digital. The event is free for members, but nonmembers can attend for a fee.
DiDonato plans to have other networking events with a variety of topics.
"One is going to be about marketing, and we're going to have one that's going to be about workers' compensation. We have partnered with a company that offers a discount as a group for workers' compensation," DiDonato said.
Currently, DiDonato and administrative assistant Nacole Moreland are working on growing the membership list. They have reinstituted events held before COVID and added new events, so instead of just sending out invoices, they sent information too. They are in the process of gathering ads for the 2023-24 Twin City Chamber of Commerce directory too.
The chamber now has three different levels of membership in two categories. Some of the benefits of the core membership include a 12-month web and print listing and one content feature (blog or social media write-up), and to those benefits the enhanced membership adds one professionally made video feature, one paid advertisement, two banquet tickets and featured directory listings.
"We're trying to get our businesses out there, trying to build up our businesses and trying to make them known. That's what I think we're supposed to be doing," DiDonato said.
The chamber is trying another new idea to help its membership.
"We're going to be giving out two business grants to a business who can use some money," DiDonato said. "We'll have a form that they need to fill out, and two businesses will be selected to receive a $1,500 grant each."
Grant recipients must be chamber members.
The chamber hosts an annual awards banquet each year where scholarships donated by local businesses are awarded to high school graduates who live in the Claymont or Indian Valley school districts. Awards also are given for Business of the Year, Employee of the Year, Educator of the Year and more.
DiDonato has already set her sights on an improvement project for the area — the Panhandle Passage Trailhead Park in Uhrichsville. The property is owned by the chamber, and they are working with others in the community including the Clayland Lions Club, the Dennison Rotary and the 9-2-2 Initiative to make the improvements.
"I said rather than everybody haphazardly just doing something, let's get together and plan," DiDonato said. "In looking at the area, one of the first things we did, the Mill Township garage fellows came in and they cleaned out that whole area down there. They took out all the brush, all the shrubs. They got rid of the tree stumps for us, cleaned all of that out. And we came up with a rendering of what we want."
Once the area was cleaned, the beauty of the bridges that border each side of the park could be seen.
Some of the projects the site will include is a flagpole and a sensory garden for people with disabilities. The group also hopes to include a kayak launch area on the Stillwater Creek. Backfill has already been added to the site by Bridges Excavating LLC.
DiDonato and Moreland stand ready to make changes as needed that will benefit their members. In addition to adding programs, as part of the revamping of the chamber, they also updated their logo colors to orange and blue by taking colors from the logos of the City of Uhrichsville and the Village of Dennison.
The chamber office is now open five days a week: Monday, Tuesday, Thursday and Friday from 9 a.m. to 3 p.m. and Wednesday from 9 a.m. to noon. Call the chamber at 740-922-5623, email info@twincitychamber.org or visit www.twincitychamber.org.